Dieser Artikel ist auch verfügbar auf: Deutsch
Download Mediakit (currently only in German): PDF / ZIP
Hi, nice to meet you. We are Marcel & Tobi and we're glad to have you on our blog.
If you would like to work with Home is where your Bag is, you came to the right spot. We are always interested in new experiences and places to publish thrilling stories, travel tips and reviews for our readers.
We are available to a whole range of cooperation and advertising opportunities with the travel industry. On this page we would like to give you an insight to the possibilities to cooperate.
Numbers and facts
Monthly visitors (Unique Visitors): 171,977 (of which on the English page: 57,538)*
Total page views: 298,840*
Fans and followers in total (all social media channels): 70,105*
If you would like to address a large target group of travelers and want to place your business/product on our site, then contact us today! We will answer your inquiries as soon as possible.
Our traffic and Social Media statistics
Home is where your Bag is – mainly accessed from the following countries (English site):
Malaysia
Indonesia
Singapore
Australia
UK and US
The following graphic indicates our Google Analytics stats of Oktober 2019*: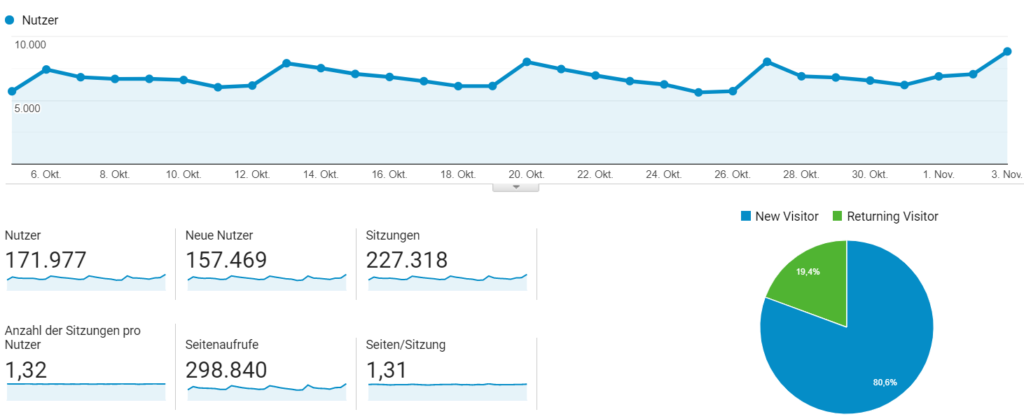 More statistics*
Facebook fans: 12.000
Instagram followers: 20.747
Twitter followers Tobi: 20.847
Twitter followers Marcel: 13.268
YouTube subscribers: 2390
YouTube views (overall): 1.180.559
Pinterest followers: 853
Newsletter subscribers (German only): 1498
Push subscribers: 43.200
* Last update 11/2019, source: Google Analytics
Advertising and cooperation opportunities on our blog
Sponsored articles/advertorials
Blog sponsoring
Travel guide sponsoring
Product tests
Partnerships
Press- and blogger trips
Sweepstakes/contests
Hotel- and airline reviews
We reserve the right to write all blog posts ourselves to maintain our writing style on the blog.
Brands we successfully worked with
Home is where your Bag is in the media:
Home is where your Bag is on other blogs and websites:
Contact us via our contact form if you liked our offer and we will answer your request as soon as possible.
We are looking forward to working with you!

Tobias Meyer & Marcel Gorgolewski