Dieser Artikel ist auch verfügbar auf: Deutsch
The Philippines are becoming an increasingly popular tourist destination and the country really has a lot to offer for visitors with over 7000 islands. Also, the Philippines can not be compared to Malaysia, Thailand, etc. because they have their very own charm.
Philippines – arrival and first impressions
Here you can read our experience report on our arrival and the first days in the Philippines.
---
How to get to Manila
Accommodation in Manila – our hotel tip
Manila: Tours and tickets
---
Arrival in Manila. The capital of the Philippines is very hot and humid also at night, like a typical Southeast Asian city. But that can't impress us anymore. After a 4-hour flight from Kuala Lumpur and a trouble-free entry to the Philippines (with verification of the return ticket), we were looking for a taxi to get us to our hotel.
We have to admit that we never prepared ourselves for the Philippines and read only very little about the country. In other words, we haven't done our homework because we're always too lazy for planning. Our motto is like: Just go and see where it takes you.
The taxi ride
Although we took a metered taxi from the airport to our hotel, the ride was way more expensive than we expected (about 500 pesos = just something under € 10). Alright, the driver had to locate the hotel and went up and down the street (partly backwards, because it was a one-way street) to find it, but we expected the ride significantly more favorable.
The first big positive surprise was that the Filipinos speak pretty good English. I mean everybody, even the taxi driver and old women. Sometimes they even talk English among themselves and use "thank you" instead of "salamat". In general, the Filipinos are really nice, friendly and helpful. This makes traveling over here much easier and comfortable.
But it's not that easy and cheap to go around with a taxi in Manila. First, it's really hard to get a free taxi. Second, many of the drivers won't turn on the meter (at least with tourists) and name a fixed price for some weird reasons (mostly it's because of the "traffic").
Manila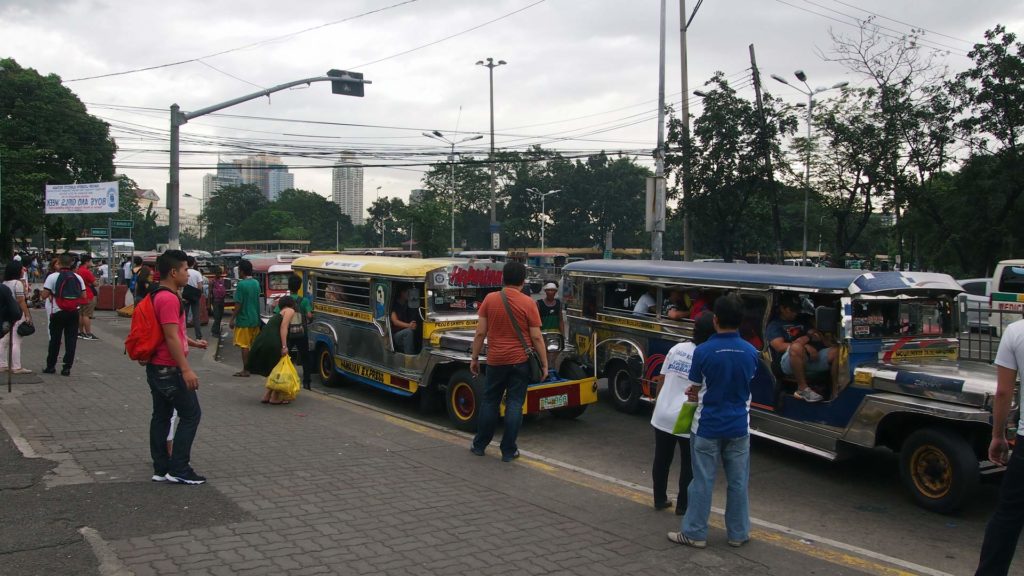 The next morning. As in almost every city we visit for the first time, we started to explore it by walking. Like here in Manila.
The city is really different – not like Bangkok, Jakarta or Kuala Lumpur. As we were looking for a breakfast or rather a lunch, we noticed that there aren't too many food stalls with street food like in the other Southeast Asian cities.
So we walked quite a while around the district of Malate until we found a small shop were we tried the "Caldereta" and "Pork Adobo".
Dear Filipinos, please just skip this paragraph. Unfortunately, we had to realize that the Philippine cuisine isn't quite as good as we hoped for. Even after 10 days in the country we didn't change our mind about this. Until then, we didn't have a single dish that knocked our socks off. If you've never been to Southeast Asia before or if you're visiting the Philippines for the first time, then the food is alright. If you are used to delicious Thai or Vietnamese food, you will be quite disappointed.
Typhoon Hagupit (aka "Ruby")
After an unexpectedly beautiful day in Manila's Rizal Park and Intramuros, the old colonial district, we went back to our hotel and noticed in the news that there was a super typhoon heading to the Philippines.
Splendid. Because the next day we were supposed to fly to Boracay, which was almost located on the route of the typhoon. According to Google, many flights were already canceled and the boat service to Boracay was closed down.
On the next day we drove to the airport and headed straight to the ticketing office of the Philippine Airlines to ask for a refund of our ticket. Unfortunately, that wasn't possible because the flight was on schedule and the typhoon didn't arrive at Boracay yet. This was in my opinion a irresponsibility of the airline! A reasonable change of the booking wasn't also possible. It would have cost more than buying a new ticket.
However, we didn't have another choice than spontaneously buy a new ticket to Palawan on the very same day. What a pity Philippine Airlines, you could have managed that in a better way!
El Nido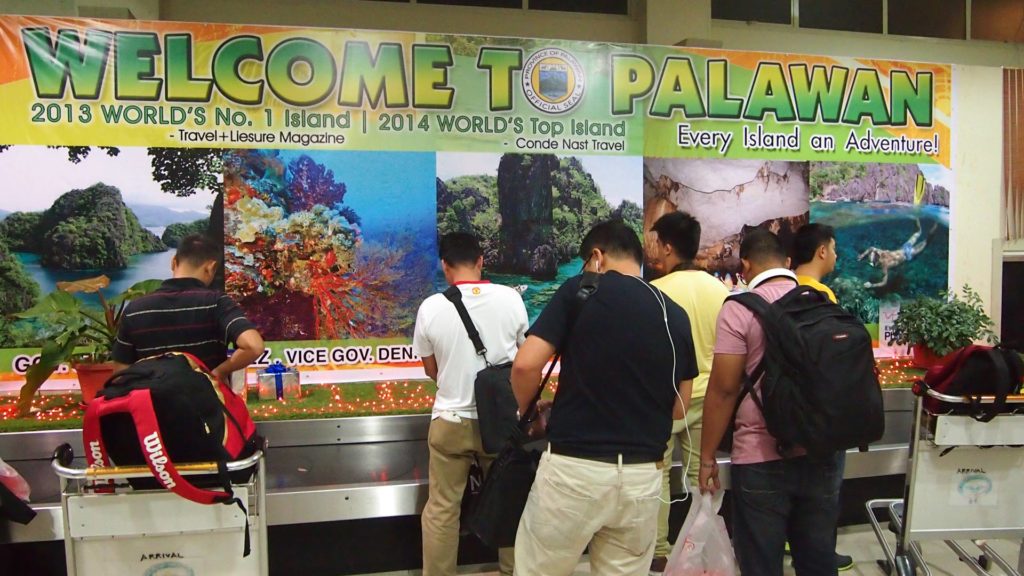 Finally we arrived on Palawan. After spending the first night in Puerto Princesa, we left in a completely overcrowded minivan to El Nido. To paradise.
Again we were unlucky or rather followed by typhoon "Ruby". It was raining cats and dogs for about 2 days and it was really windy, not what we imagined on a paradise island. At least we were able to use that time to work on our blog and publish our first German ebook about Thailand.
In total we spent about one week in El Nido and in the end we did like it much better than in the beginning. The weather was better and we've seen many paradise-like islands with amazing beaches. More on that in some articles later.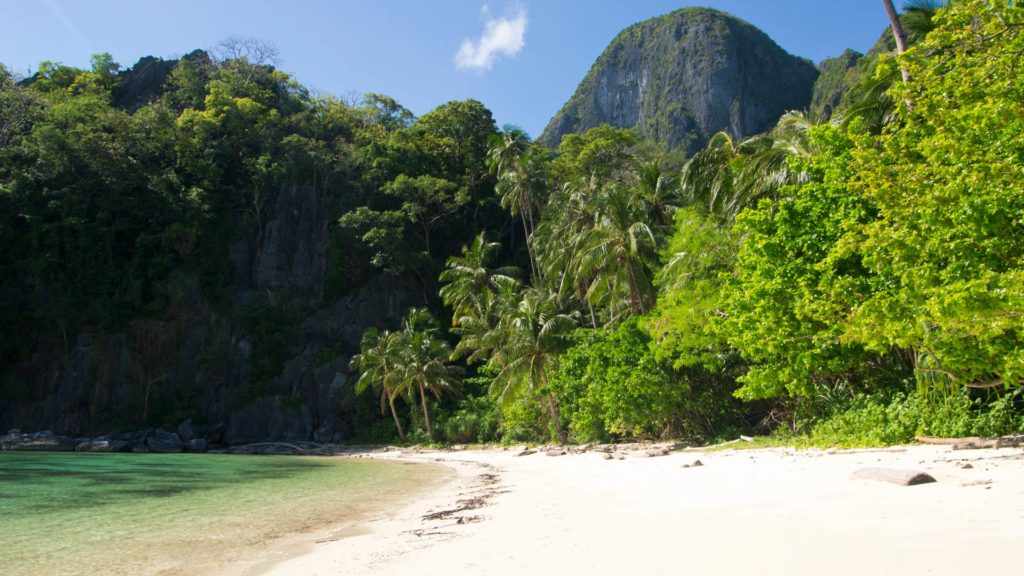 First conclusion
We just had some bad luck and not the best start in this country but it got way better. Now we are even looking more forward to Boracay…