Dieser Artikel ist auch verfügbar auf: Deutsch
If you do not know what to do after a few days in Singapore City and you want to see something different, we can recommend a trip to the Singapore Zoo.
Day trip to the Singapore Zoo
The approximately 28 hectares huge Singapore Zoo is very openly designed and houses 315 different species of animals. Every year, the spectacular Singapore Zoo attracts around 1.7 million visitors. Find out what you can see on site and what else can be experienced in the Zoo.
---
How to get to Singapore
Accommodation in Singapore – our hotel tip
Singapore: Tours and tickets
---
Getting to the Singapore Zoo
The best way to get to the Singapore Zoo is to use public transportation. With bus no. 138 you can go directly from the MRT stop Ang Mo Kio to the zoo (a bus ticket costs about 2 SGD). It is located a bit further out of town and so the trip takes a bit of time. More directions are available here.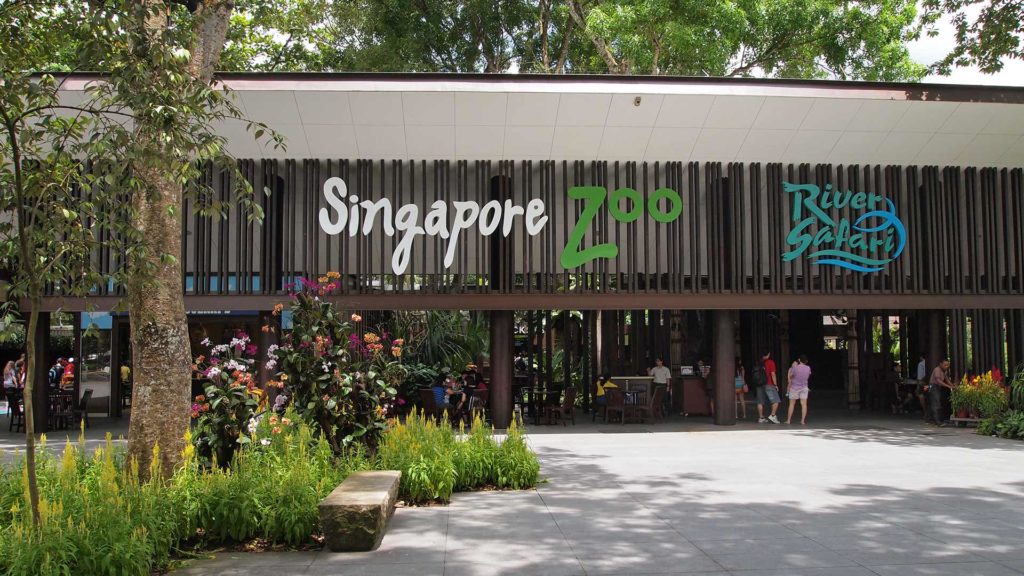 The Singapore Zoo is open daily from 8.30 A.M. to 6.00 P.M. Admission tickets cost 33.30 SGD for adults and 22.50 SGD for children. For a small additional charge you can also book the admission including transfer.
If you want to visit special attractions like the River Safari, Jurong Bird Park or the Night Safari, there is an extra charge. However, this decreases by a good 50% if you visit more than one attraction. Further information can be found on the official website.
The Singapore Zoo
As mentioned earlier, the Singapore Zoo covers an area of 28 hectares with thousands of animals living there. These include e.g. monkeys, tigers and lions, crocodiles, bears, kangaroos, elephants, giraffes, snakes or pandas. A total of 315 different species of animals can be found here.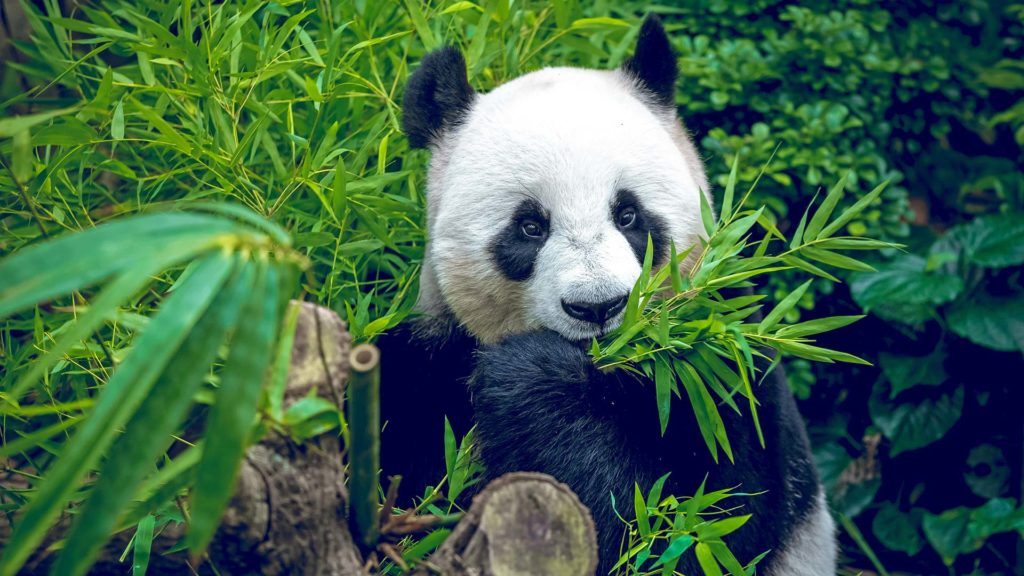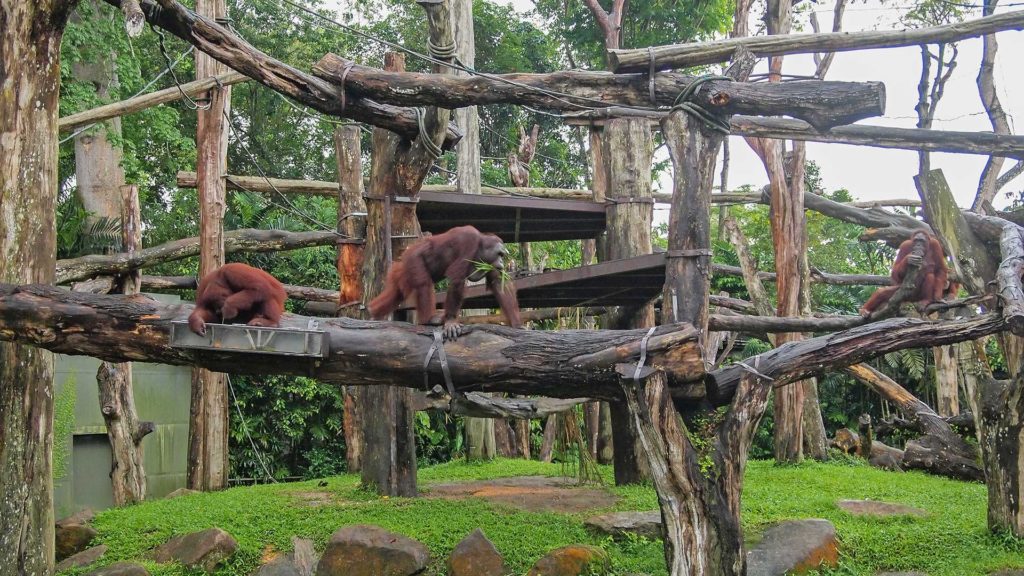 The animals live in natural and well-kept enclosures and sometimes you as a visitor are very close to the majestic creatures (no grids etc. but at most ditches or small fences – also perfect for taking pictures). The animals at least seem to be kept very species-appropriate and always look healthy. There are also various animal shows and a night safari, where you can see many animals that are active at night.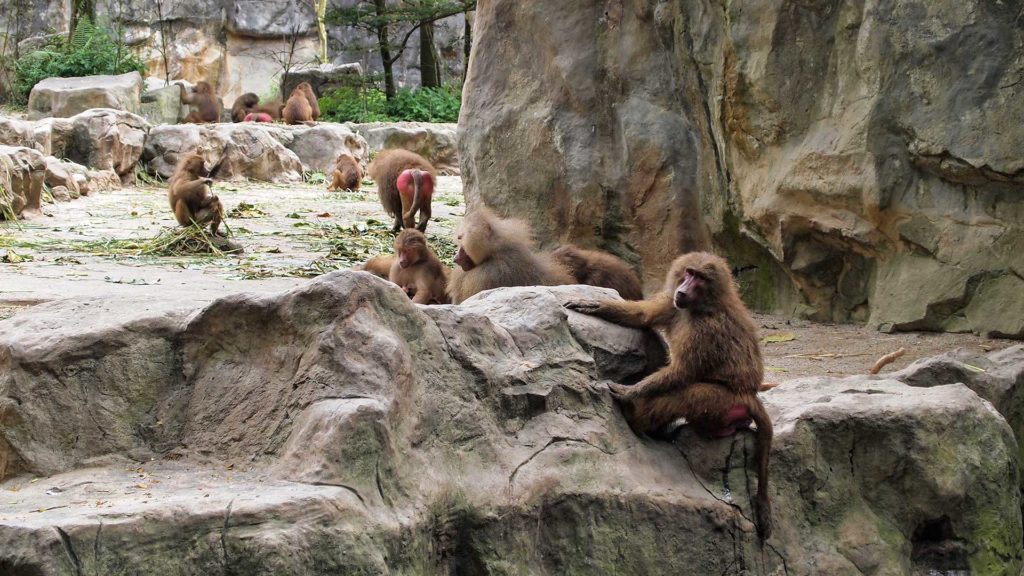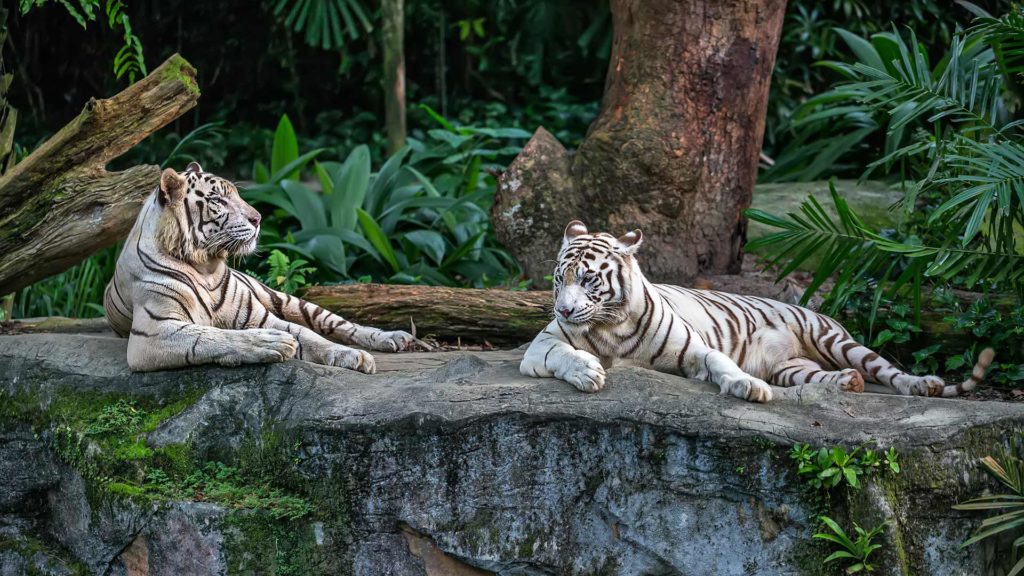 At this point we would like to draw your attention to the "Save Tigers Now" campaign. No matter where you are in Asia, one thing is certain: never buy any tiger products. Even animal shows we can not recommend, as this is not in the nature of the animal and the animals are often trained under bad conditions. This of course applies not only to the Singapore Zoo.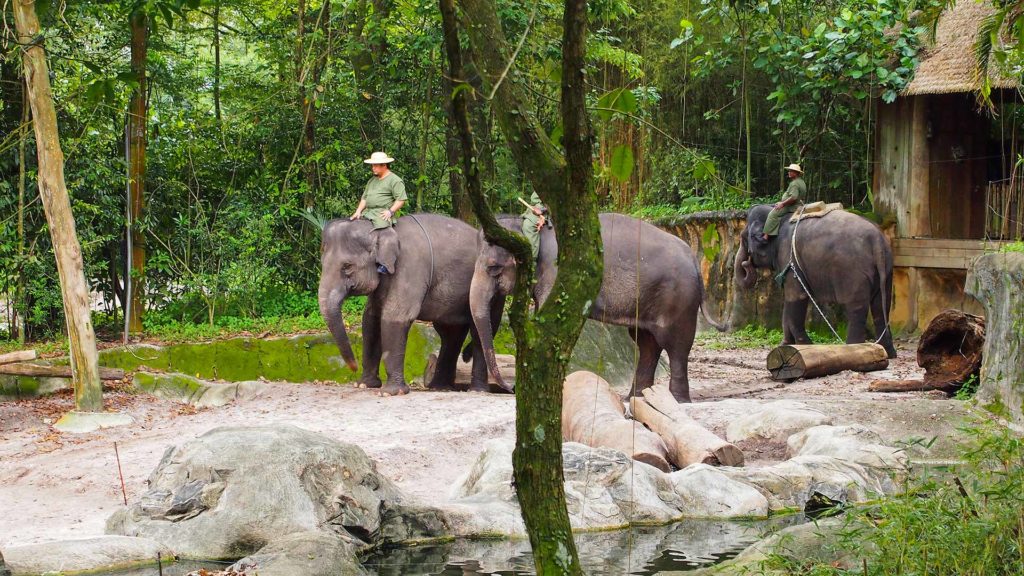 Incidentally, the Singapore Zoo has existed for over 40 years and has been awarded many prizes. In total, there are 11 zones in the zoo, which are adapted to the natural conditions of the animals. These include the zone Tortoise Shell-ter with endangered turtle species, the Primate Kingdom with many different monkey species or Australasia with wallabies and kangaroos.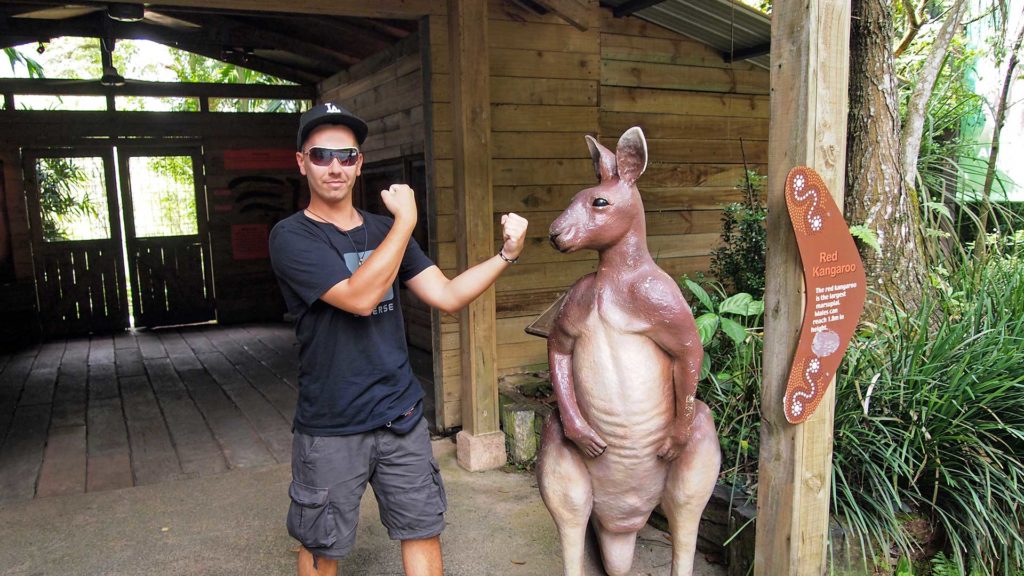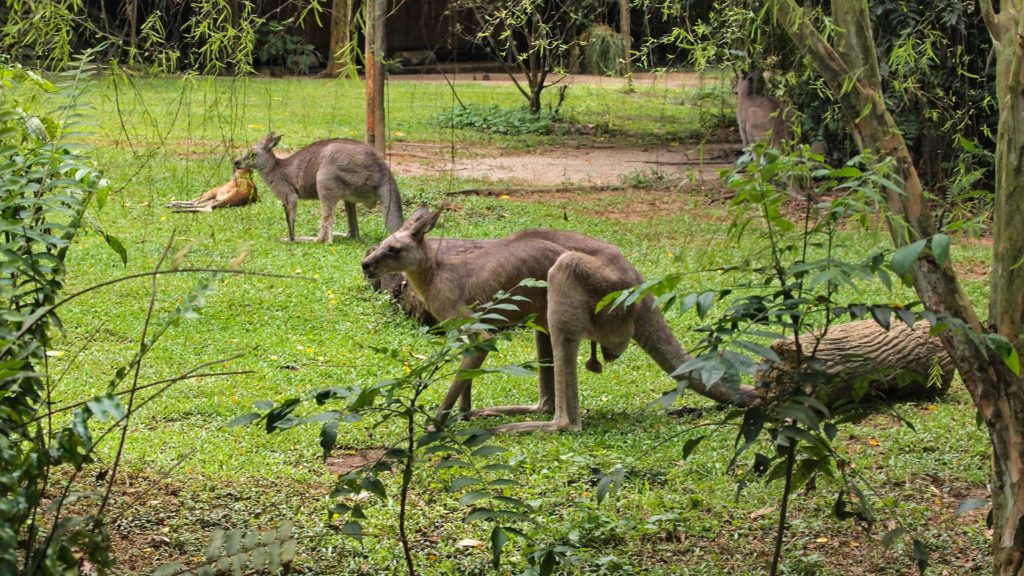 The Reptile Garden is also very popular. There you can see the endangered Komodo monitor lizards and other lizards and snakes.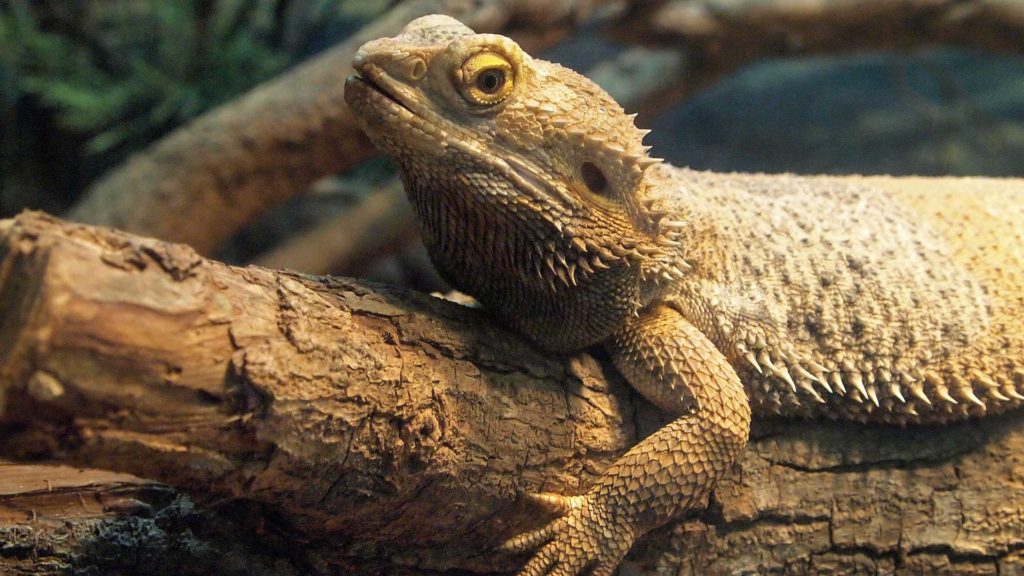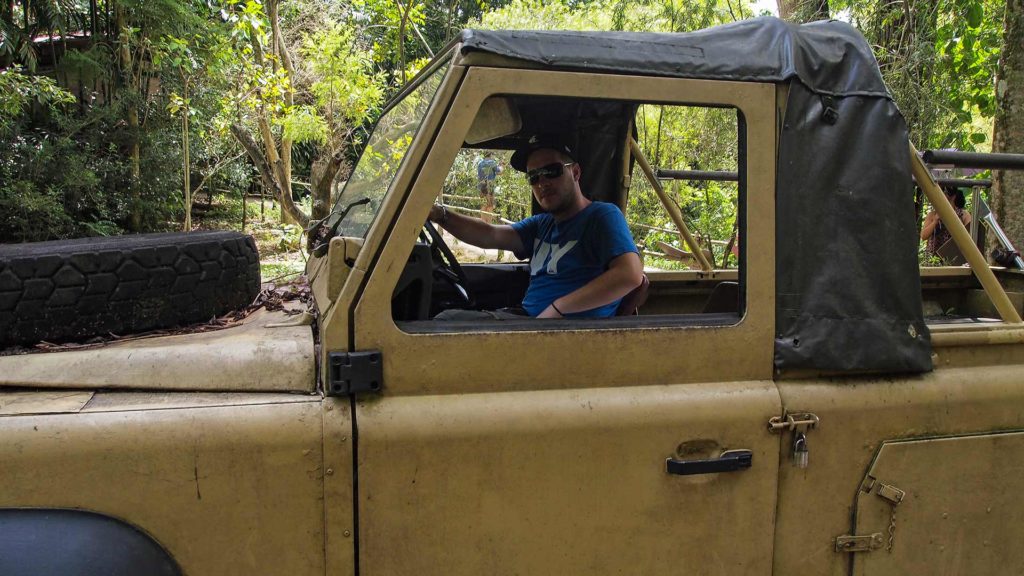 And then the rain came
Unfortunately, we could not visit everything because it suddenly started to rain. We read somewhere that you should always have an umbrella with you in Singapore. At the end of February, when we were there, the rain should not be that bad, as the rainy season would normally end around this time. But just as sunny and beautiful as the day began, it can turn just within a few minutes.
After a few hours at the Singapore Zoo, when we only saw half of all the animals, it started with a few light raindrops. But in Southeast Asia that often means: Run quickly to a protected area. Within minutes, it rained cats and dogs. After a short time it was over and we thought the worst was behind us.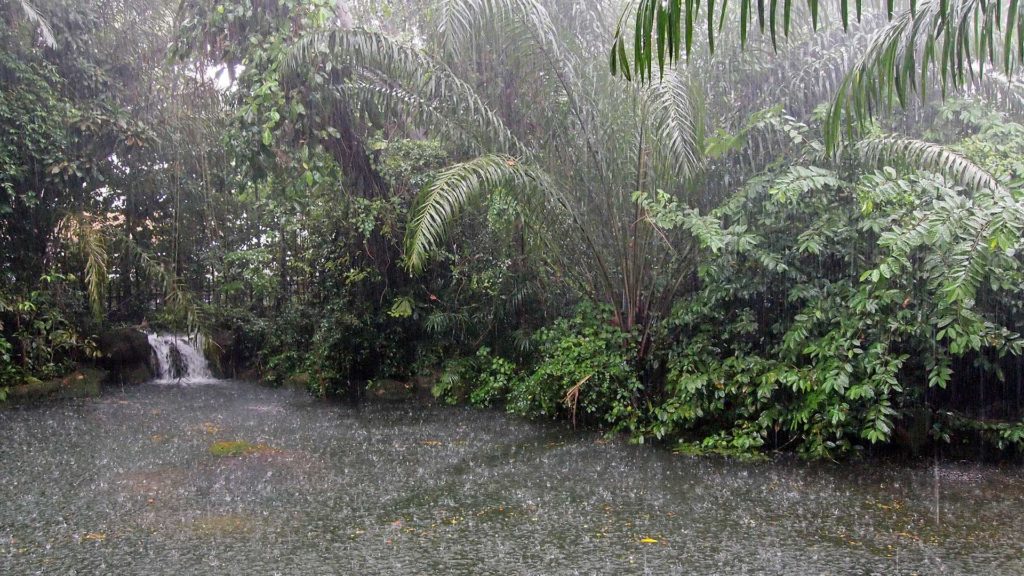 But then it really started. Shortly after we got out of the Snake House at the Reptile Garden (which is quite far away from the entrance) we just managed to find a bench with a small roof before the downpour reached its peak.
There we sat for almost 1 1/2 hours in heavy rain and thunder. There was nothing left but to wait, because it just did not stop. There was no one to see around, and the zoo was about to close in a few minutes. Finally, a zoo employee came in, gave us an umbrella, and took us to the next collection point for the tram, which was to take the rest of the visitors back to the entrance. A great service.
Info: You can also use the tram for a surcharge of 5 SGD for adults and 3 SGD for children if you don't want to explore everything on foot at the Singapore Zoo.
Conclusion
Even though we had some bad luck with the weather in the end, it was a nice day and we can recommend a visit, especially with children. If we visit the zoo one day again, we would definitely go on a night safari, because it gives you a whole different insight into the life of nocturnal animals.
Have you ever been to Singapore Zoo? How did you like it? How do you see the conditions of the animals? We look forward to your comment.
Photos: Photo 2 and header (panda): Volodymyr Goinyk/shutterstock.com – Photo 5 (white tigers): bezikus/shutterstock.com