Dieser Artikel ist auch verfügbar auf: Deutsch
We spent several weeks on Nusa Penida during the last year. The island has become a very personal retreat for us. We have really seen everything there is to see. And that's a lot!
Nusa Penida – the undiscovered neighboring island of Bali
Nusa Penida does not tell you anything yet? No surprise. Until now, the island paradise was largely spared by mass tourism. This will certainly change in the next few years. The fact that the island has much more to offer than most people think has meanwhile also spread among some investors. In the last 1-2 years, a lot of land was bought on the island. If you want to experience Nusa Penida in its original beauty, now is the best time to do so!
Correspondingly, we now tell you some insider tips about Nusa Penida, which certainly not everyone knows who has ever been there.
---
How to get to Nusa Penida
Accommodation on Nusa Penida – our hotel tip
The La Roja Bungalows is a small lovingly designed complex, which is almost located directly on the beach. A swimming pool is available, too. The bungalows have a unique style and are of course clean inside and well equipped. To explore Nusa Penida on your own, the property also offers scooter rentals. We can recommend it! More accommodations on Nusa Penida can be found here.
Nusa Penida: Tours and tickets
---
1. Kutampi Beach
Kutampi Beach is one of the most underrated beaches in Nusa Penida. It is only popular with the locals. Every night countless fishing boats leave here to go ashore and to come back in the morning with full buckets.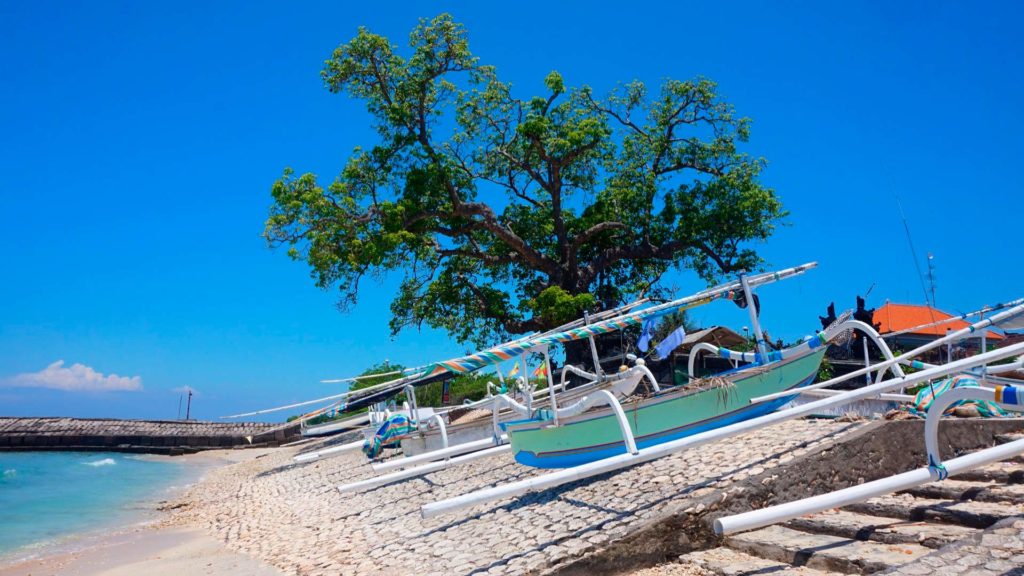 What hardly anyone knows: Right on Kutampi Beach is one of the most beautiful diving and snorkeling areas on Nusa Penida! You can dive directly from the beach and suddenly find yourself between thousands of fish and completely intact corals! Just take your mask and fins with you and you can start right from the beach.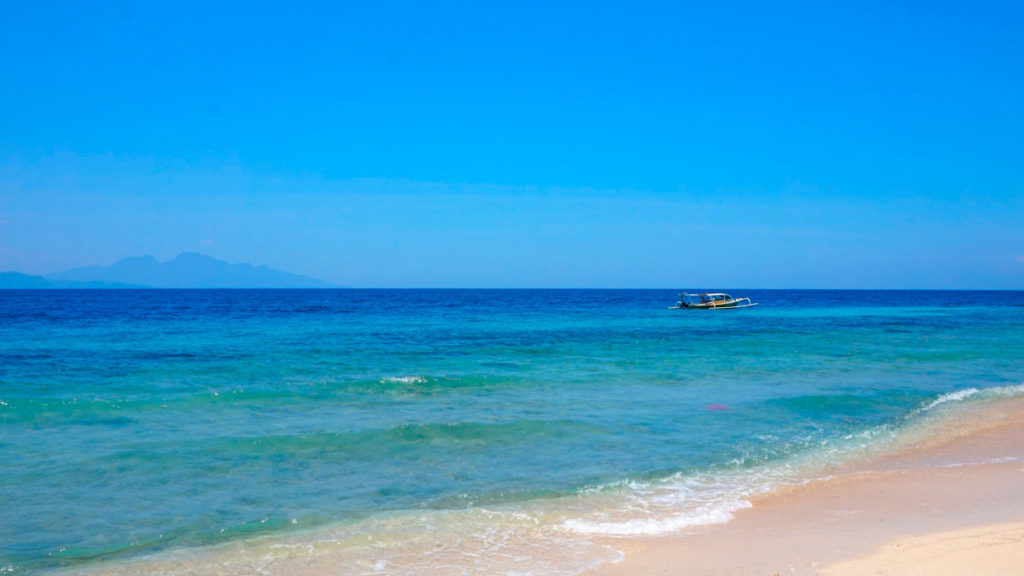 2. Penida Colada Bar
Looking for cool beach bars on Nusa Penida? Absolutely no chance. The island is simply too non-touristic. There is one small but fine exception: The Penida Colada Bar in the small town Ped. The bar is located right on the beach and is run by an Australian married to an Indonesian.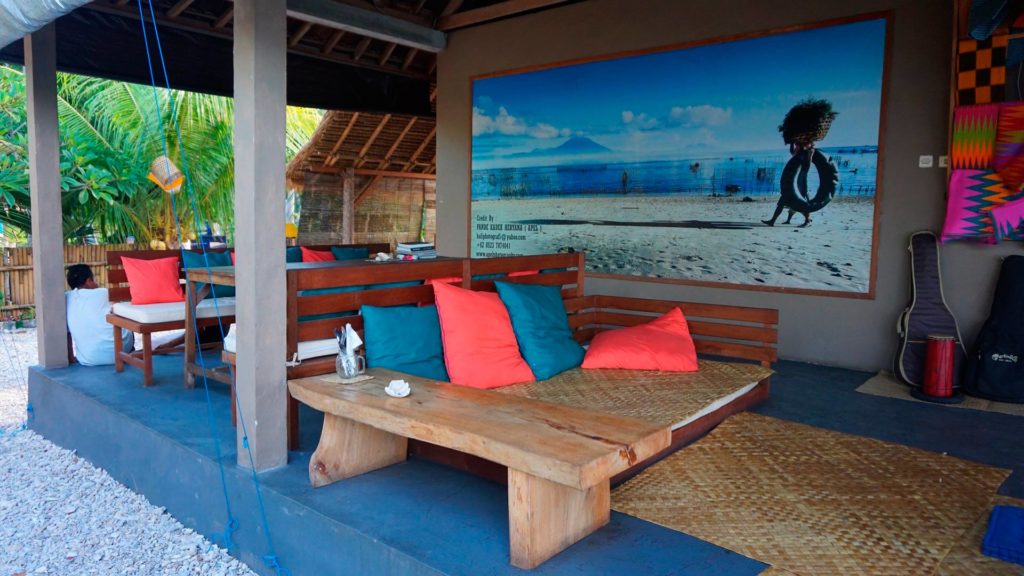 The food selection there is relatively small, but extremely special and delicious. The dishes change regularly and are usually a mixture of Western and Asian or Indonesian cuisine. By the way, the cassava chips are one of the hottest things we've ever eaten! You can also order delicious cocktails and smoothies. Make yourself comfortable on one of the many cushions and enjoy the chill-out atmosphere.
3. Pandan Beach
Pandan Beach is arguably the most secret beach on Nusa Penida. We have been there several times and have never met other people on site. Although the beach is lonely, it is definitely one of the most beautiful beaches on the island. The sand is extremely fine and bright. The water is turquoise blue.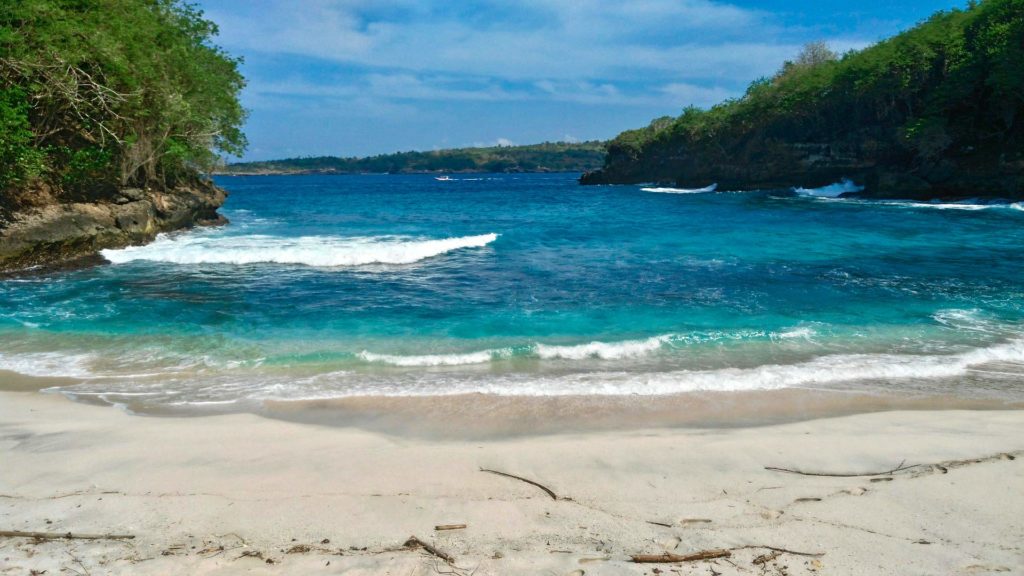 Just as you would imagine a lonely beach. You may be wondering, "And why is there so little going on?" Well, beauty usually has its price. The beach is not easy to reach. Although Pandan Beach is right next to the well-known Crystal Bay, it is separated from it by a relatively high mountain.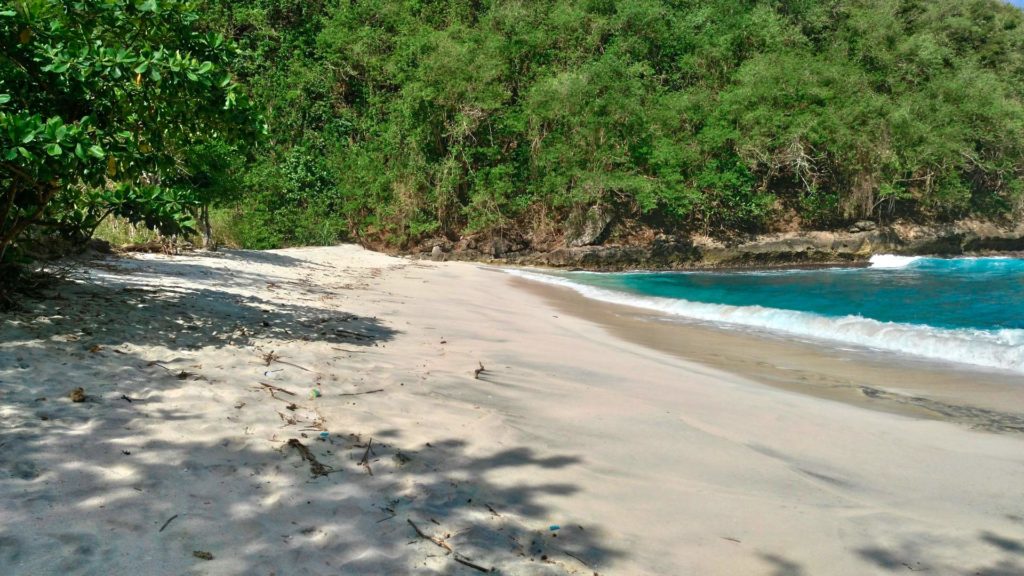 To get there you have to go up the mountain and down again on the other side. At the beginning there are stairs, after that it becomes a trail. Of course, the whole fun starts from the beginning, if you want to go back. The walk takes about 15-20 minutes and you will get a good sweat. It's still worth it!
4. The food night market in Sampalan
Sampalan is the second capital of the island, next to Toyapakeh. In addition to a few accommodations you will find there for the most part only local audience. There is also a small food night market every evening, open from 18:00 to 23:00.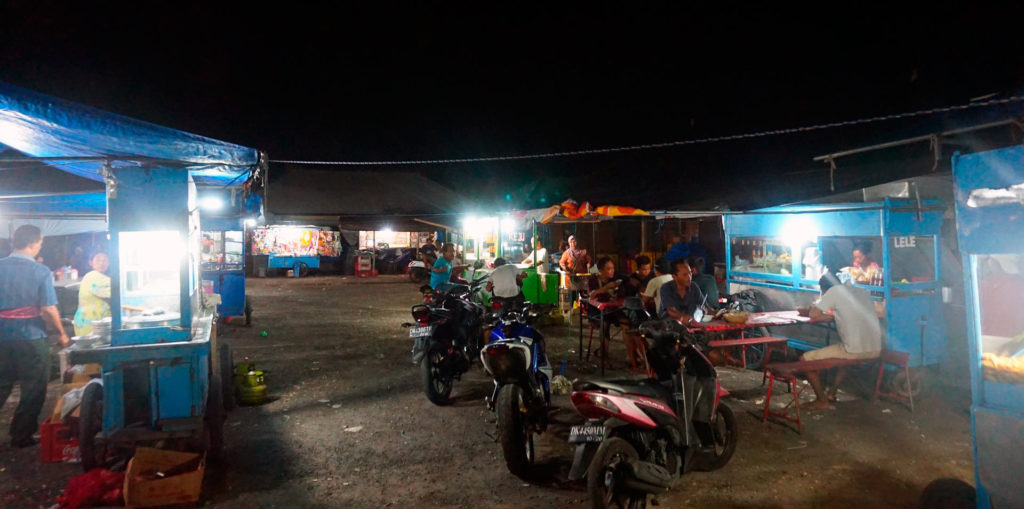 Several Warungs offer local dishes, such as Mie Goreng, Nasi Goreng, Bakso, Sate skewers and much more at unbelievably low prices. You should not pay more than € 1 per dish here. A little tip: Try the sweet Martabak with chocolate, cream and peanuts. Although it is really unhealthy, it's also very delicious!
5. Karang Dawa Viewpoint
In many other places viewpoints are usually nice, but never really breathtaking. Sometimes we get the feeling that nowadays everything 10 meters above the ground gets the stamp "viewpoint".
It's a bit different on Nusa Penida. Here just every lookout is indeed incredible and will knock you out of the slippers. One of the least noticed is the Karang Dawa Viewpoint. In our opinion it is an absolute must-see.
It is about 150 meters high and from the top you have a breathtaking view over the cliffs. In addition, at the end of the cliffs is a small rock tongue with a beautiful beach that protrudes into the sea. Unfortunately you can not reach the beach. Climbing down would be way too dangerous. Enough talking: Now just enjoy the pictures: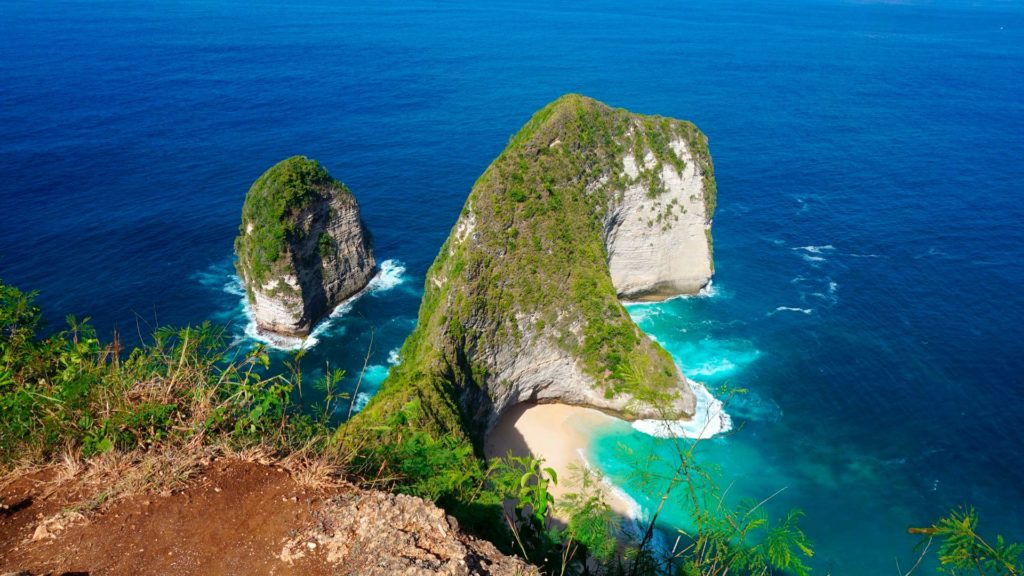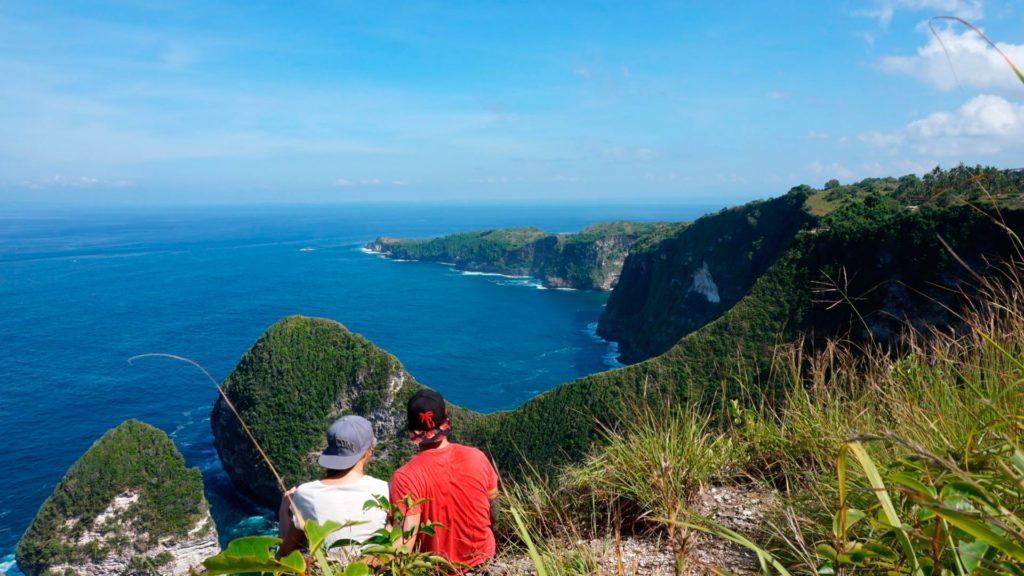 6. The best time to go to Nusa Penida
Many hotels and websites will give you false information. Especially December and January are touted as absolute high season. That is completely wrong. Exactly in these two months the weather is extremely inconsistent. Finally, it is also in the middle of the rainy season. Of course, there are also beautiful days, but it can rain very often.
In addition, the months of July to September fall into the high season. This is really the driest weather, but it is also very hot! 35 degrees up is the standard temperature. For a beach holiday it is for sure okay. For an island like Nusa Penida, where you want to discover and see a lot, definitely too much.
Our recommendation: April and May, as well as October and November. The hotel prices are lower again, the climate a bit "milder" and the rain probability still relatively low. In general, the climate on Nusa Penida is drier than next door in Bali!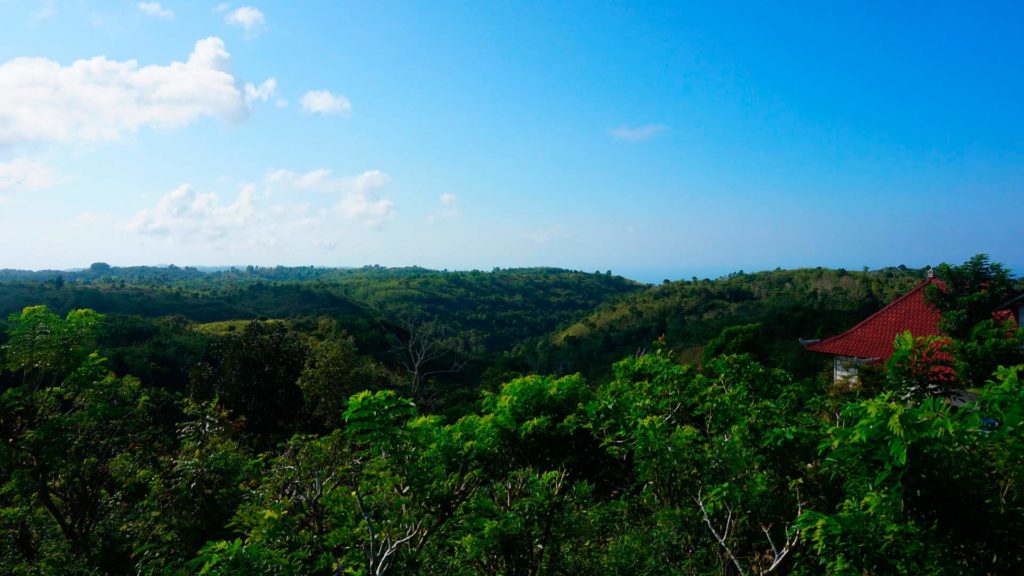 Our personal tip at the end: Scooter driving on Nusa Penida is for the most part very exhausting. The more far you get from the north side of the island, the worse the roads get. And by bad we mean really bad. Potholes as far as the eye can see. Sometimes you can't even call it a road anymore. If you have little experience with scooter driving or have not ridden for a long time, we recommend taking a private driver for excursions. Better be safe than sorry!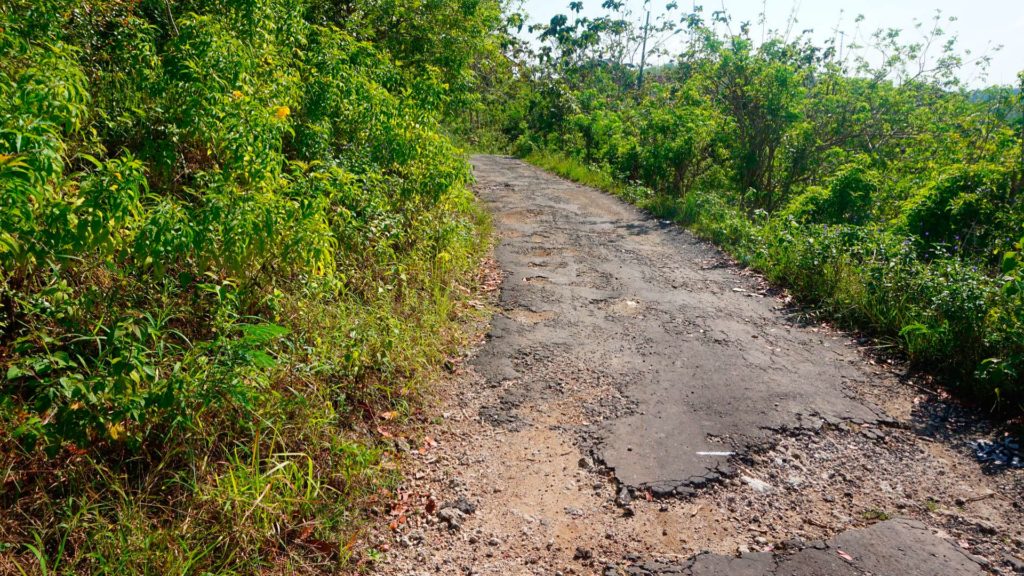 ---
About the authors
Hey, we're Sara and Marco from Love and Compass , travel bloggers with a lot of love. Our motto: coconuts and tongue kisses! Are you looking for a lot of useful travel reports, great insider tips, as well as important travel information for you and your partner? Then you are exactly right with us! Currently we spend most of our time in Southeast Asia. By the way, we're also on Facebook and Instagram. Give us your "like" there!
Plan your trip to Nusa Penida now
More hotel recommendations for Nusa Penida:
Popular routes to Nusa Penida:
---
Have you been to Nusa Penida and explored the island? How did you like it and what do you think you must have seen in your opinion?
Gast
Dies ist ein Gastartikel. Falls du Fragen oder Anregungen zum Thema hast, schreibe sie einfach in die Kommentare oder kontaktiere den Gastautor direkt auf seinem Blog.