Dieser Artikel ist auch verfügbar auf: Deutsch
The island of Koh Phangan in the Gulf of Thailand is known worldwide for its monthly Full Moon Party, but outside of this time, it is also very popular with families. There are more and more activities for children on the island, and family-friendly Koh Phangan hotels are becoming more common.
Our Koh Phangan family hotel tips – dreamlike Koh Phangan hotels for families
The most popular places for family vacations on Koh Phangan are certainly Thong Nai Pan, but also the quiet places on the west coast such as Haad Salad. As there is a wide selection of accommodations on Koh Phangan, we would like to give you an overview of Koh Phangan family hotels that are child-friendly and are wonderful places to stay during a vacation with your loved ones.
---
How to get to Koh Phangan
Koh Phangan: Tours and tickets
---
1. Family Hotels in Thong Nai Pan Yai
Thong Nai Pan is a place in the northeast of Koh Phangan. Thong Nai Pan Yai is the big bay in this area and offers visitors a beautiful shallow beach and a peaceful atmosphere. Although the place is somewhat remote from the rest of the island, it is one of the most beautiful areas. The main town Thong Sala is only 20 to 30 minutes away by taxi or scooter.
Thong Nai Pan is particularly popular with families, and the two beaches in the area are among the most beautiful on Koh Phangan. Even though Thong Nai Pan is remote, you can find everything you need here. Small supermarkets, restaurants, street food stalls, excursions, and even a mini-golf course. With the 2CBar, you also have one of the most beautiful bars with a viewpoint on the island right outside your doorstep.
Our Family Hotel Recommendation for Thong Nai Pan Yai
The Longtail Beach Resort is located at the southeastern end of Thong Nai Pan Yai Beach. The hotel complex is nestled in the midst of nature – one could also say in the middle of the greenery. The beach area is very clean and well-maintained, the food in the restaurant is delicious, and you can find dishes for the whole family there. By the way, we can absolutely recommend the restaurant at the Longtail Beach Resort, even if you don't stay overnight at the hotel.
The bungalows at the Longtail Beach Resort are also designed for families, so there is plenty of space. In addition, great massages are offered on site, there are toys for children in the restaurant and on the beach. The friendly staff is always happy to help you have a pleasant stay. Our top recommendation for Thong Nai Pan!
You can find more information about the Longtail Beach Resort here on Booking.com.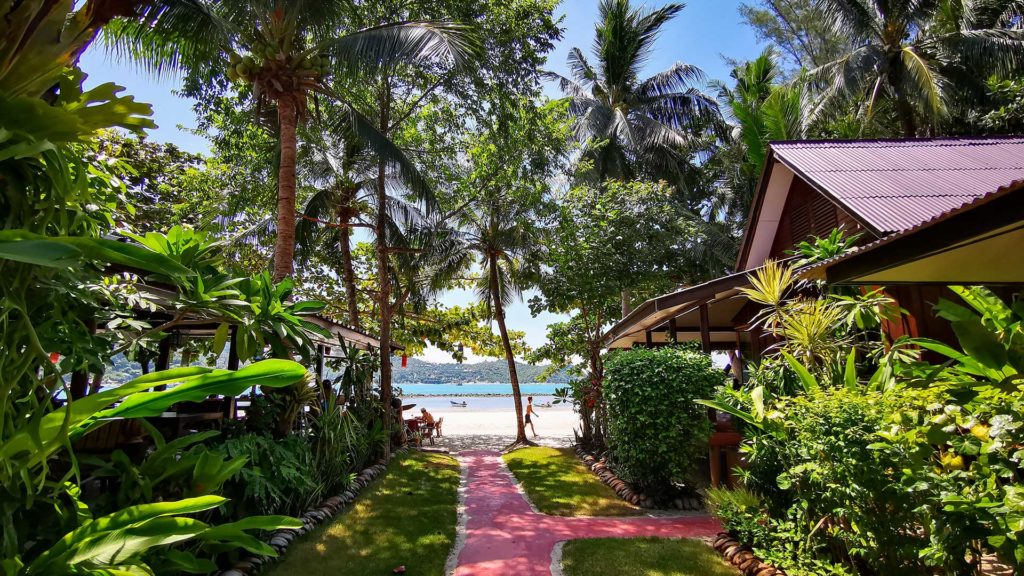 More hotel tips on Koh Phangan for families in Thong Nai Pan Yai::
2. Family hotels in Thong Nai Pan Noi
Thong Nai Pan Noi is the second bay of the town of Thong Nai Pan and many more luxurious hotels have settled here. It is the small (Noi) beach of Thong Nai Pan, but even here the beach is not really small. However, the water is not as shallow as at the neighboring big beach.
The small village connected here offers small supermarkets, many restaurants, and massages. You are in the right place for a luxury vacation. So if you want it a little more upscale, Thong Nai Pan Noi is a good choice. On the other hand, you usually have it a little cheaper at Thong Nai Pan Yai.
Our family hotel tip for Thong Nai Pan Noi
The Anantara Rasananda is located directly on the beautiful Thong Nai Pan Noi beach. The hotel is very child-friendly and promises luxury at the same time. The Ocean Pool Villas in particular stand out with their own small pool and a view of the sea. But the other rooms also offer their own swimming pool, which is particularly nice for children.
The hotel offers several restaurants and in addition to Thai cuisine, you can also eat western or Japanese food. The on-site staff tries to read your every wish and to round off the offer, there is a massage and wellness area. A private boat dock to arrange your transport from the airport directly to the hotel makes the journey from Koh Samui easier.
You can find more information about Anantara Rasananda, including prices and rooms, on Booking.com.
More hotel tips on Koh Phangan for families in Thong Nai Pan Noi:
3. Family hotels in Haad Mae Haad
In the northwest of Koh Phangan lies the small town of Mae Haad, where you can find some hotels and restaurants, massages (also directly by the sea), as well as the Wangsai Waterfall. The water on the beach is usually very shallow, which makes it very suitable for children. If you swim a little further out, you can even go snorkeling from the beach.
A highlight of the town is the small island Koh Ma. This can be reached via a sandbank during low tide or when the sea is calm. The beach of Mae Haad is very popular, so you will probably meet many visitors during the day. However, the beach is so spacious that you will certainly find a secluded spot for you and your children.
Our family hotel tip for Haad Mae Haad
The Koh Ma Beach Resort, with direct beach access and a sandbank leading to the nearby island of Koh Ma, is one of the most popular hotels in the small town. The resort includes a great beachfront swimming pool as well as a superb restaurant with delicious food and an adjacent playground for the children. Friendly service is a top priority here, and you can always get help with booking tours or getting to other places on the island.
There are several accommodation options available at the resort, from family rooms, double rooms to villas with garden views or even in the front row on the beach. The latter, in particular, make your stay very special when you can enjoy the peace and quiet of the beach directly from your terrace in the morning.
You can find more information for your stay at the Koh Ma Beach Resort on Booking.com.
More hotel tips on Koh Phangan for families in Haad Mae Haad:
4. Family Hotels in Haad Salad
At the beach of the same name, there is a tiny village on the west coast of Koh Phangan. Here you will find some small supermarkets, restaurants, bars, and a few diving schools. Several resorts have settled on the beach and offer great accommodations with a beautiful view of the sea.
The beach is located in a bay and is not very large. Despite the many resident resorts, it is never really crowded, and you can always find a secluded spot. The atmosphere at the beach is calm and inviting for enjoyment. The water is beautifully clear, and the sand is very fine and white. A few meters further out at sea, there is also a sandbank that can be recognized by the bright turquoise water.
Our Family Hotel Tip for Haad Salad
The Green Papaya Beach Resort is an idyllic accommodation located directly on Salad Beach. The rooms have a private terrace or balcony with sea views and provide a cozy atmosphere. You can relax in the large outdoor pool, which is suitable for children, or do something for your body in the fitness center. The bar and restaurant ensure culinary delights.
Children will certainly feel at home at the Green Papaya Beach Resort. There are many activities on the beach and in the water that children love, such as snorkeling and playing in the sand. The friendly staff of the resort are always on hand to provide advice and assistance to make your vacation as pleasant as possible.
For more information about Green Papaya Beach Resort, visit Booking.com.
More hotel tips on Koh Phangan for families in Haad Salad:
5. Family Hotels in Haad Rin
Haad Rin has a long history and is one of the oldest places on Koh Phangan. The beach used to be an important port for fishing boats and merchant ships. Today, however, Haad Rin is mainly known for its exuberant parties during the full moon. So, if you plan to travel with your family during this time, we advise against looking for accommodation in Haad Rin. The week around the Full Moon Party, about 3 days before and 4 days after, is not suitable for families.
Apart from the Full Moon Party, Haad Rin offers one of the most beautiful beaches on the island with its dreamy white sand. The beach is also very pleasant for swimming, as it is shallow, which is great for children. The Haad Seekantang (also called Leela Beach) is another beautiful beach in Haad Rin that you should visit. Otherwise, you will also find many restaurants, massages, and bars right on the beach in Haad Rin, and you can easily stay away from the parties.
Our Family Hotel Recommendation for Haad Rin
The Phangan Bayshore Resort is a delightful beach resort located right on the white sand beach of Haad Rin. The accommodation offers spacious rooms and bungalows with a private terrace or balcony from where you can enjoy the beautiful surroundings. A breakfast buffet will get you off to a great start in the morning.
The resort also provides a variety of leisure activities, including a large outdoor pool, a fitness center, a library, and a children's play area. There's also an excellent restaurant, Sand & Tan, right on the beach, which serves Thai and international dishes, as well as a bar where you can enjoy a refreshing drink.
For more information about the Phangan Bayshore Resort in Haad Rin, visit Booking.com.
More hotel tips on Koh Phangan for families in Haad Rin:
6. Renting a Villa or House on Koh Phangan
A great alternative to the Koh Phangan family hotels! Renting a villa on Koh Phangan offers you plenty of space and privacy. Especially with your family, this is not a privilege to be underestimated. You usually have your own pool and often a garden as well. This is perfect if you want to relax and unwind. Villas are generally more expensive than houses, but they add something special to your vacation.
A house on Koh Phangan is a good choice if you want your own accommodation but are looking for something more affordable compared to a villa. Here, you usually also have a garden and sometimes even a swimming pool. It is somewhat cheaper, but you also have less space and privacy than in a villa.
No matter whether you choose a villa or a house – it is important that you feel comfortable on the island and during your vacation. Therefore, think carefully about what you expect from your accommodation and thoroughly compare the offers. This way, you are sure to find the perfect accommodation for your vacation on Koh Phangan.
Here is an overview of villas and houses that you can find online on Koh Phangan at Booking.com.
Tips for family villas on Koh Phangan:
---
Of course, these five locations are just a small glimpse of where you can find family hotels on Koh Phangan. But with this selection, we want to make it a bit easier for you to find your dream hotel.
If none of these appeal to you, you can also search for family rooms and more accommodations on Booking.com. Nonetheless, we hope to provide you with a good selection for your family here.
Have you ever been to Koh Phangan with kids? Do you have any tips for great Koh Phangan family hotels? We are looking forward to your comments.