Dieser Artikel ist auch verfügbar auf: Deutsch
If you've had enough of the parties and hippies in Goa, you can relax a few hundred kilometres further south in Kerala.
Kerala – green and relaxed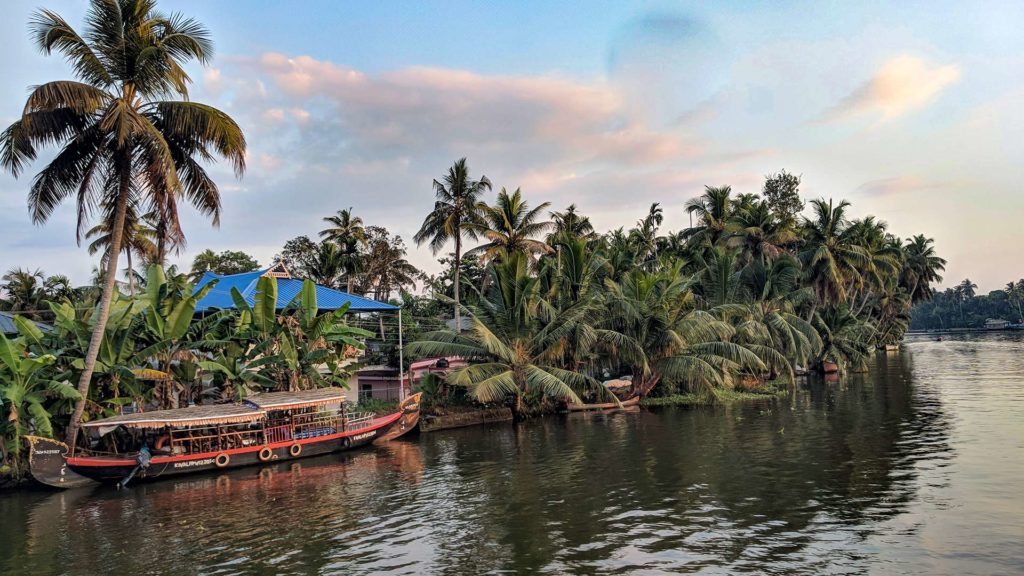 The communist state in South India captivates with green rice fields, deserted (well, not entirely…) beaches and myriad choices of Ayurveda institutions. If you don't quite dare to indulge in a 21-day Panchakarma cure yet, we recommend a beautiful houseboat tour, during which you can absorb the relaxed spirit of Kerala.
---
How to get to Alleppey in Kerala
Most of the houseboat tours start in Alleppey (Alappuzha), a small town about 3 hours from the nearest airport, Kochi. I'd recommend to arrive in Kochi the evening before, spend a night there and then take a taxi the next morning (I couldn't find any other transport possibilities) to Alleppey. Most tours start around 11.00 am in the morning anyway, so an earlier arrival is not really necessary. All boats leave from the same pier.
Pick your boats
Unfortunately, the houseboat tour is no longer a secret and most package tours have a round trip of the backwaters in their program. However, self-organized they are usually cheaper and you can choose the boat yourself, which is a great advantage.
The quality varies. For the same price a wide variety of boats are offered – it is worth to have a look inside. Most of them have air conditioning, two or three bedrooms and a viewing platform with some form of seating on it (if you are lucky, there are even sun beds).
Some boats are two-storied with a comfortable lounge area on the upper deck, which I can highly recommend. We had booked in advance (because of high season) and chose the "Angel Queen"-Boat, which was lovely, but certainly not the cheapest option.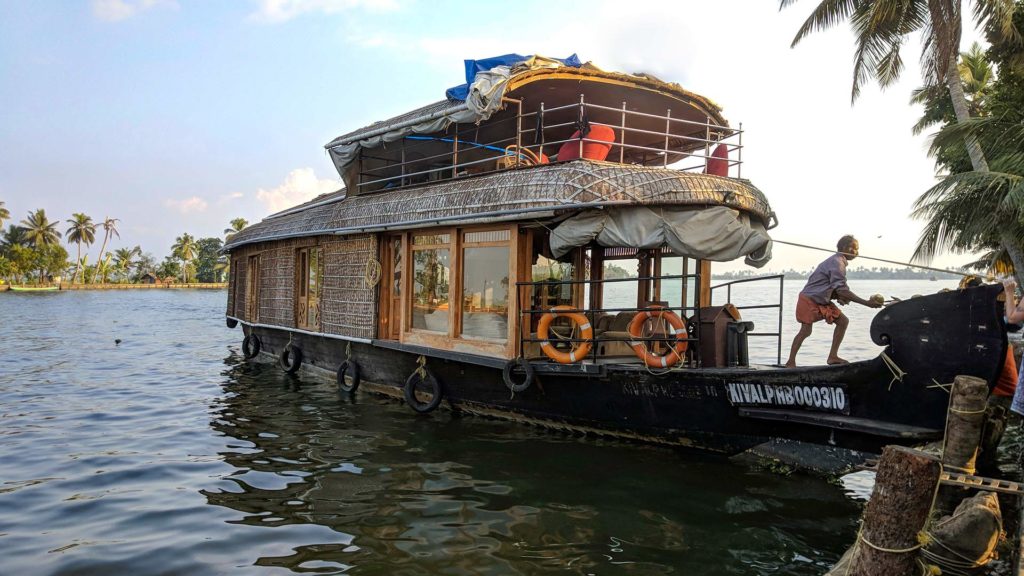 Outside the main season in December you can certainly negotiate cheaper prices, but you should expect to pay 90 € for a small boat per day.
The logistics of your Kerala boat trip
Depending on its size, your boat consists of several bedrooms (there are of course boats with only one bedroom), some sort of living room/viewing platform/dining room and a kitchen. The bathroom is usually en suite, – if there are several bedrooms, then each room has its own bathroom (depends on the boat, of course, but that's the norm).
The boat trips always includes breakfast, lunch and dinner as well as drinking water and tea. Everyone who likes to enjoy a chilled beer or a nice glass of wine should prearrange that – often the boats have no alcohol on board. That means: either bring your own or tell the crew to go shopping for you. The latter is then usually associated with a small fee.
The staff of the boat consists of the captain, a cook and an additional employee who cleans, serves and does all kinds of other stuff. Depending on the size of the boat, there may also be other employees on board.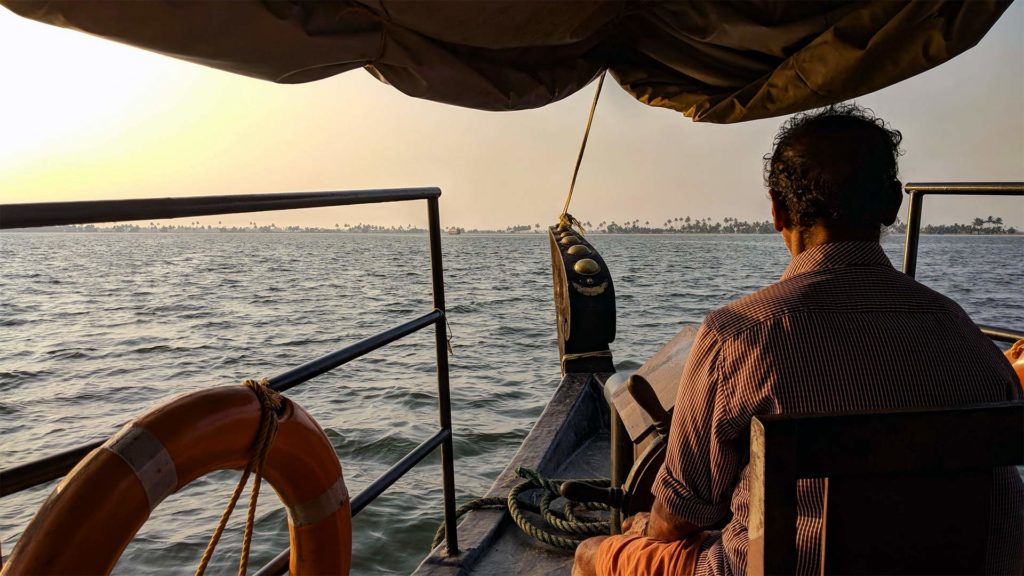 I'd recommend to book a "3D2N-Tour". That means two nights and three days. It's probably not worth to do it longer, because the landscape doesn't change much and I had the feeling that after 3 days on the boat I had seen enough. Shorter and longer trips are of course still possible.
The captain explained the route at the beginning, but that didn't help us a lot, because the canals look very similar – and therefore it is very easy to lose track of where you're going! That doesn't really matter though, because you don't have to do anything anyway.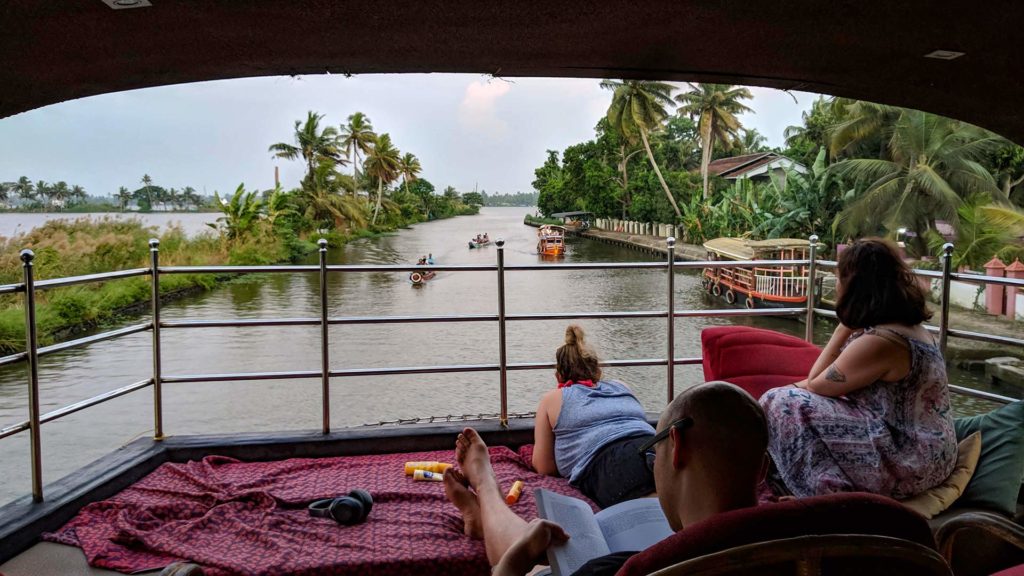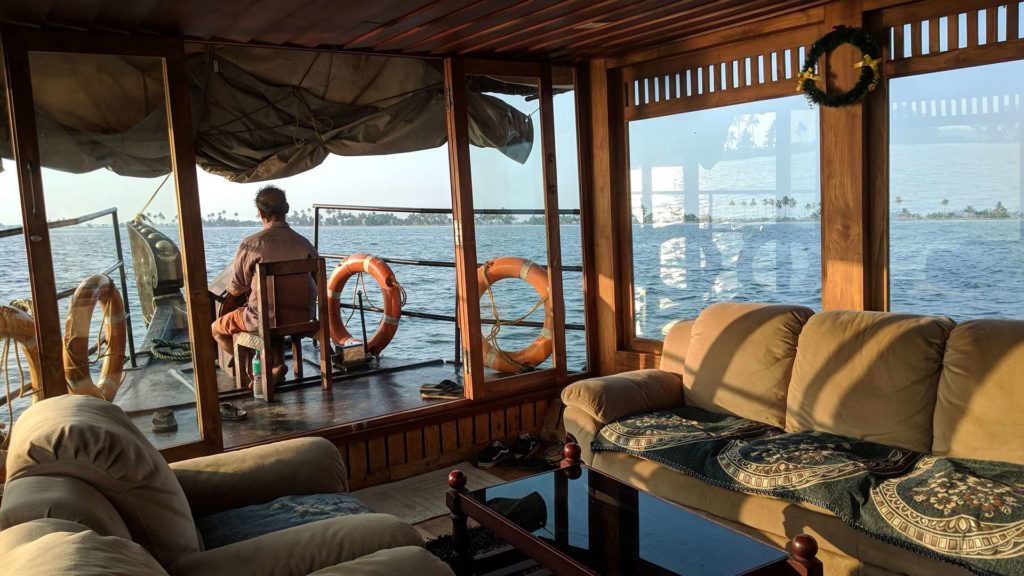 Culinary highlights
All meals are freshly prepared for you every day in the galley. The meals were always a feast! The South Indian cuisine impresses with its lightness, balanced aromas and its very own delicious taste.
For breakfast, for example, there were Dosas, Indian pancakes, which you can top with fresh fruit or spice up with all kinds of spicy chutneys. Lunch and dinner were dished up huge – served on banana leaves: chutneys, relishes, curries, fish, shrimp, chicken, tofu, bread, rice. No culinary desire remained unfulfilled and it was a pleasure to enjoy the amazingly fresh food. There was always enough for everyone plus refill.
For dessert, if there was any possible space left, we had fruits. As if this was not enough, there was always a little snack for afternoon tea – either homemade cookies or fried bananas. You can tell that food was a very important part of this trip and often we counted the hours until we finally had dinner again. The boat was always anchored during the meal times, so that nobody got seasick either.
Discovering the pleasure of slow
But nobody gets seasick in Kerala. There are no waves or winds on the artificial canals through the rice fields that could make the boat rock (except in the monsoon maybe). The boat moves so slowly that the world passes in slow motion – it's hard not to relax! (spoiler alert: on our boat we even had WiFi if you can't stand the remoteness anymore).
If you travel in a group, it could be fun to bring a deck of cards. But it is also completely sufficient to just relax, look at the rice fields and observe the daily life of the people on the river bank.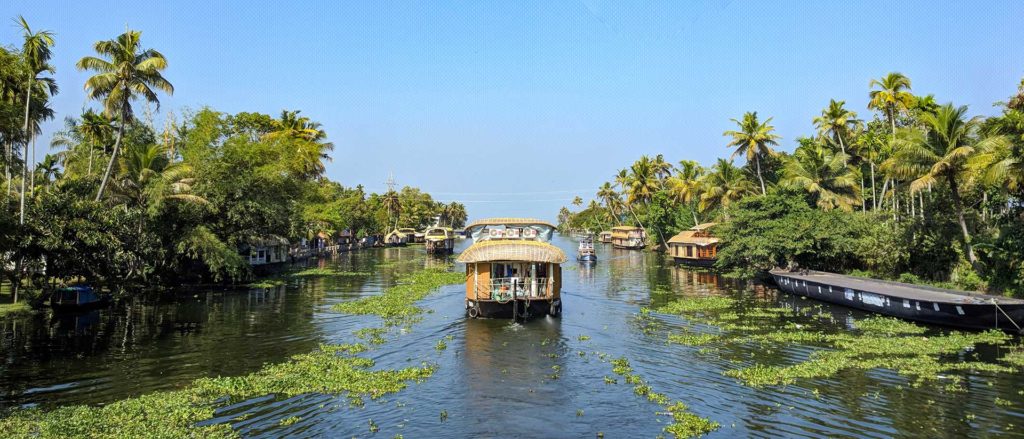 Rice fields, palm trees and the small villages of Kerala
The rice swayed in the gentle breeze, sunbeams played on the water, birds sang – for me Kerala was a real paradise. From the boat you can take wonderful pictures, wave at children, watch birds, fish, monkeys and sometimes snakes. If you are not yet a nature freak, you will definitely become one here! The sunsets on the water are something very special and offer a splendid play of colours every evening.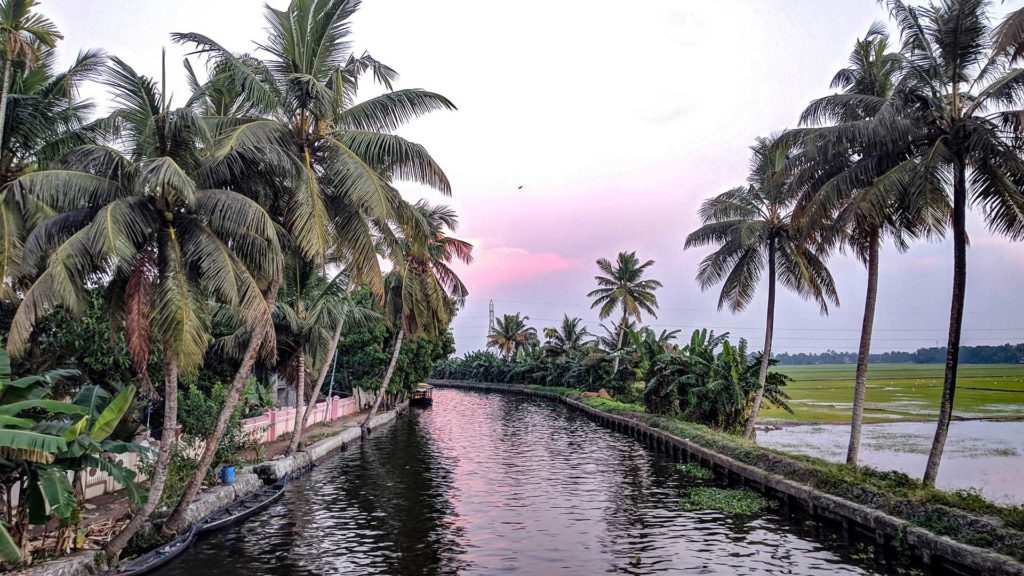 Shore excursions, anyone?
Most boat tours also offer at least one shore excursion. In our case this meant that we could buy super delicious fresh fish directly from the fish market (we passed it on to our cook who then prepared it with ginger, lemon grass, coconut milk and chili in a banana leaf – YUMMY!) We also visited a catholic church and were lucky that a wedding was taking place right now, so we could admire a lot of beautiful saris, which were shimmering in all colours of the rainbow.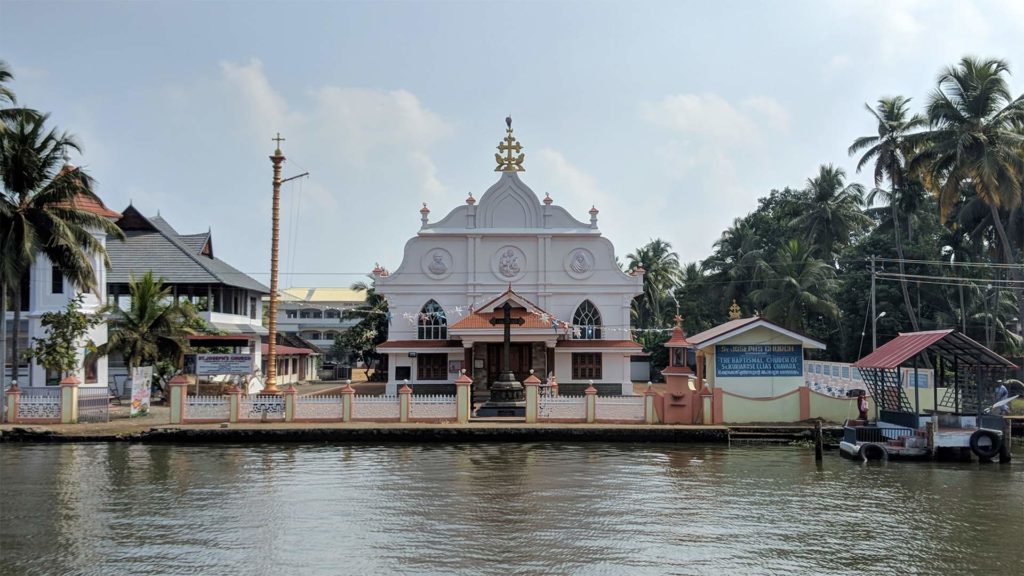 A tour with the houseboat for 2-3 days is worthwhile in any case, even if the price may seem high at the beginning – you can often bargain if you don't pre-book. Afterwards you are truly relaxed and can dive back into your India adventure!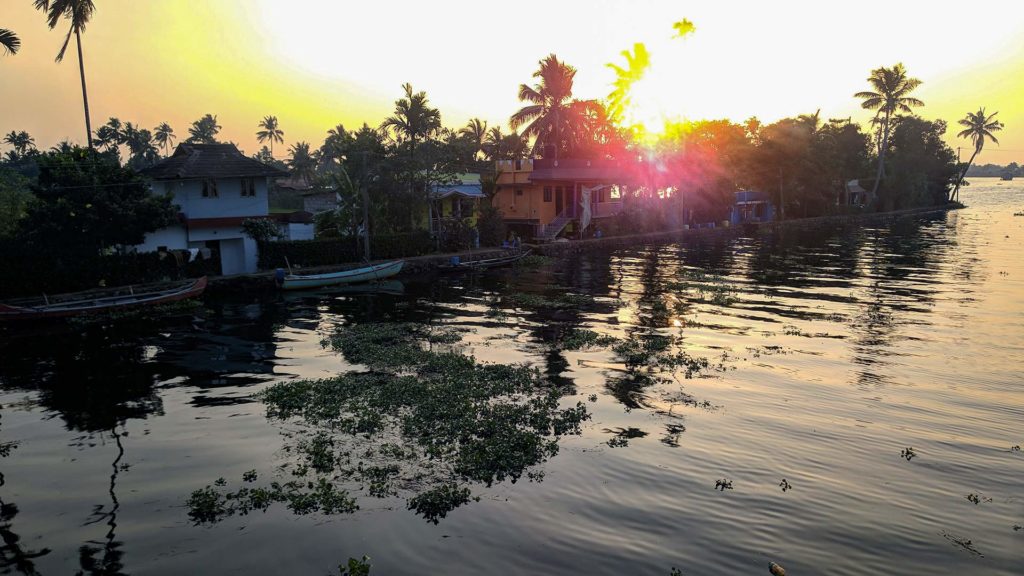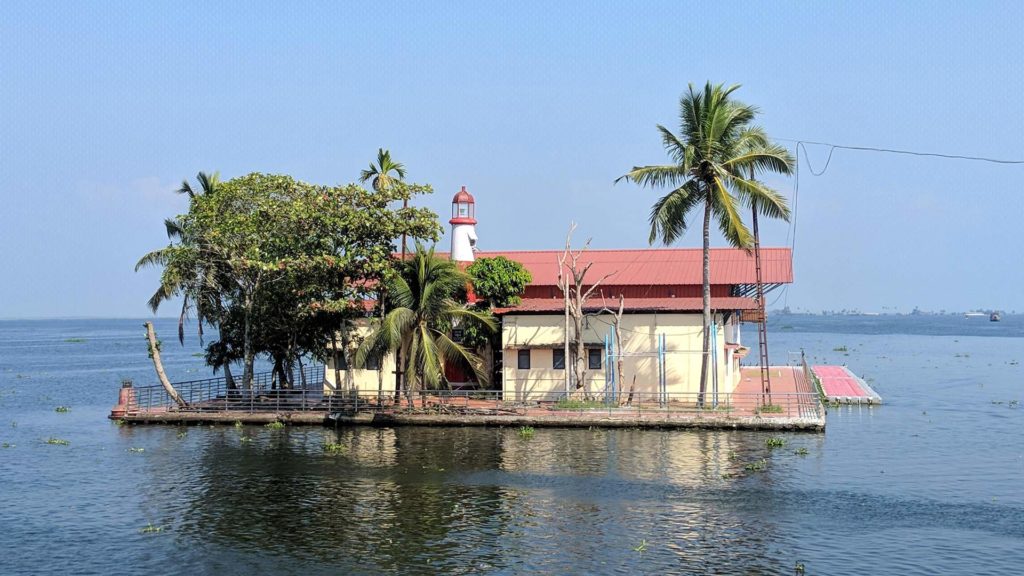 ---
About the author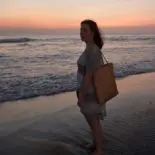 If she's not doing yoga or racing around Indonesia on a motorcycle, Lisa will be found close to a turquoise beach, preferably a glass of red wine in her hand and sand between her toes. Having lived in Southeast Asia for more than 4 years, she's fallen deeply for this part of the world – if only there was more 'real' Pizza around! You can follow her travels and hunt for Pizza on Instagram: @lisa_asia
Have you ever been to Kerala? Did you do a houseboat tour? Tell us about your houseboat tour in the backwaters!