Dieser Artikel ist auch verfügbar auf: Deutsch
Hiking in Hong Kong? There are supposed to be hiking trails between all the skyscrapers?! Yes, exactly! 70% of the city are green areas – so there is plenty of space and breathtaking scenery to explore.
Hiking in Hong Kong: 3 tours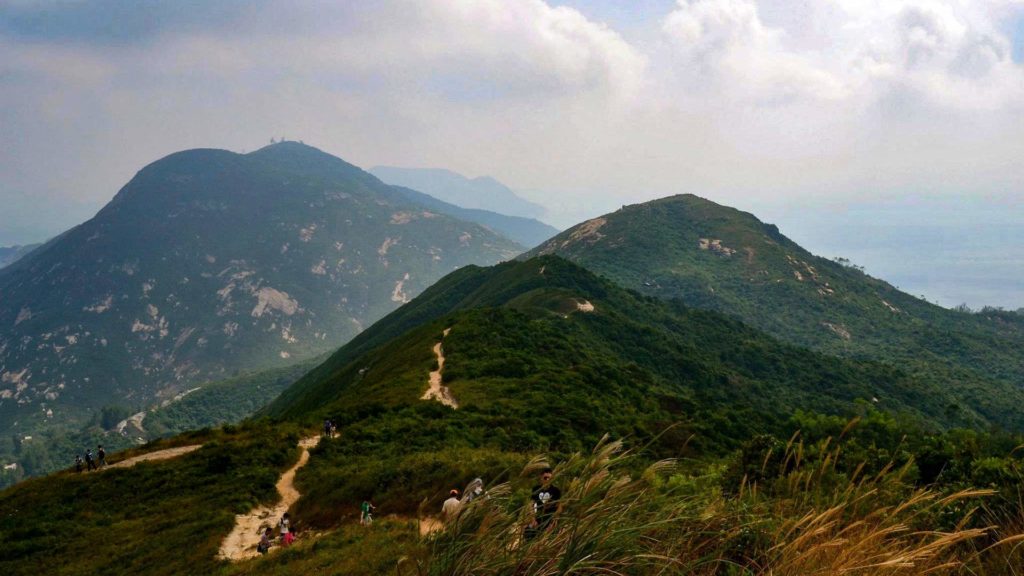 Here are 3 different trips. If you are in the metropolis for only a few days, try to pick at least one – it's worth it! We start with the simplest and probably most famous way.
---
How to get to Hong Kong
Accommodation in Hong Kong – our hotel tip
Located in the heart of Kowloon, Hotel Ease Mong Kok is just a minute's walk from the Yau Ma Tei Station on the MTR train. The rooms are spread over 20 floors and offer great views of the city skyline. They are equipped with private bathroom, air conditioning, TV, safe and a small desk. A good starting point to explore Hong Kong.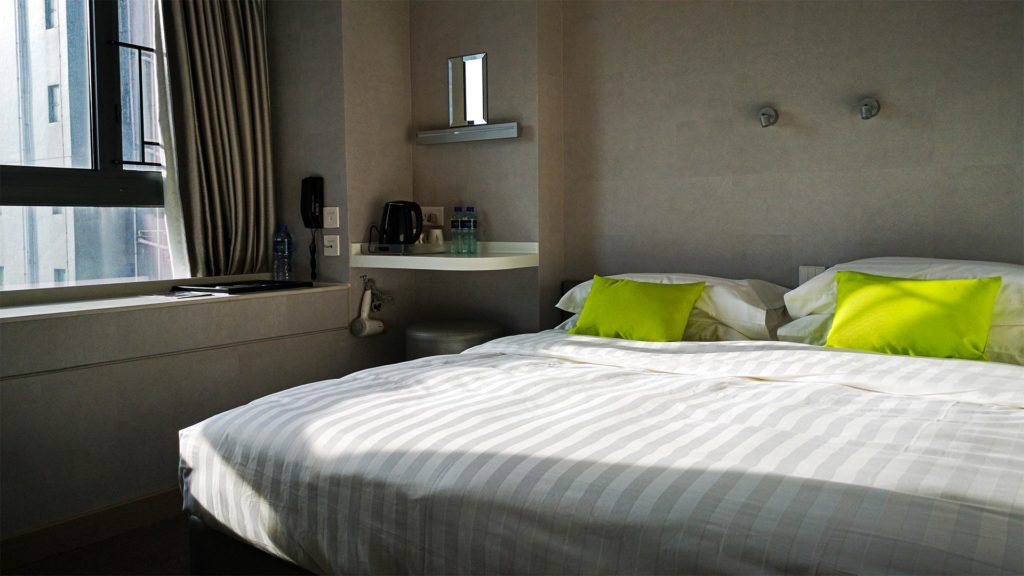 Find more hotels in Hong Kong in other parts of Kowloon or on Hong Kong Island here.
Hong Kong: Tours and tickets
---
1. Dragon's Back Trail & Big Wave Bay
Now that's a name for a hiking trail, right?
The Dragon's Back is a must for many locals as well as tourists if you want to escape from the city. This part is the last of the Hong Kong Trail and runs for 8,5 km. Hiking here is super easy, you only need sneakers. Hiking sticks or something like that can stay at home.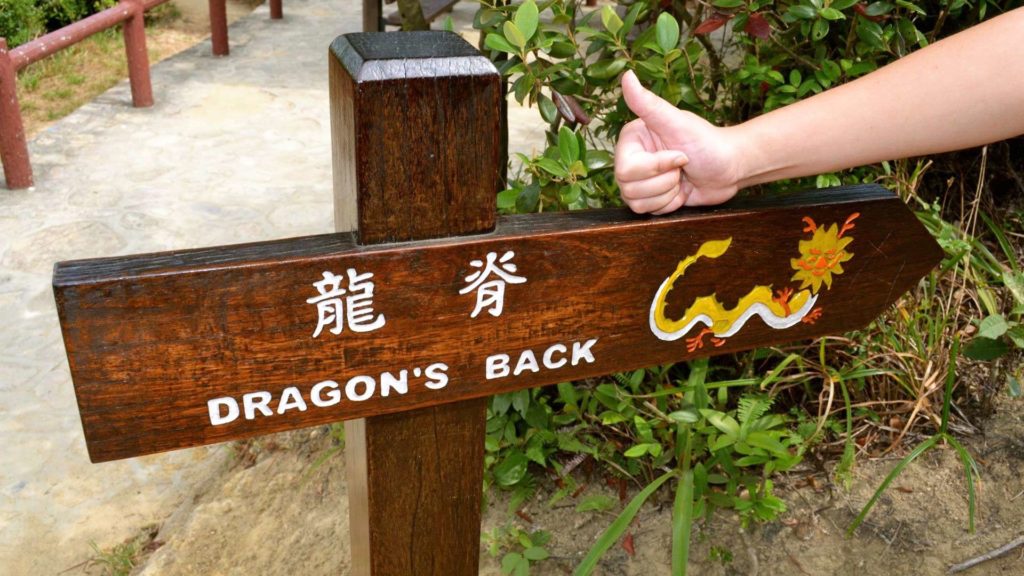 At the end of the trail, Big Wave Bay awaits you for some refreshment. As you can imagine, the beach is often frequented by surfers to enjoy some waves. Here you can sunbathe, relax and marvel at the beautiful nature.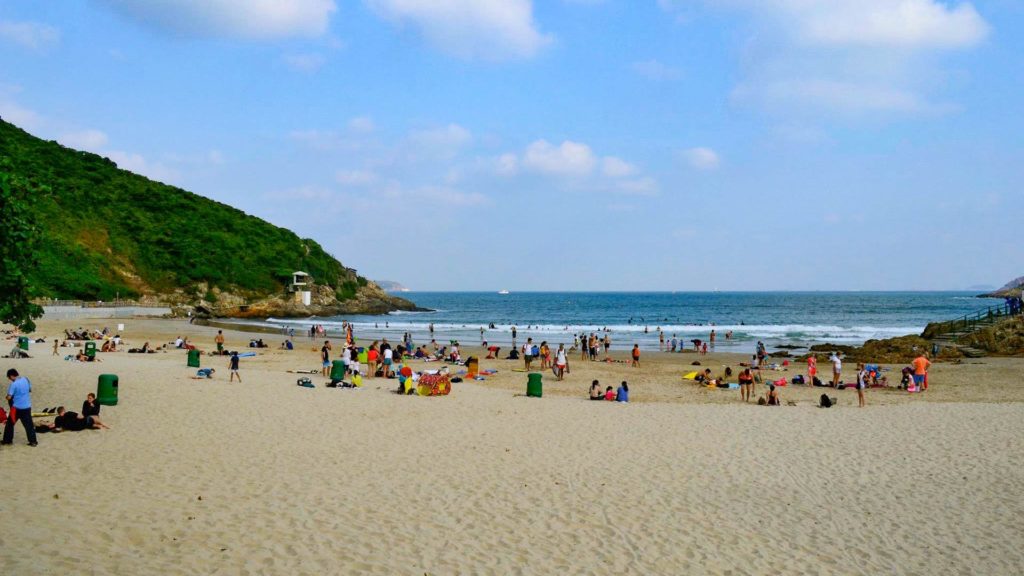 About the practical part – how do you get there?
Quite simply, you take the MTR. Just get on the blue line towards Chai Wan and get off at Shau Kei Wan. Take exit A3 and from there take bus 9 direction Shek O and get off at To Tei Wan. The hiking trail starts right there. The "most difficult" are the steps at the beginning, after that it continues relatively straight on the back of the "dragon".
The whole hike is about 8 km long and takes about 2-3 hours, depending on how fast you go. But since you will definitely want to relax on the beach, it is better to plan for the whole day.
On the way you can expect the view of the surrounding islands and lots of greenery. What you should definitely take with you are:
plenty of water
sunblocker
bathing suits
food
sun protection
bug spray
On the route there is not a single kiosk, only in Big Wave Bay you can find something to buy again. So to avoid hunger and thirst, take plenty of snacks and water with you.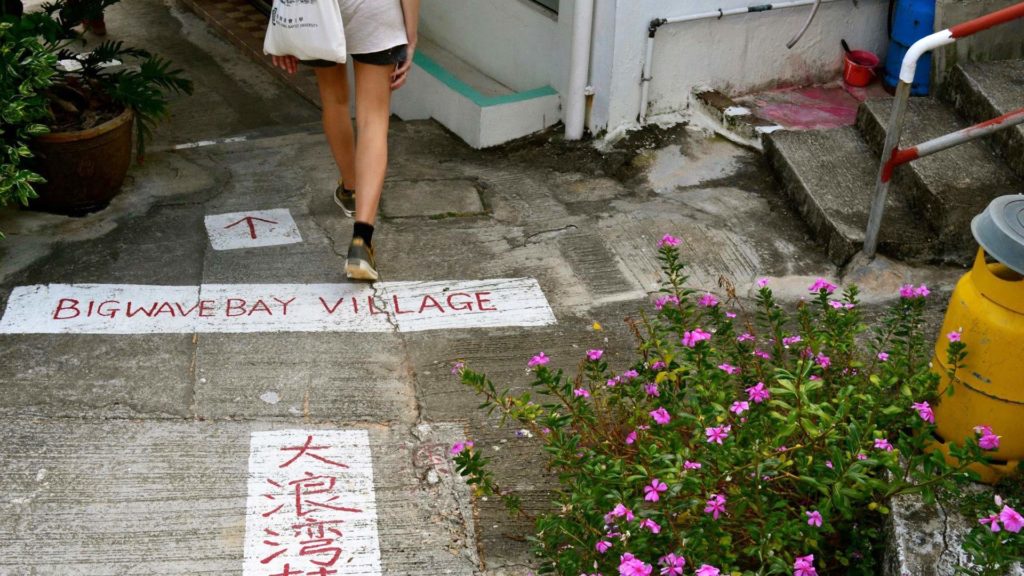 How do you get back? That's also easy – from the beach you walk up to the parking lot. There are small mini buses that will take you back to the MTR station Shau Kei Wan. And just like that, you're back on the blue MTR line.
2. Tai O
Tai O is a small fishing village located on Lantau Island (where the famous Big Buddha can also be found). All houses are built on stilts and it is also called Hong Kong's Venice. Especially if you like to take unique photos, the village offers the perfect backdrop.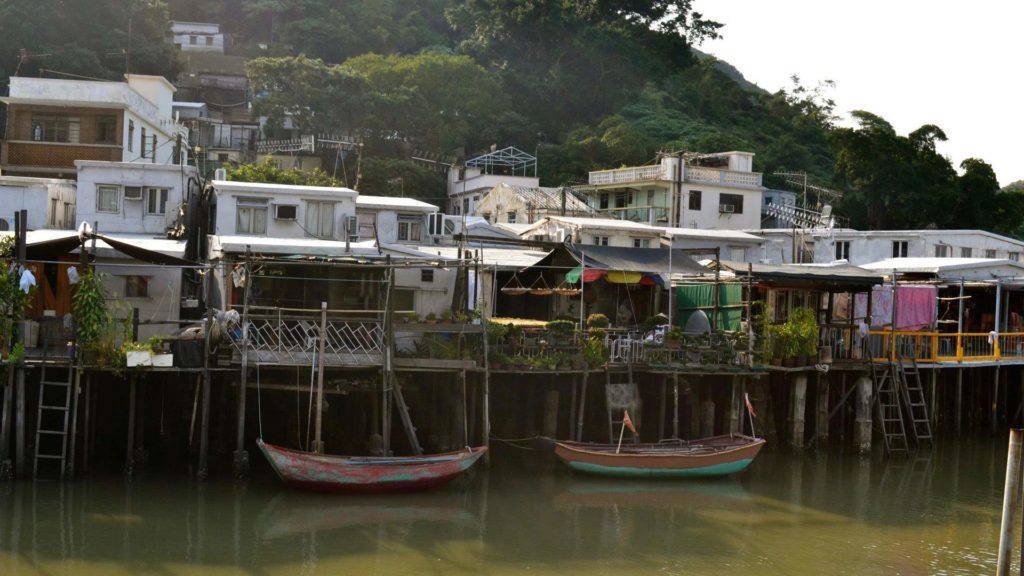 There are several ways to get to the fishing village – the longest but also the most exciting is the Tung O Ancient Trail. It starts in Tung Chung and takes you to Tai O. With about 13 km this is a relatively long hiking trail and you should plan the whole day for this trip. The hike itself takes 5-6 hours, depending on how many photos you take along the way.
Tai O – how do you get there?
Take the orange MTR line to Tung Chung and take Exit A. Turn left onto Shun Tung Rd, then right onto Yu Tung Rd. Follow the signs to Hau Wong Temple/Tung O Ancient Trail. The temple is the first point of reference. Here you can find the complete hiking trail from the HK Tourism Board.
On the first half of the way you can look at Hong Kong Airport and see one or two, if not hundreds of planes landing and taking off. You see a lot of ocean, green and some interesting insects.
Follow the signs to Tai O until you finally arrive in the picturesque fishing village. Here you can take a boat trip or just try local treats. Of course the fish is the highlight here.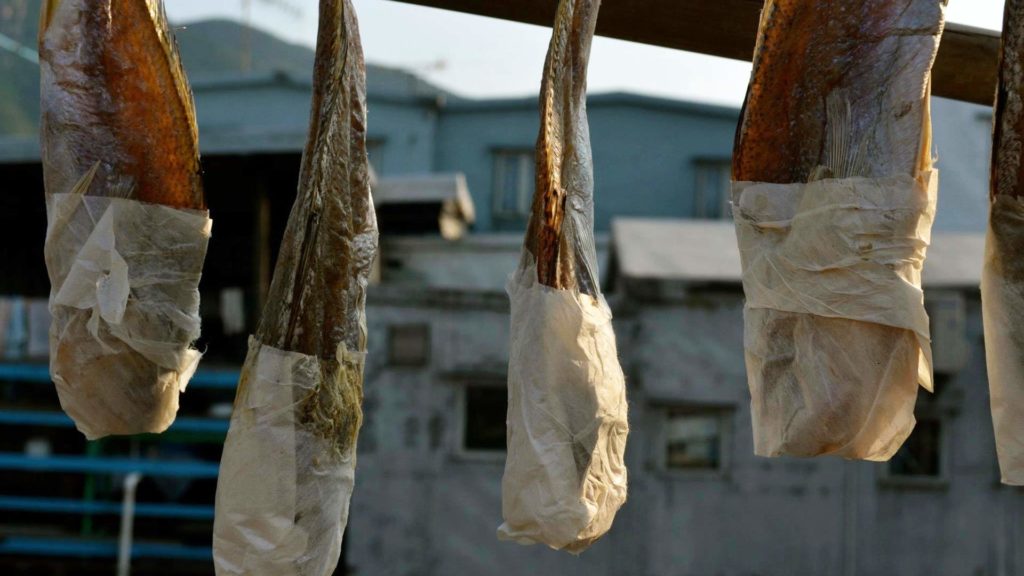 For the return trip go to the Tai O Bus Terminal. There you take the New Lantau Bus No. 11 back to Tung Chung and jump on the MTR back to the vibrant center.
Also here you should take plenty of water and possibly an umbrella or a cap as it is a longer tour.
3. Ham Tin Beach
If you're looking for a bit of adventure and are a camping fan, Ham Tin Beach is the place for you! Situated in Sai Kung Country Park and really away from tourism, you'll find the most beautiful beaches in Hong Kong.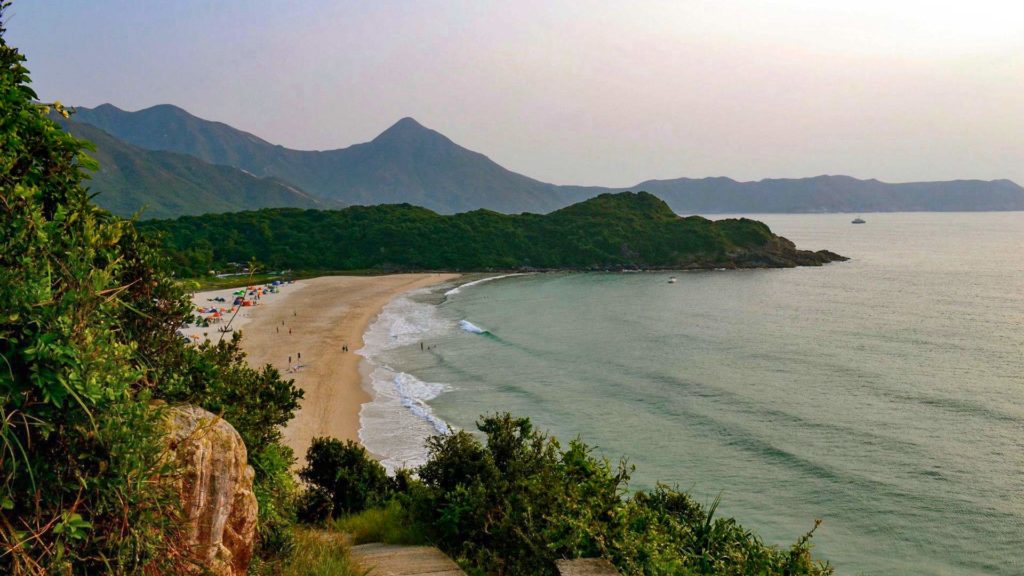 How to get to Ham Tin Beach
Getting here is not quite as easy, but definitely doable. First you have to come to Sai Kung Town. There are different options here.
Take the MTR to Chai Hung (Kwun Tong Line) and take exit C1. From there take minibus 1A to Sai Kung Town (approx. 40 min).
Take the MTR to Hang Hau (Kwun Tong Line) and take Exit B. Then take the 101M minibus to Sai Kung Town.
Take the red minibus from Dundas Street in Mong Kok to Sai Kung Town (about 30 min).
If you are now in Sai Kung Town, I recommend you take a speedboat to Sai Wan Beach (about 30 minutes). This costs between 120 and 150 HKD. The boat trip is beautiful and feels slightly adventurous. When you arrive at the beach, you can buy food and rent tents if you don't have your own.
If you don't want to camp directly on this beach, then walk 30 minutes further to Ham Tin Beach, which is even more beautiful. Once there, all you can do is jump into the water and have a BBQ!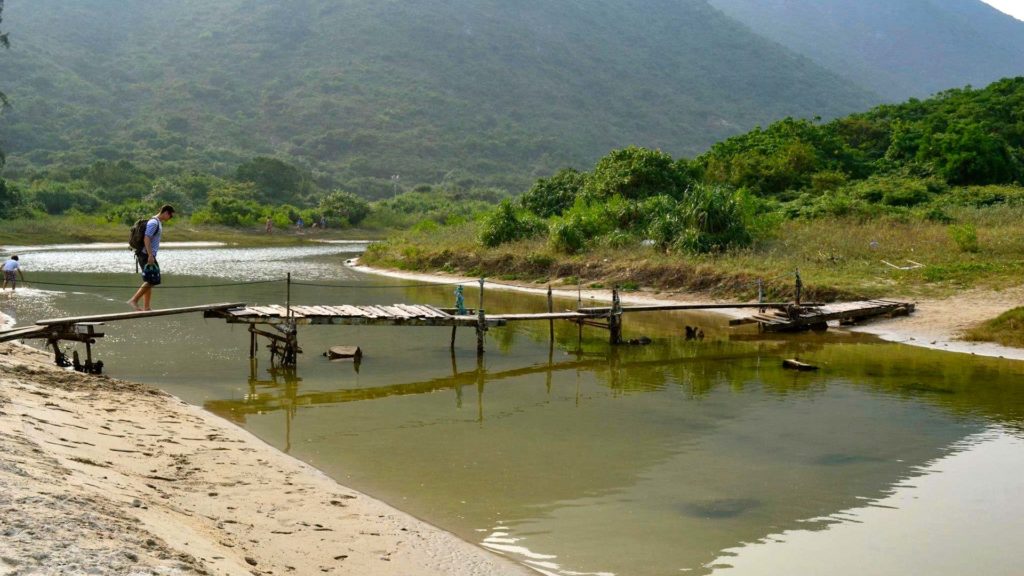 You can make your way back the same way you came – by boat (ask in advance when the first and last boat leaves). Another option is to take the picturesque path to the Sai Kung Pavilion. The walk takes 40 minutes and you can enjoy the beautiful view of the ocean. At the pavilion you will catch a taxi to Sai Kung Town or take the bus 29R back (attention, also adventurous!).
Bring mosquito repellent and sunscreen. You can buy food and drinks at Sai Wan Beach, but of course it is always cheaper if you bring your own food.
So, which hiking trip did you decide on? How did you like hiking in Hong Kong? Leave us a comment.
Gast
Dies ist ein Gastartikel. Falls du Fragen oder Anregungen zum Thema hast, schreibe sie einfach in die Kommentare oder kontaktiere den Gastautor direkt auf seinem Blog.