Dieser Artikel ist auch verfügbar auf: Deutsch
El Nido on Palawan is one of the most beautiful places in the Philippines. Many people come here to visit the surrounding tropical islands, which are covered with impressive limestone formations and white sandy beaches.
The 4 Lagoons in El Nido
Plus, in Bacuit Bay, you can also swim in stunning lagoons. These natural wonders consist of incredibly blue water, and they can be easily visited with an El Nido Island Hopping Tour.
In this article, I'll introduce you to the four different lagoons in El Nido, and I'll show you how to get to each one.
---
1. Big Lagoon – El Nido's Largest Lagoon
As the name suggests, Big Lagoon, which is located on Miniloc Island, is the largest lagoon in El Nido. It's easiest to get there with El Nido Tour A, which includes three of the four lagoons in El Nido. For this reason, this tour is also known as 'The Lagoon Tour'.
If you decide to participate in Tour A, be sure also to rent a kayak when you book your ticket. Big Lagoon is simply too big to explore completely without one.
However, if you have a kayak, you can take your time to paddle through the lagoon and admire the large limestone boulders around you. At the entrance of Big Lagoon, the water is also incredibly clear, so you can see all the way to the bottom. This is a perfect place to swim!
How to get to Big Lagoon: With El Nido Tour A
2. Small Lagoon – Big Lagoon's Little Sister
Small Lagoon is located right next to Big Lagoon and is a bit smaller than its neighbor. Despite its size, Small Lagoon is just as beautiful as Big Lagoon! To be honest, I may find Small Lagoon even a little prettier.
This place is part of El Nido Tour A as well, although you have to decide beforehand whether you want to visit Big or Small Lagoon, as the itinerary includes only one of the two lagoons per tour.
To visit Small Lagoon, a kayak is not necessarily needed but is still recommended if you want to explore the place thoroughly. In the beginning, you'll again find an incredibly clear pool of water, whereas, in the back, the water gets a bit deeper and has a dark green color.
The surrounding lime stones are covered with lush plants, and swimming here makes you feel like you're in paradise!
How to get to Small Lagoon: With El Nido Tour A
3. Secret Lagoon – The Hidden Lagoon in El Nido
In addition to Small and Big Lagoon, the itinerary of Island Hopping Tour A also includes El Nido's Secret Lagoon. This lagoon is much smaller, and the water is unfortunately not as clear. What makes this place unique is the hidden location of the lagoon.
To get to Secret Lagoon, you have to climb through a little hole in limestone rock. Afterward, you'll enter a small pool, which is surrounded by high limestone cliffs – quite adventurous!
How to get to Secret Lagoon: With El Nido Tour A
4. Cadlao Lagoon – The Most Underestimated Lagoon in El Nido
Last but not least, you can also visit Cadlao Lagoon. You have two different options to get there: Either you join El Nido Tour D or you paddle there yourself by kayak, which takes around one hour.
No matter which option you choose, the lagoon is one of the most beautiful places in El Nido, and when visiting Palawan, you should certainly not miss this little paradise!
The lagoon features turquoise-blue water, which is a bit colder compared to the other lagoons. This can be very refreshing on hot days.
Plus, there's also a small, lovely beach where you can climb various limestone rocks and enjoy the view of this beautiful place from above.
And if all of this wasn't enough reason to visit yet, at the beginning of the lagoon, you'll also find a great snorkeling spot!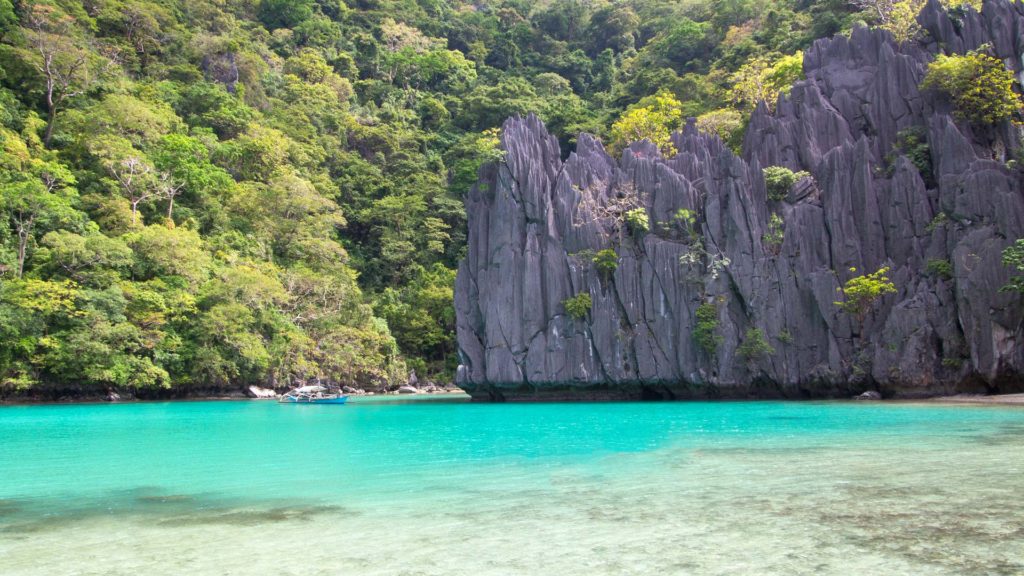 How to get to Cadlao Lagoon: With El Nido Tour D or by kayak
Which is the Most Beautiful Lagoon in El Nido?
Honestly, I can't really say which one is the most beautiful lagoon in El Nido. They're all special in their own way.
Yet, the most popular ones are Big Lagoon and Small Lagoon, as they each feature a swimming area with crystal-clear water. They're also a bit bigger, so you can easily spend some more time here.
However, in my opinion, Cadlao Lagoon with its turquoise blue color is almost as beautiful. This place is also not as popular as Big and Small Lagoon and is usually a bit quieter. Besides, you don't necessarily need a tour to visit the lagoon on Cadlao Island. Instead, you can also kayak there yourself, which in my opinion is one of the coolest things to do in Palawan!
Secret Lagoon is impressive, but I personally don't think it's as stunning as the other three lagoons in El Nido. Still, it is exciting to climb through the small hole to then swim amidst high limestone rocks.
Which Lagoon Should I Visit?
You can't decide which lagoon to visit? This overview can help you find out which lagoon suits you best:
Visit Big Lagoon if you:
Like to get active, and you want to kayak through the lagoon.
Want to swim in crystal-clear water.
Like to explore places thoroughly.
Visit Small Lagoon if you:
Like to get active, and you want to kayak through the lagoon.
Want to swim in crystal-clear water.
Prefer smaller and more intimate places.
Visit Secret Lagoon if you:
Participate in El Nido Tour A anyway.
Are seeking adventure.
Are not claustrophobic.
Visit Cadlao Lagoon if you:
Want to avoid the tourist crowds.
Prefer a diverse lagoon.
Like to snorkel, and you want to explore some corals.
Conclusion: Are the Lagoons in El Nido Worth Visiting?
The lagoons in El Nido are some of the highlights of the entire island and are definitely worth visiting! The water in the lagoons is partly crystal clear and partly turquoise blue, which is perfect for swimming!
Plus, the lagoons are surrounded by remarkable limestone formations, which are absolutely gorgeous. So, you can completely relax and enjoy the incredible surrounding nature.
Doesn't that sound like a perfect vacation?
---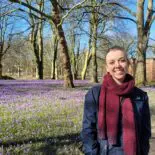 About the author
Lena has been traveling the world for more than six years, from which she spent almost two years in Palawan, where she explored thoroughly the lagoons in El Nido. On her travel blog Not Another Backpacker, you can read her stories and travel tips!
Have you been to the El Nido lagoons? If so, which one did you personally like the most?
Gast
Dies ist ein Gastartikel. Falls du Fragen oder Anregungen zum Thema hast, schreibe sie einfach in die Kommentare oder kontaktiere den Gastautor direkt auf seinem Blog.