Dieser Artikel ist auch verfügbar auf: Deutsch
If you're looking for a breathtaking travel destination, look no further than Denmark. Known as the happiest country in the world, Denmark is also home to some of the most beautiful scenery imaginable. From rolling hills and peaceful lakes to charming villages and lively cities, Denmark has something for everyone.
10 awesome places that you should visit in Denmark
From picturesque villages to stunning coasts and everything in between, here are ten of the most beautiful places to visit in Denmark.
---
1. Copenhagen
It should come as no surprise that Copenhagen is the top traveler's choice when it comes to beautiful places to visit in Denmark. The city is home to world-famous landmarks such as the Little Mermaid statue and Tivoli Gardens. In addition, Copenhagen is a great place to enjoy Danish culture, food, and nightlife.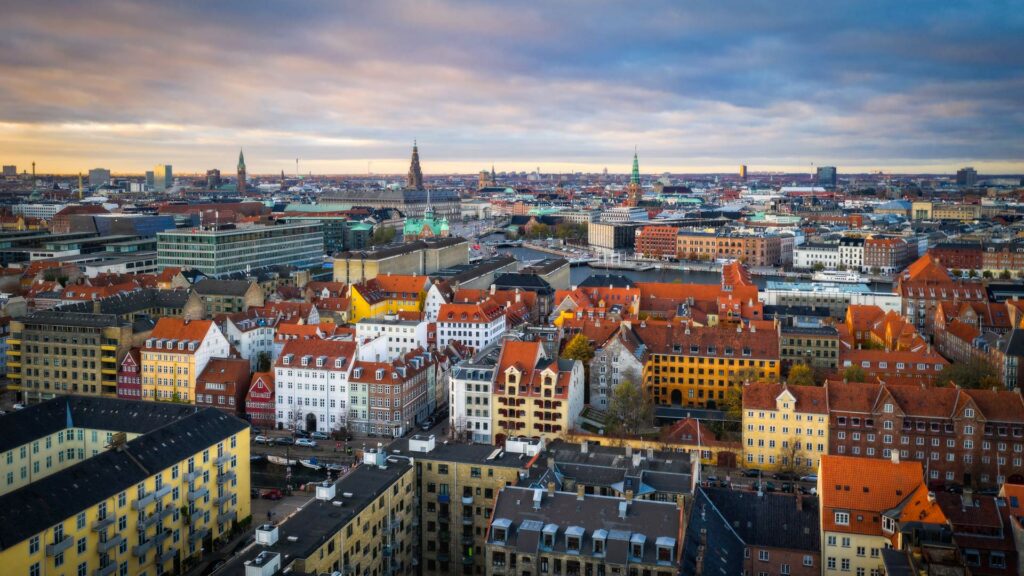 Copenhagen is bustling with life and especially during the warm months of summer, you will see the city come to life like no other. Besides just visiting the Little Mermaid and sightseeing the canals, Copenhagen offers a ton of cool activities and places to visit. Check out the different neighborhoods of Copenhagen including Nørrebro, Vesterbro, Frederiksberg, Østerbro, Christianshavn, and The City Center. All areas offer a ton of different activities, cool hang-out spots, cafes, bars, and restaurants.
When you imagine Denmark think of bikes, cuisine, life, architecture, culture and fun. Be prepared to have a great time in the lovely and charming capital and make it your first priority in terms of places to visit in Denmark.
2. Skagen
Skagen is the most northern part of Denmark and is famous for its beauty and natural phenomenons. The long coastline, tall sand dunes, and ever-changing light make it a very popular spot for artists, tourists, and locals in the summer months. Here the days seem endlessly long and the nights are very short. A perfect location to experience a true Scandinavian summer. If you find yourself in Denmark during the colder months, Skagen is also a place to experience the northern lights if you are lucky.
Visit Råbjerg Mille to experience some amazing landscape and check out Grenen where two seas collide.
The small village of Skagen is the perfect place to relax and enjoy the quiet atmosphere. There are many small shops and cafes to explore, as well as a few museums. Skagen is also a good place to enjoy some fresh seafood, as the town is located right by the sea. If you want to experience something truly unique, make sure to visit Skagen during the summer months.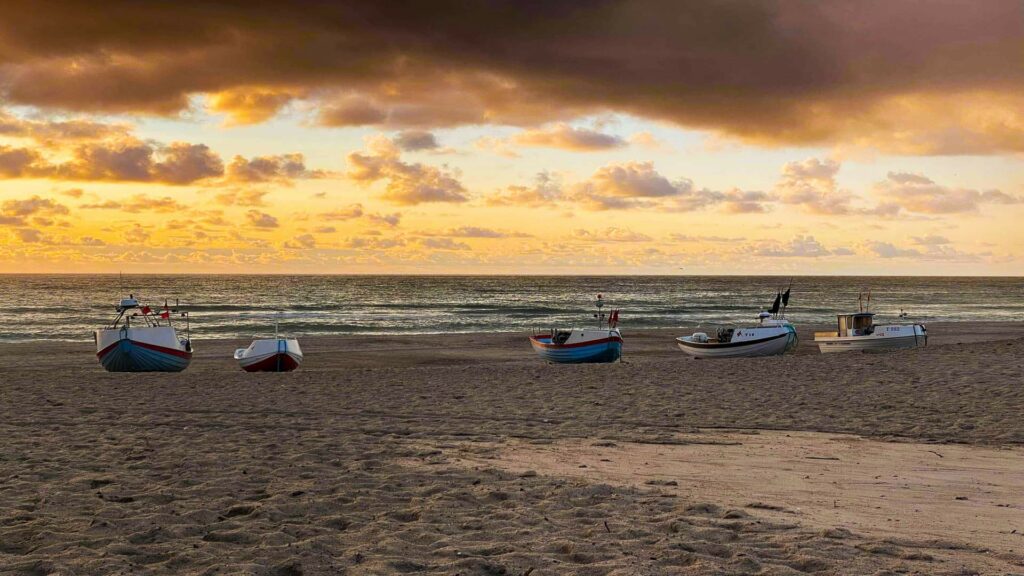 3. Elsinore (Helsingor)
Once the mecca center for trade and warfare, Elsinore is now a historical travel destination for those interested in Danish culture and medieval architecture. The town is most famous for its castle, Kronborg, which was made world-renowned by Shakespeare's Hamlet.
Although Kronborg takes up a large part of Helsingor's tourist attractions, the town has plenty more to offer such as stunning views of Sweden from the coast, a well-preserved medieval center, and plenty of good food. If you want to experience a piece of Danish history, Helsingor is the place for you.
4. Gilleleje
The coast stretch north of Elsinore is a unique and relaxing destination for nature lovers and those interested in experiencing true danish vibes. Gilleleje, and the harbor towns around, are perfect for a summer getaway with friends or family. Here you can enjoy fresh seafood, go for long walks on the beach, and relax in the sun.
If you're looking for something a little more active, Gilleleje is also a great place for windsurfing and kitesurfing. For those interested in history, the town is home to many museums and monuments from World War II.
Visit Melby Overdrev, the largest heath of Zealand, and soak up the natural tranquility and wildlife. Next, take a good look and walk around Tisvilde Hegn and beach stretches overlooking the endless northern sea.
5. Aarhus
If you're looking for a lively city with plenty to do, Aarhus is the place for you. The second-largest city in Denmark, Aarhus is located on the east coast of the country and is a great place to experience the Danish culture.
In Aarhus, you can visit Den Gamle By, one of the oldest open-air museums in Europe. The museum is made up of over 75 historic buildings that have been relocated from their original locations around Denmark. You can also visit ARoS, one of the largest art museums in Scandinavia, and take a picturesque image walking around the glass rainbow circle high above the city roofs.
For those interested in shopping, Aarhus has plenty to offer with its many shops and boutiques. And if you're looking for a good place to eat, you won't be disappointed with the city's many restaurants and cafes.
Aarhus is a student city and therefore has a young and fun feel, as well as historical architecture that will make you fall in love with this charming city.
Located near Aarhus is Mols Bjerge National Park. The national park is relatively new, having only been established in 2009. The park is home to a number of beautiful landscapes including forests, lakes, and beaches.
One of the most popular activities in the park is hiking as there are over 100 km of marked trails. And if you're lucky, you might even spot some wildlife along the way including deer, rabbits, and foxes.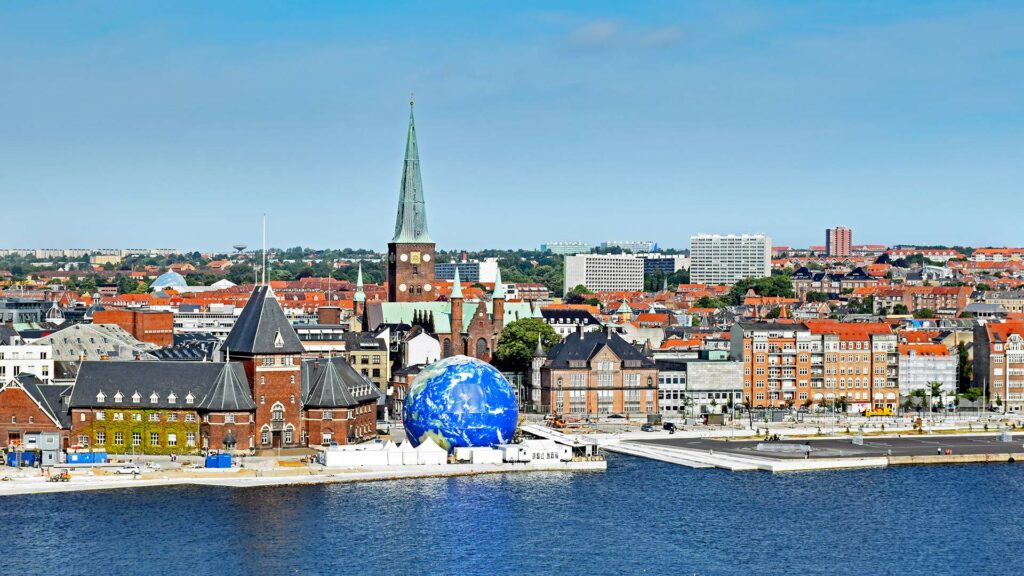 6. Møns Klint
Møns Klint is a famous geological wonder and is one of the most beautiful places in Denmark. The cliffs are made up of chalk and are around 128 meters high, making them the tallest in northern Europe.
The cliffs offer stunning views of the Baltic Sea as well as the surrounding countryside. You can also find a variety of plant and animal life on the cliff tops, including many rare species.
If you're looking for a place to relax and enjoy nature, Møns Klint is the perfect destination to enjoy a long walk and a stunning lookout.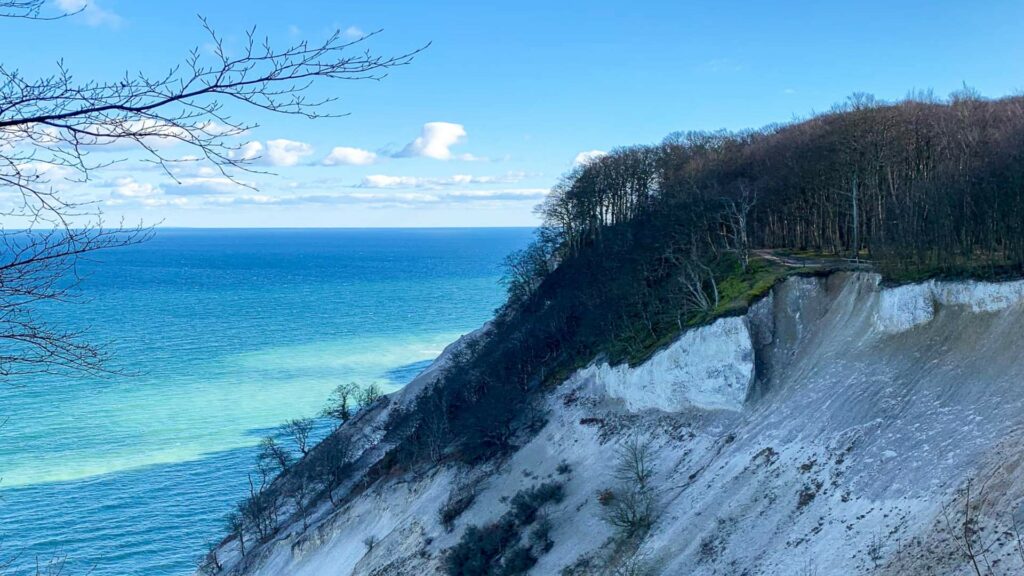 7. Dragør
Just outside of Copenhagen you have the beautiful and charming harbor town, Dragør. This well-preserved town has a long history dating back to the Viking Age and is one of the most picturesque towns in Denmark.
The main attraction in Dragør is the old town, which is full of narrow cobbled streets, traditional Danish houses, and small shops. You can also find a number of good restaurants here, serving both traditional Danish cuisine and international dishes.
Active travelers will love Dragør and the area around as you can do one of the most beautiful and popular hikes in Denmark, Amarminoen. Stretching from Dragør all the way back into the Amager area of Copenhagen, you have a scenic beach walk through a natural reserve. Though completely flat the entire walk is approximately 24 km and takes roughly 6 hours.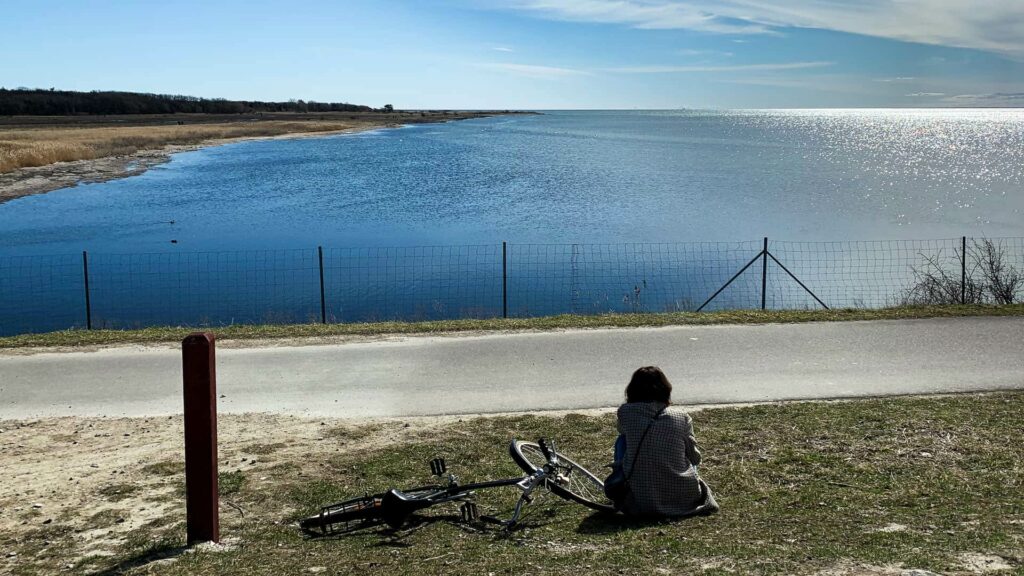 8. Mandø and the Wadden Sea
The Wadden Sea is Denmark's most significant contribution to the natural world, and the stretch of coast running from Esbjerg to Holland along the West Coast is nothing short of remarkable. At high tide, large sections of the beaches are inundated, and the area is both beautiful and harsh. There are birds in every direction, particularly during springtime.
The Wadden Sea is home to a number of small islands, and one of the most beautiful is Mandø. To get there you have to cross the mudflats, which can only be done at low tide. The island is picturesque with its thatched houses, and it's well worth the effort to get there.
Another popular activity amongst locals is oyster picking as the Wadden Sea is home to some of the best oysters in Denmark that can be picked in specific locations.
9. Bornholm
Bornholm is the most famous vacation island in Denmark due to its climate, scenery, and history. The island is located in the Baltic Sea and has a population of just under 50,000 people.
The island is well known for its round churches which are unique to Denmark. There are a total of seven round churches on Bornholm, and they are all worth a visit. The island is also home to the Hammershus Castle, which is the largest ruin in northern Europe.
The island has a varied landscape with rocky coastline, sandy beaches, forests, and lakes. The island is also famous for its own microbrewery and produces some of the best beer in Denmark. Lastly, Bornholm is a food-lovers mecca as the island homes some of the best restaurants in Denmark, many of which have Michelin stars.
If you love nature and being active outdoors, Bornholm is commonly visited and traveled by bicycle. The island has over 200 km of cycle paths that wind their way through the varied landscape. Be warned though, the rocky and hilly landscape makes for a serious exercise.
10. Egeskov Castle
Egeskov Castle is a beautiful Renaissance castle located in Southern Funen. The castle is surrounded by stunning gardens and is one of the best-preserved Renaissance castles in Europe.
The castle was built in 1405 and has been owned by the same family ever since. The castle has undergone many changes over the centuries, and today it is open to the public. The castle has a number of different museums inside as well as an art gallery.
The gardens are definitely worth a visit and are some of the most beautiful in Denmark. There is a maze, rose garden, and many other hidden gems to explore.
If you're interested in learning more about the castle and its history, there are guided tours available in a number of different languages.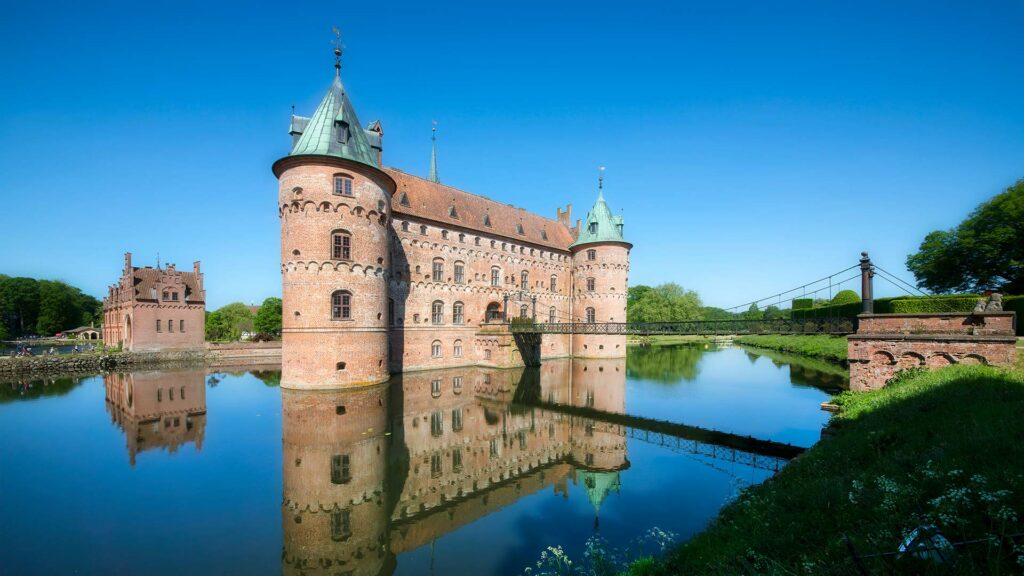 Final thoughts on the most beautiful places to visit in Denmark
There are so many beautiful places to visit in Denmark, and these are only a few of them. If you're planning a trip to Denmark, be sure to add these places to your list as they will not disappoint and provide a wonderful time!
Whether you're looking for a lively city or a quiet countryside town, Denmark has it all. And with so many scenic places to explore, you'll never be bored here. Note that Scandinavia is the most magical in summer where the days are long and coastlines are packed with happy swimmers. However, Denmark provides a wonderful time any time of year depending on what you are looking for and interested in.
---
About the author
Josephine Remo is a former flight attendant of seven years, whose biggest passion is traveling. For the past ten years, Josephine has dedicated all her spare time to travel and is currently living as a digital nomad. Having lived in four different countries before the age of 25, she knows all the tips and tricks for experiencing new cultures. Josephine writes travel guides and travel tips from places she has visited all over the world on her blog, josephineremo.com.
You can follow Josephine and her journey on Pinterest and Instagram.
Have you been to Denmark before? What are the most beautiful places in Denmark for you? Leave us a comment below.
Photos: photo 1 (Copenhagen): Sergey Vovk/shutterstock.com – photo 4 (Aarhus): balipadma/shutterstock.com – photo 8 (Egeskov Castle): Rolf E. Staerk/shutterstock.com
Gast
Dies ist ein Gastartikel. Falls du Fragen oder Anregungen zum Thema hast, schreibe sie einfach in die Kommentare oder kontaktiere den Gastautor direkt auf seinem Blog.