Dieser Artikel ist auch verfügbar auf: Deutsch
At the beginning of June I spent 2 nights at Anantara Bophut Resort & Spa on Koh Samui. The popular island is located in the Gulf of Thailand with many attractions and sights to offer.
If you need some tips to enjoy your holiday on Thailand's third largest island, then check out our article about 16 things to do on Koh Samui and get inspired.
Since there are countless hotels on Koh Samui, I would like to introduce you to the Anantara Bophut in this review, where I spent a few amazing nights.
Location
Anantara Bophut Resort & Spa is situated at the north coast of Koh Samui directly at the Bophut Beach. It's also just a few minutes walk to The Wharf shopping complex or the Fisherman's Village of Bophut. The entrance to the hotel is located on the ring road of Koh Samui and therefore it's very easy to reach, no matter if you want to do it by taxi or on your own.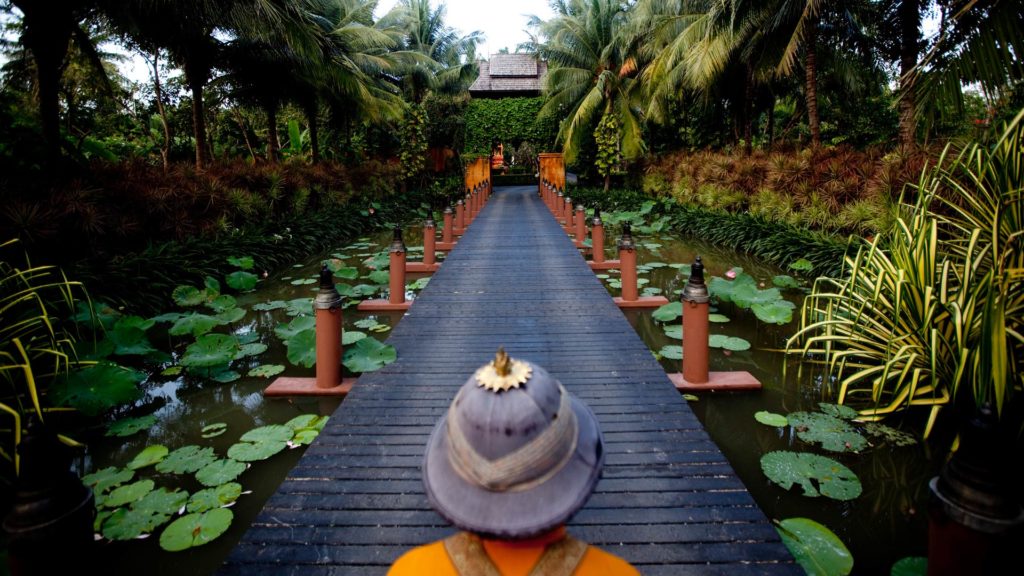 The Anantara Bophut Resort & Spa
The entire complex of the Anantara Bophut is really huge and offers everything you need for a relaxing holiday. The well-kept tropical garden is beautifully designed and invites you to linger – or you could attend to yoga classes in the morning.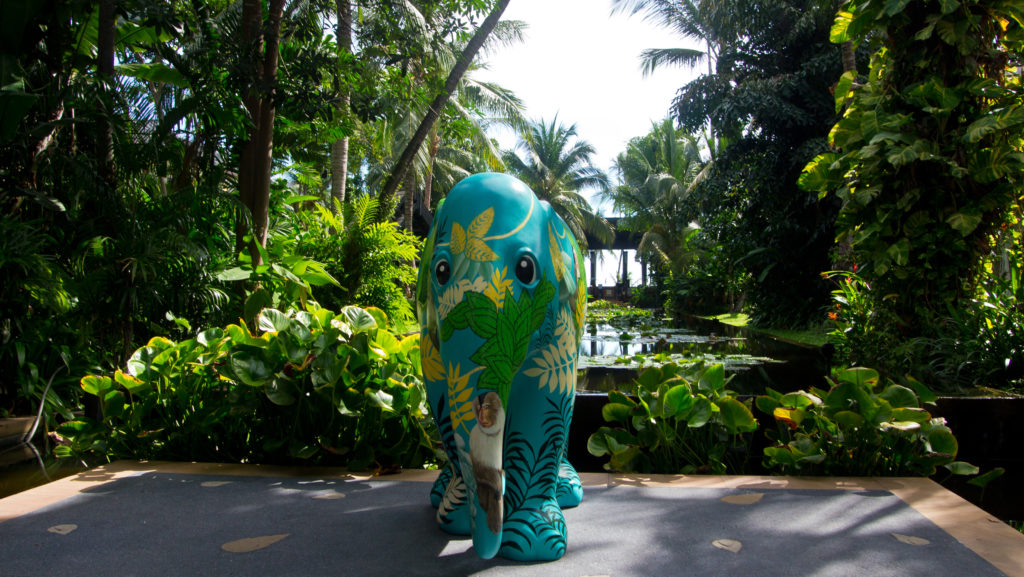 In addition, the lobby has a library and a small shopping area. With the Baan Ling Noi there is even a place to play and keep the children entertained. Furthermore, you can use the on-site gym in front of the lobby, if you want to do some sports during your holiday.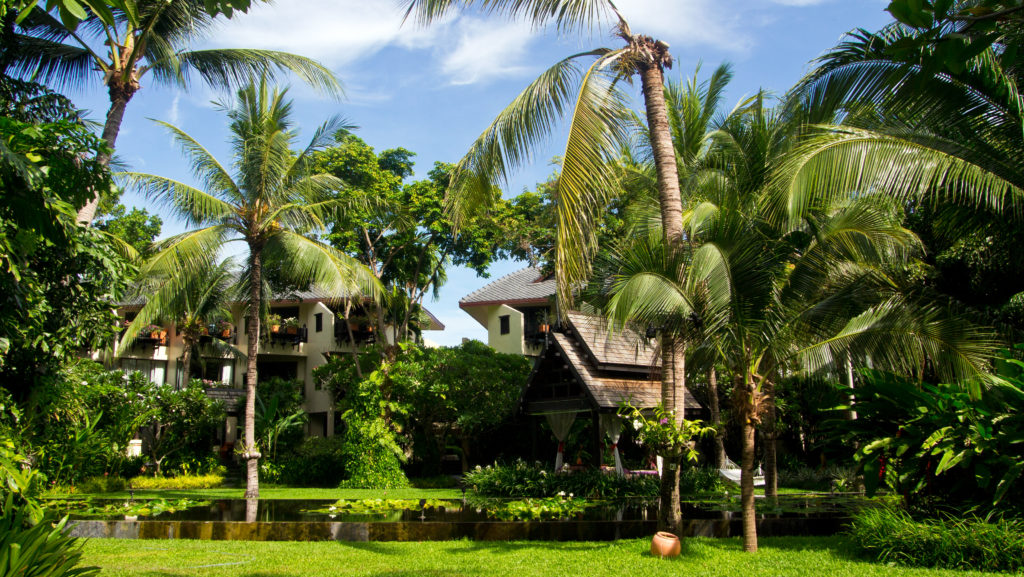 You can indulge yourself with a massage in the Anantara Spa for recreation. I tried the Anantara Signature Massage which is absolutely recommended!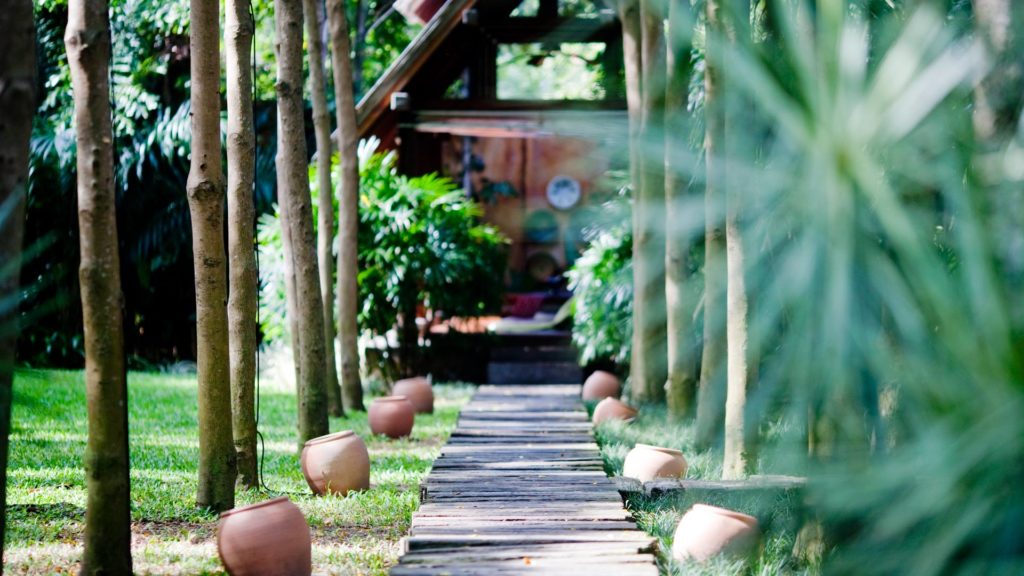 The rooms
The Anantara Bophut has 106 rooms for its guests, divided into 8 different categories. From Deluxe Garden View rooms to the Royal Sea View Suite or even the Anantara Beachfront Pool Suite, there are several options available in different price ranges.
The rooms are all very spacious and clean. Upon arrival, you will be greeted with a fruit basket and in the late afternoon room service will come back to fill up the free water and make the bed for the night.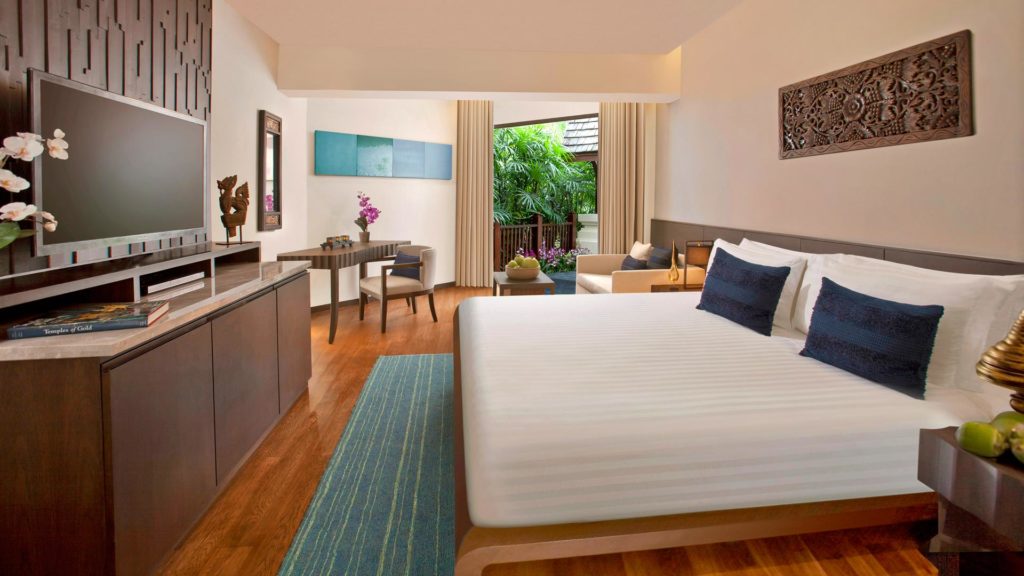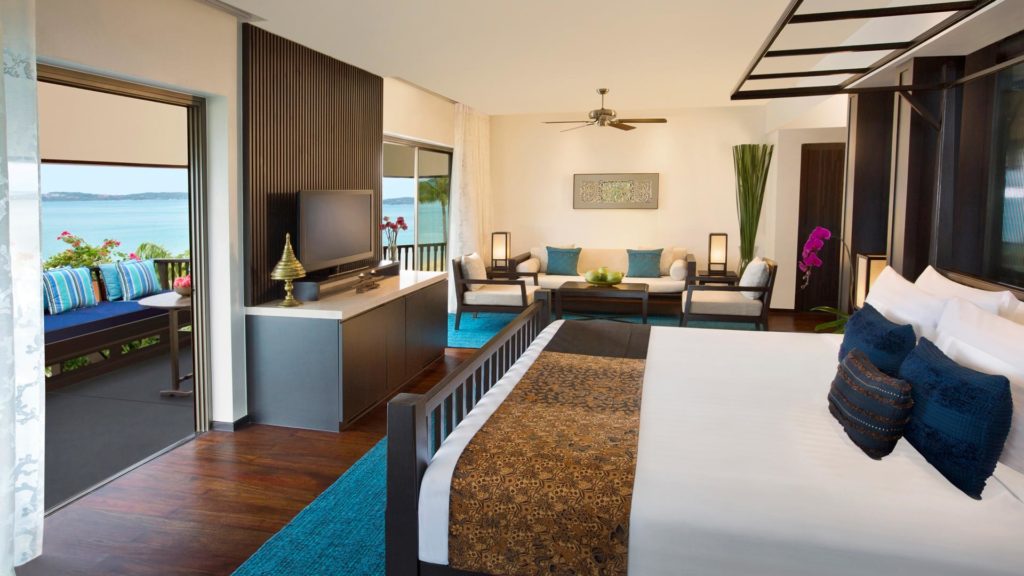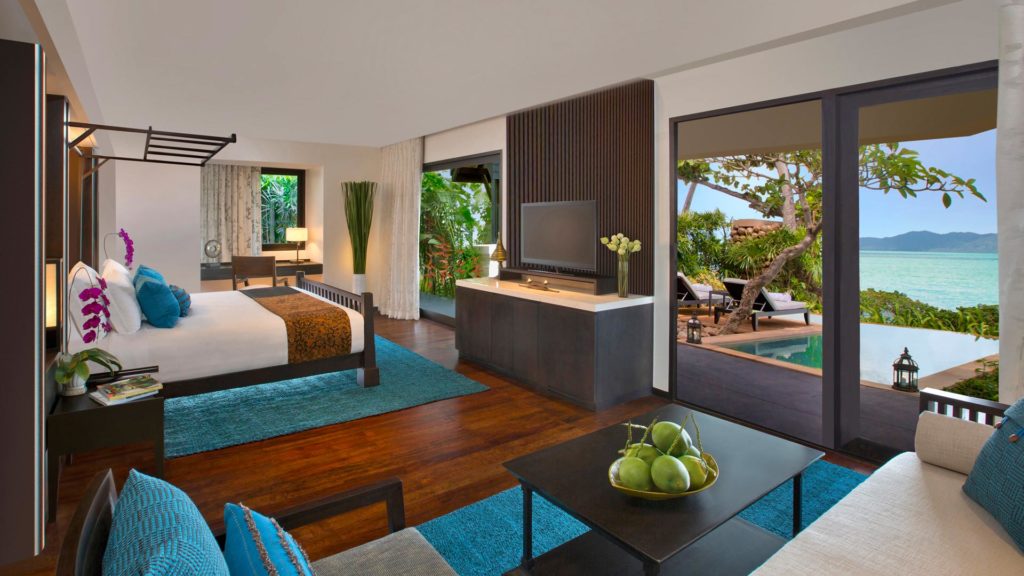 The larger suites have their own separate living room. All rooms are equipped with a balcony or terrace from which you either have a great view of the garden or the sea. A place where you will feel right at home.
Each room is also well-equipped and offers a variety of amenities. In addition to a minibar, TV, numerous articles for the bathroom, there is also free wifi in every room.
The free internet has a maximum speed of 512 kbps. If you want to surf the internet faster, there are many premium packages to choose from. For normal research on the Internet, Facebook, WhatsApp, etc. it's more than enough!
Swimming pool & beach
Especially the area of the swimming pool is something to fall for. It offers enough space for swimming and is beautifully designed with its palm trees in the middle. In addition, from the edge you have a fantastic view of the beach of Bophut and Koh Phangan.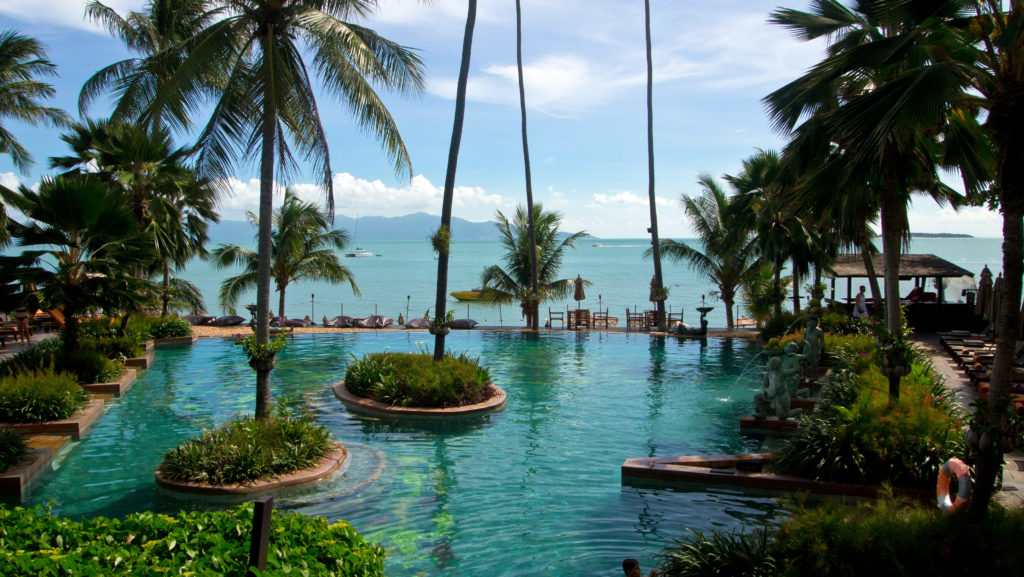 There's even a pool bar inside the swimming pool and you can grab a refreshing drink or fruit shake in the water and enjoy it right there. There are plenty of towels and sun beds available around the swimming pool and you will always find a free spot.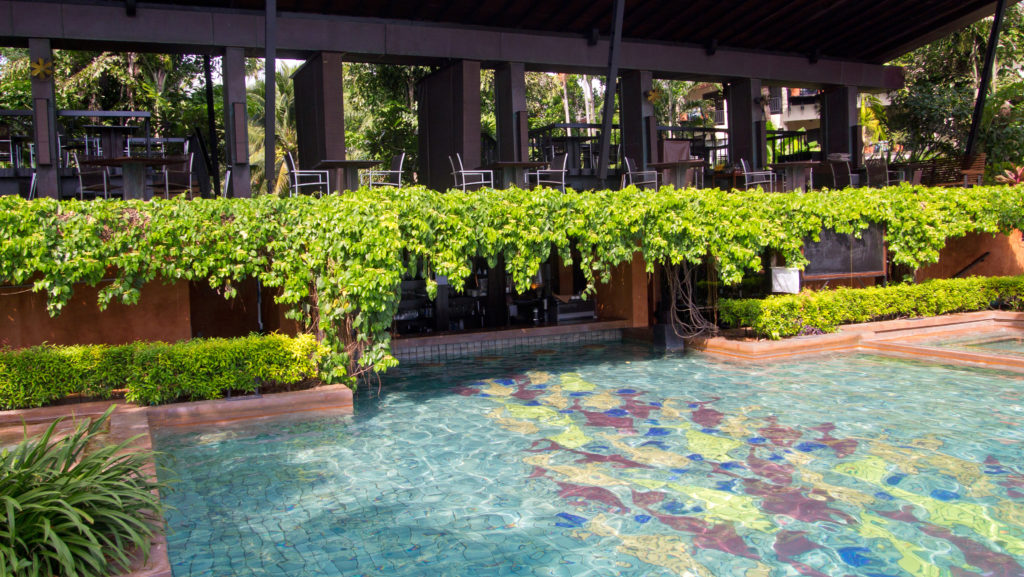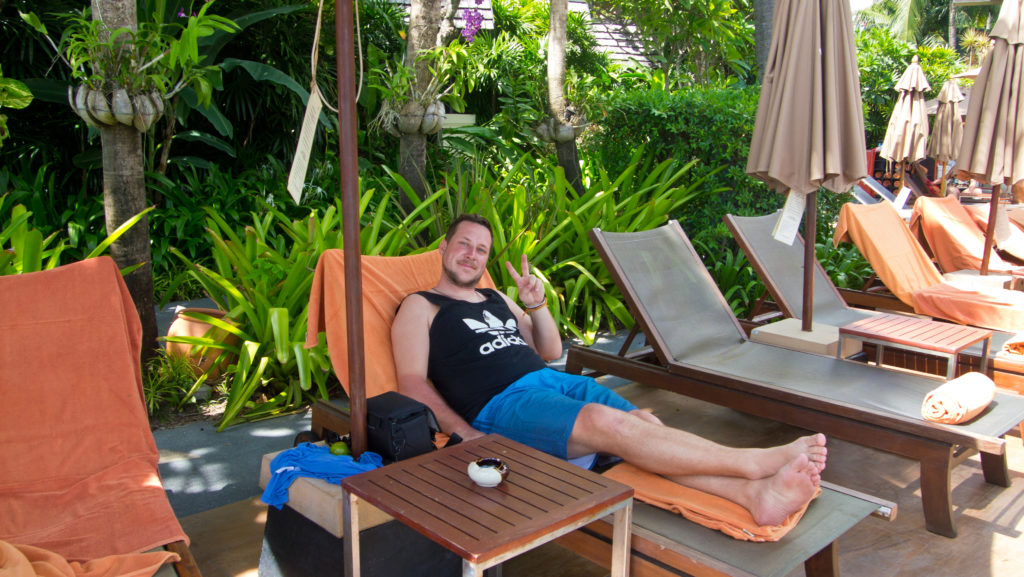 On the beach there are also sun beds and other seating options for guests as well as umbrellas offered by the hotel. Unfortunately, the beach does not provide much shade, so the umbrellas are absolutely necessary. The beach of Bophut is great for swimming and you can spend the day either by the swimming pool or at the beach.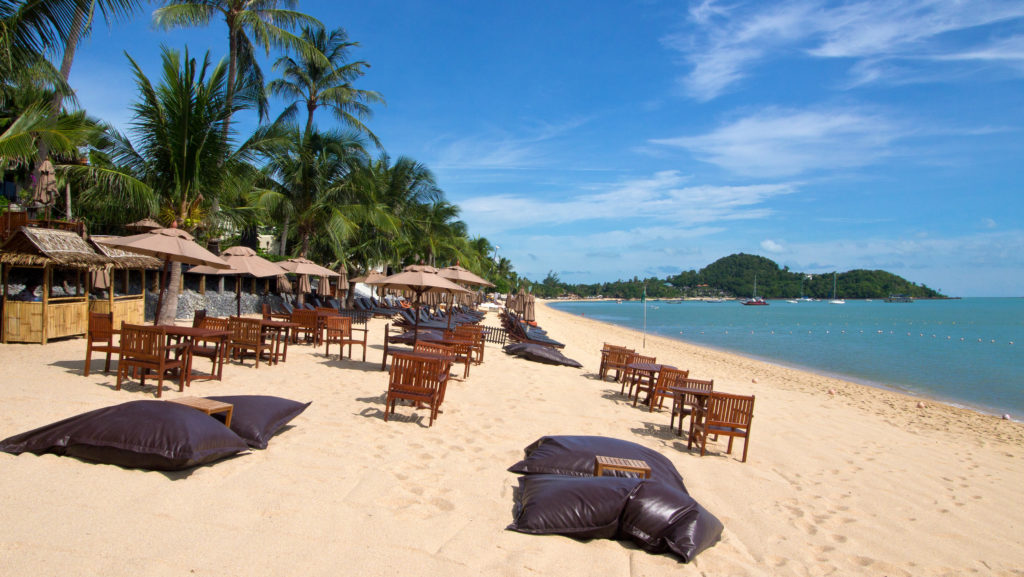 I also liked that from time to time the staff of the hotel comes around with small free fruit skewers at the swimming pool. The hotel really pays attention to its guests.
Restaurants & Beach Bar
The Anantara offers several restaurants to choose from. In the High Tide near the lobby there is a huge breakfast buffet in the morning with everything you can imagine. Bread and cold meats, pancakes, salads, rice dishes, fresh smoothies and even a stand to prepare a noodle soup for you. There is something for everyone and you can have an extensive breakfast with coffee and fresh juices.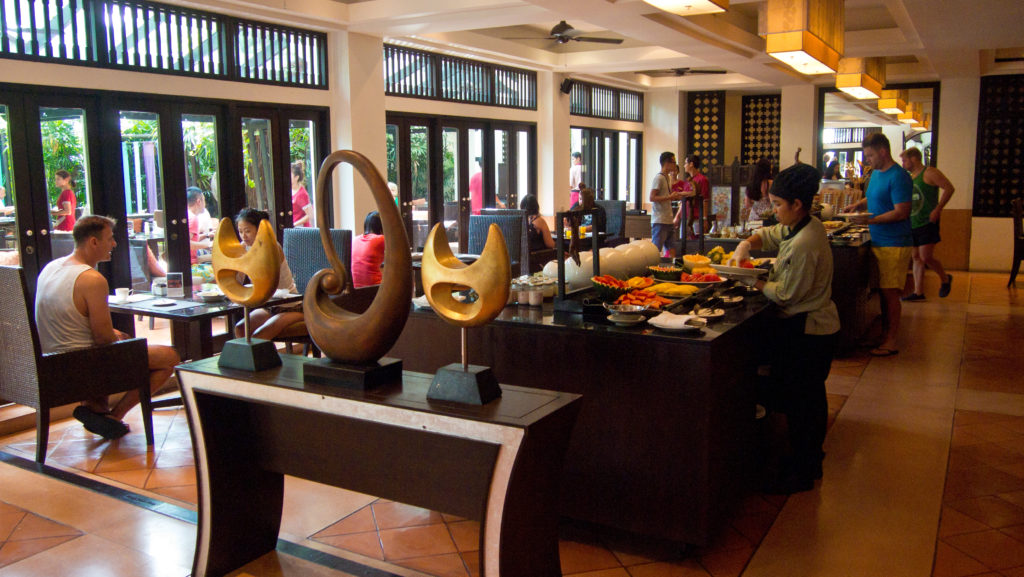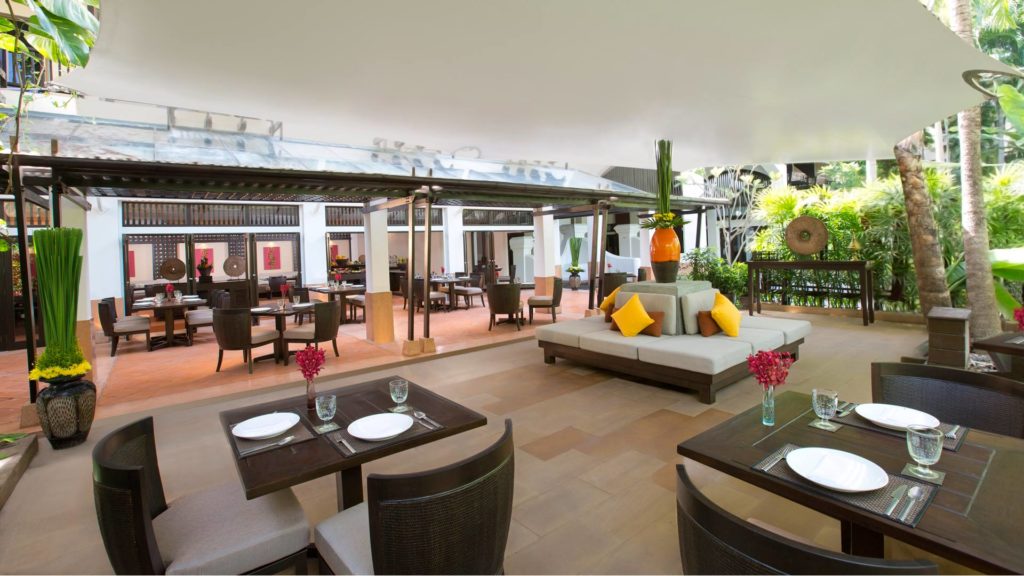 Opposite the High Tide, there is the Eclipse Bar, where you can enjoy a cocktail or a snack amongst the beautiful garden.
Next to the swimming pool with views of the pool and the Gulf of Thailand, you will find the Full Moon restaurant. Every evening, various dishes of Koh Samui's cuisine are offered. I can recommend the seafood platter for two, even if it's a little more expensive. You will get a fish, squid, crab, shrimp, rice, a salad as a starter and a fruit plate as well as some ice cream for dessert – all that with a great view.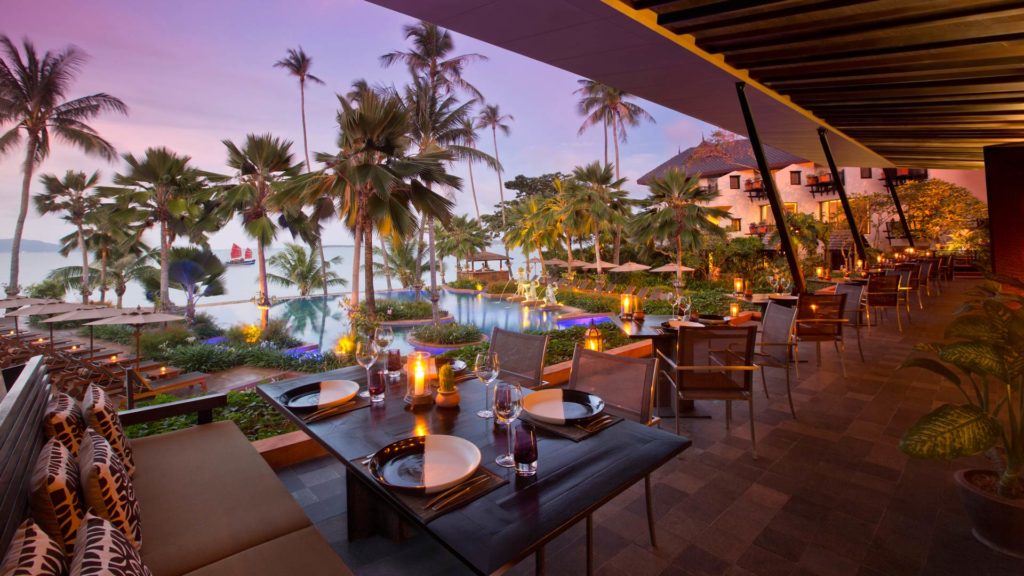 Furthermore, there is also a beach bar and at lunchtime a small stand by the swimming pool offering Papaya Salad, chicken skewers and many other Thai food dishes at cheaper prices.
Conclusion
I felt very comfortable in the deluxe room overlooking the garden. The service, the food and also the spa were great. I would recommend this hotel to anyone who wants to spend a wonderful holiday on Koh Samui. Especially for couples on honeymoon this hotel would be a perfect fit!
Website: www.anantara.com
The Anantara Bophut on Facebook
The Anantara Bophut on TripAdvisor
Book the Anantara Bophut Resort & Spa on Agoda or Booking.com.
I was invited to this stay by Anantara Bophut Resort & Spa. My opinions are as always freely written and completely my own. We only recommend hotels that we think are good!
Photo 1, 4, 5, 6, 13 and 14: Anantara Bophut Resort & Spa
You might also like
Tobi
Hi, ich bin Tobi, Freelancer im Bereich Übersetzungen und Texten, aber vor allem leidenschaftlicher Reiseblogger. Am liebsten bin ich in Südostasien unterwegs und arbeite von den verschiedensten Orten online. Wenn du wissen willst, was ich gerade mache oder wo ich bin, dann folge mir am besten auf Twitter, Instagram oder schaue bei Facebook vorbei.