Guangzhou is an amazing city with over 2,200 years of history and a unique relationship to the world outside China. Unfortunately, it can be tricky to find reliable information on what to do there and how best to get around.
Guangzhou top sights and activities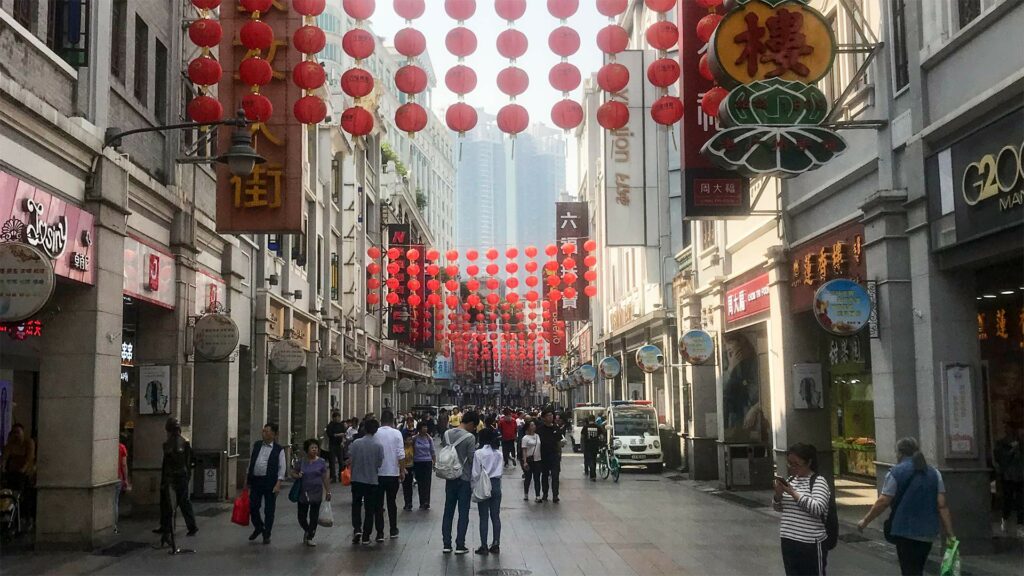 Having visited frequently, during my time living and working in Shenzhen, I know it quite well. Here is my insider's guide on what to do in Guangzhou, where to stay and how to travel.
---
How to get to Guangzhou
High-speed trains run frequently between Shenzhen North/Hong Kong West Kowloon and Guangzhou South. From here you can take metro lines 7 or 2 to the city centre. Alternatively, you can take a taxi for between 60-100 RMB (about £6-10). Trains from Shenzhen take between 35-50 minutes and cost about 100 RMB, and from Hong Kong take between 45-65 minutes and cost about 200 RMB. You can also get trains from further afield.
Note, however, if you are a foreigner getting a train from within mainland China, you will have to verify your passport before boarding, even if you have a valid visa. This can be done at all major stations but queues can be long, especially at peak times – we once waited upwards of 1.5 hours on a Friday afternoon after work – so arrive early.
If you are coming from Hong Kong, you will have to go through border control before boarding, so similar advice applies here, too.
For travellers from further afield, fly to Guangzhou Baiyun Airport and then get the metro line 3 into the city centre. This takes about 30 minutes and costs 8 RMB.
Accommodation in Guangzhou – our hotel tip
Guangzhou has a great range of hotels available at budget prices (between 100-400 RMB) and, being a tier 1 city, most areas are safe. I'd recommend staying in Yuexiu District, which is very central, well connected and great for sightseeing. When visiting from Shenzhen, I tended to book any cheap hotel/hostel in this area, safe in the knowledge that it would be okay.
One hotel we stayed at several times was Kaiserdom Hotel Hainan. We liked it because it was in a lively area, close to a wide variety of shops, bars and restaurants.
---
1. Liwanhu Park
This beautiful park and lake with its stunning stone bridges and traditional buildings is a must-see. It is the perfect place to immerse yourself in the local community. Men play Go and Xiangqi at benches, friends lounge around in the sun. It offers a great slice of life and culture. One time I even stumbled upon a park performance of a traditional Cantonese opera.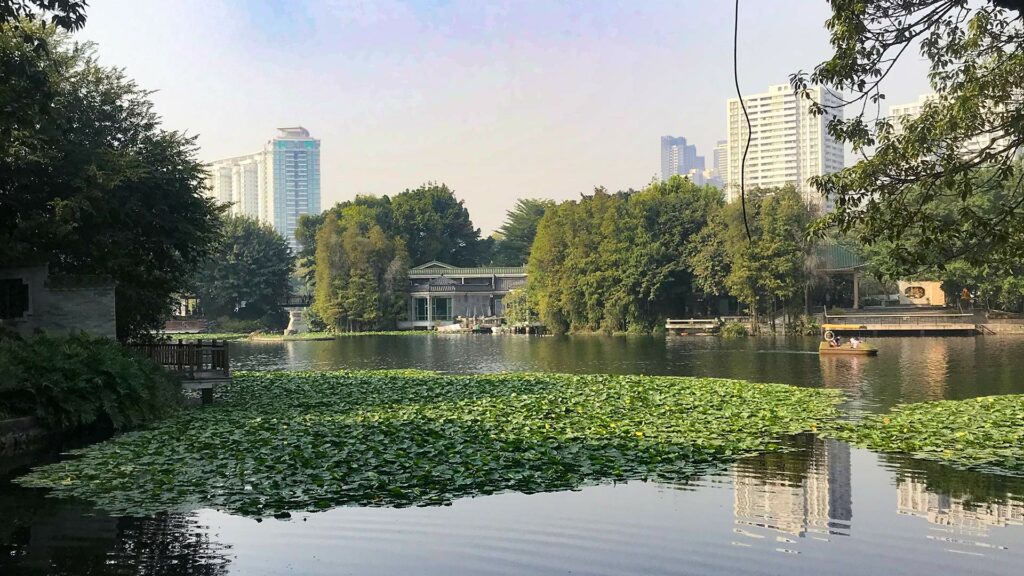 2. Chen Clan Ancestral Hall
A short walk from Liwanhu Park is the Chen Clan Ancestral Hall, a Qing Dynasty Academy turned Folk Art Museum. It's the perfect place to experience period architecture alongside a range of different Chinese art-forms. Pottery and brick and wood carvings adorn the many balconies and bridges of the 19-building complex. Many such artworks having been destroyed in the 1960s-70s during the Cultural revolution, this provides a rare opportunity to experience Qing Dynasty culture.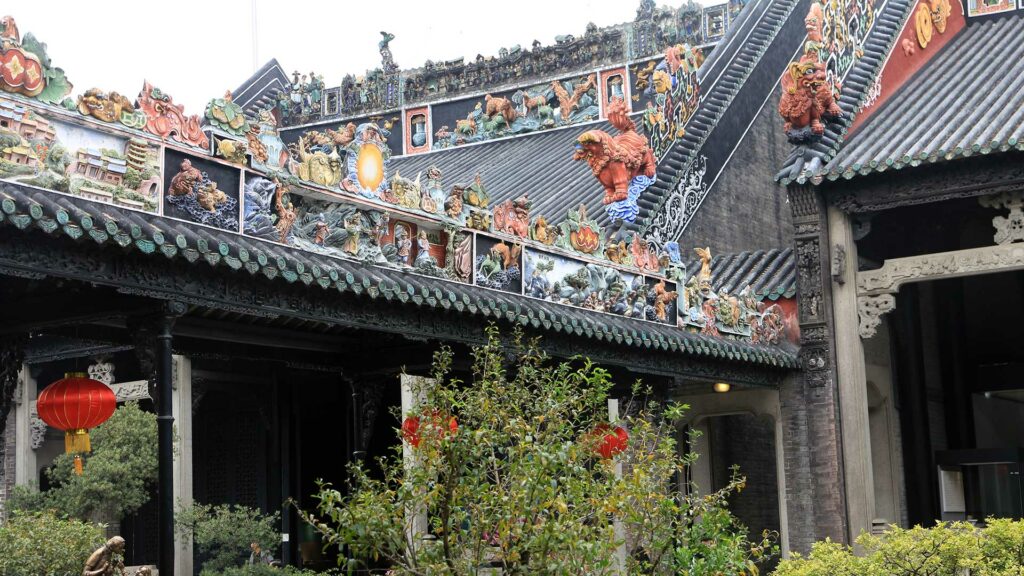 To get to the hall, take metro line 1 to Chen Jia Ci Station. When you are done with your visit, Liwanhu Park is just a 10 minute walk away.
3. Nanyue King Mausoleum Museum
On the other side of Yuexiu, the Nanyue King Mausoleum Museum offers another chance to see artefacts from past regimes. It is home to the 2,000 year old tomb of Zhao Mo, the ruler of parts of Southern China and Northern Vietnam between 137-122 BC.
The tomb was discovered by archeologists in 1983, complete with over 1,000 artifacts. Zhao Mo had been buried with a chariot, gold, musical instruments and, shockingly, 15 living servants tasked with looking after his corpse. The remains of all this can be seen at the museum, accessible by metro line 2, Yuexiu Park Station.
4. Temple of the Six Banyan Trees
A ten minute walk from the Nanyue King Museum, the Temple of the Six Banyan Trees is a must. With origins dating back to 537 AD and the iconic, 10 storey Flowery Pagoda, it is as visually impressive as it is historically significant. If you visit only one of the four Buddhist temples in Yuexiu, then make this it.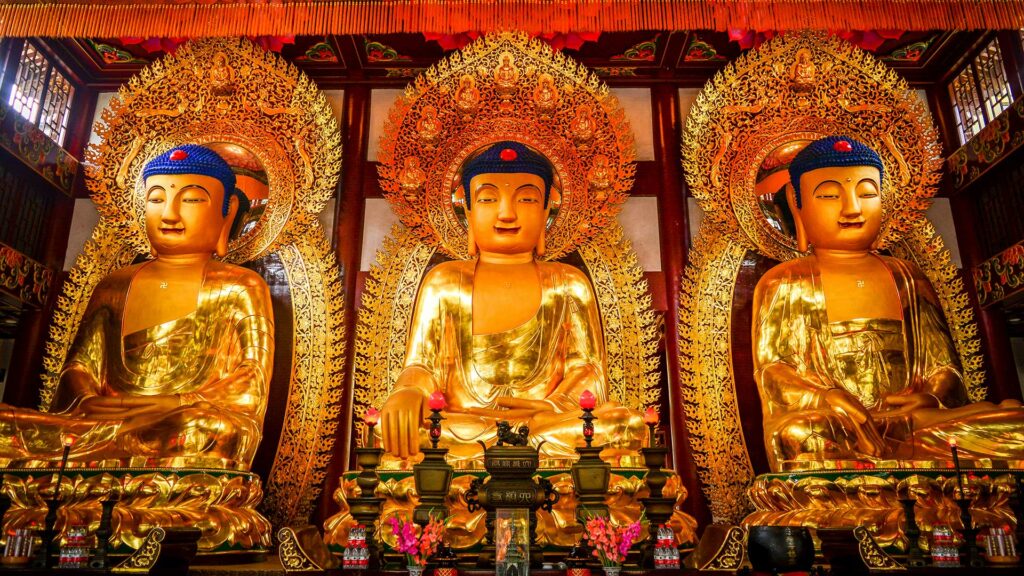 Alongside the Pagoda, it also boasts a courtyard that's perennially made fragrant with burning joss sticks, and a ceremonial hall with some of the largest and most ancient statues of Buddha in the whole of Guangdong.
You can access the temple by metro lines 1 and 2, Gongyuanqian Station.
5. Guangzhou Museum of Modern History
Regardless of whether or not you agree with the CCP's take on things, Guangzhou's Museum of Modern History offers a fascinating insight into the party line on events between 1840-1949. Covering the Opium Wars, the 1911 Revolution and the Chinese Civil War (here called the 'War of Liberation'), the museum vilifies the Qing Dynasty, blaming them for the English incursion, before of course glorifying the communist uprising. What's more, it features very good English translations, making it a great place for non-Chinese speakers to visit. Plus, it's free!
The museum is located inside the Martyrs Cemetery, which itself is well worth a look around. You can find it at Martyrs Park Station on metro line 1.
6. Canton Tower
The Eiffel Tower of Guangzhou! Seeing the colossal Canton Tower illuminated in all its technicolour glory would be good enough by itself, but the view from the top, over the Pearl River and the shimmering skyscrapers of Tianhe (Guangzhou's Central Business District), is truly special.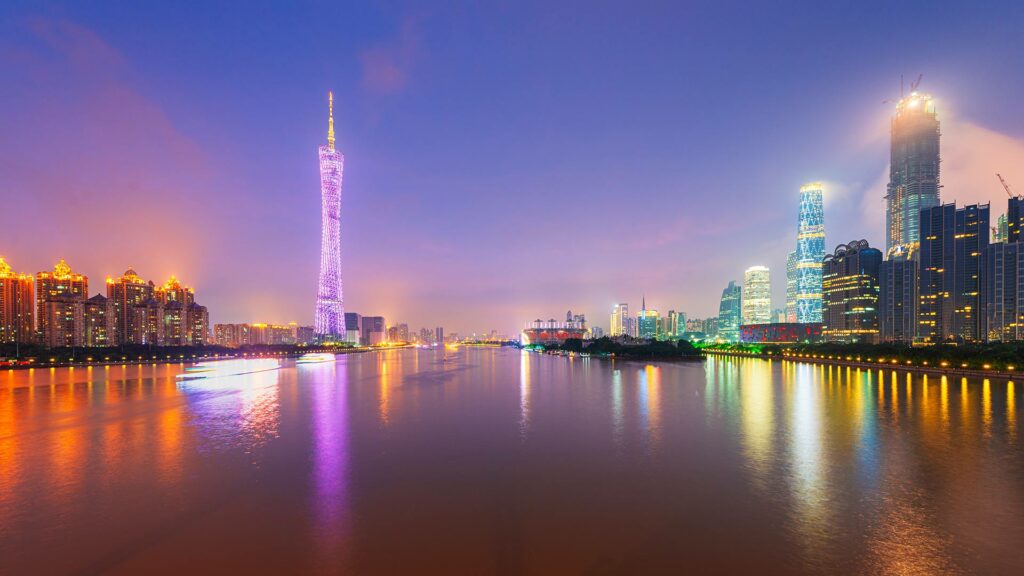 The lift to the observation deck costs 150 RMB and, once you're there, thrillseekers have the option of investing a bit more to try some of the world's highest theme park rides: the Canton Tower Sky Drop and the Bubble Tram.
You can reach it on metro line 3, Canton Tower Station.
7. Shamian Island
In 1757, the Qing emperor decreed that Guangzhou be made the only Chinese port open to foreign trade. Between then and the end of the first Opium War (1839-42) Shamian Island was the one place in China foreign merchants were allowed. It later became of strategic importance during the second Opium War, before being handed over to the British and the French.
All this has made it a truly unique place. Some might say the last 150 years has left it more European than Chinese – a large amount of its buildings are of European styles – but this would be a crude oversimplification. Where in Europe do you find churches that were turned into factories and then restored to churches, albeit ones without much of a congregation? Away from the pollution and traffic of the larger city, Shamian Island is both idyllic and sterile, classy and lifeless, a strange, singular and fascinating area to explore.
You can get there by metro lines 1 and 6, Huangsha Station.
8. Sample the Local Cuisine
Today, traditional Cantonese food can be hard to come by, the modern Hong Kong equivalent having all but taken over the term. As a result, it is well worth sampling some classic Cantonese dishes whilst in Guangzhou. There are a range of great restaurants where you can do this, but I'd particularly recommend Tou Tou Koi in Zhengjia Plaza. It's a little way out, but you can reach it on metro line 1, Tianhe Sports Center Station, and it's well worth the trip. Rumour has it that it is one of the oldest dim sum restaurants in the whole of China.
Beyond restaurants, great food options can also be found in the markets (there's a particularly good one in Dong Shan).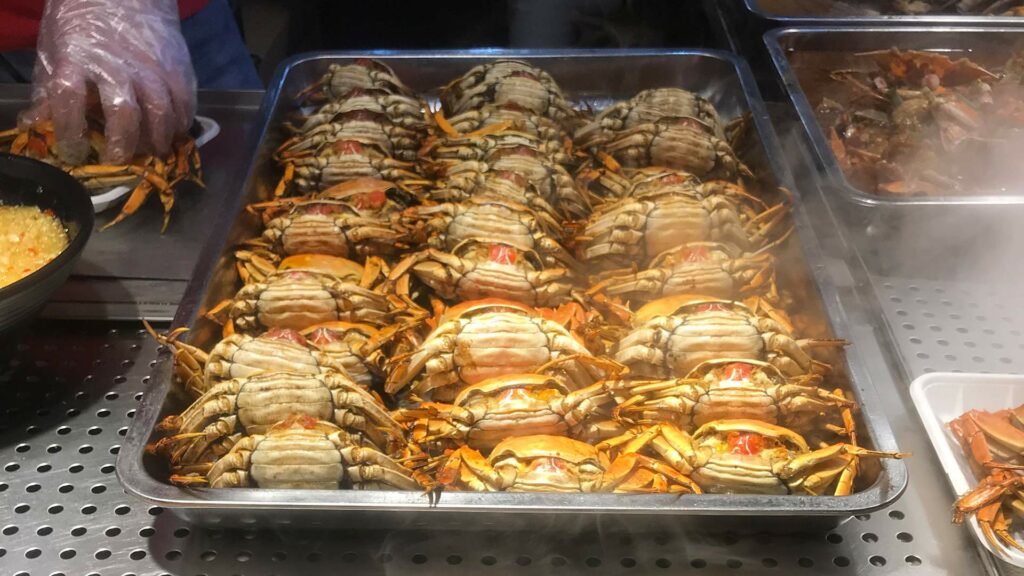 9. Tianhe Stadium
Whether or not you are a fan of football, I would recommend a visit to Tianhe Stadium, just a stone's throw away from Zhengjia Plaza and Tou Tou Koi. The atmosphere is incredible and there is a real feel good vibe so often lacking in Western sports venues. The fans seem like they are, more than anything, happy to be there, finally witnessing big stars on the Chinese stage. On top of this, tickets and merchandise are incredibly cheap. We both attended a game and bought home t-shirts all for 150 RMB each.
10. Experience the Nightlife
Guangzhou has a lively and often absurd late night scene. From clubs with trampolines built into the floor to bars themed around being 'super rich', to noodles cooked by street vendors at 4.00 A.M., the city's after hours are not to be missed. There are several areas that are good but I'd recommend the streets around Wende Road, between Zhongshan Road and the river. There's a host of good bars and clubs here (including Hyper Club with the aforementioned trampolines) and late night eateries, too.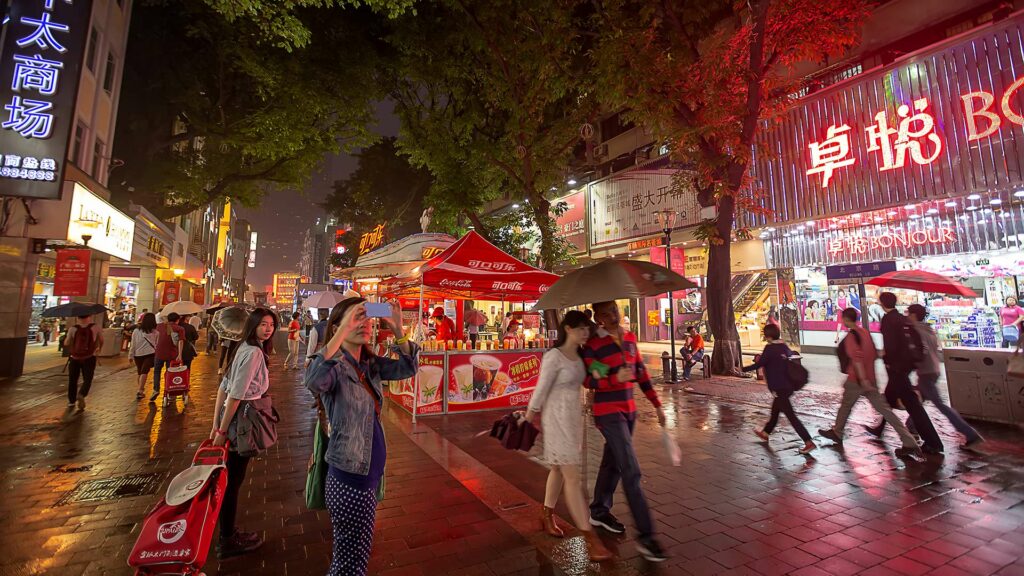 If you're looking to stay out late, it's probably best to book a hotel within walking distance, as the metro stops around midnight. If you don't mind getting a taxi home however, then Gongyuanqian Station on line 2 is a good place to debark at the start of your night.
---
About the author
My name is Jonathan Moore and I used to live in Shenzhen, China, where I worked as an English teacher and explored the country by train during my time off. Before this, I worked as a chef in Nottingham, UK and Paris, France. I currently live in Sheffield, UK, where I write a blog about strange and interesting places around the world and design interactive treasure hunts.
Photos: Photo 3 (Chen Clan Ancestral Hall): Simon Poon/shutterstock.com – Photo 4 (Temple of the Six Banyan Trees): ThewayIsee/shutterstock.com – Photo 5/featured image (Guangzhou skyline and Canton Tower): Sean Pavone/shutterstock.com – Photo 7 (Guangzhou nightlife): ketkata leejungphemphoon/shutterstock.com