Dieser Artikel ist auch verfügbar auf: Deutsch
It's finally going to happen on January 1st: six months of traveling and seeing the world. 182 days sound really long at first, but when it comes to planning, it seems to be quite short and some questions come to mind:
World trip planning – the best travel times for our personal route
---
Which countries would you like to visit?
How long do you like to stay there?
What do you want to see at all?
Questions upon questions and you won't manage to get to all countries anyway. So you need to make some difficult decisions. The first decision is almost made with your start date of the journey:
Winter: Here for example, you can start in Southeast Asia, South Africa, Central America and in some cases the Caribbean Islands and the southwest of the United States.
Summer: South Europe, the northeast of the USA, the east coast of Thailand or in the north of Australia.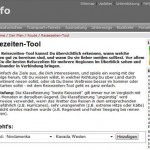 To get a first overview I found a nice tool in the web (in German):
http://weltreise-info.de/route/reisezeiten.html
Here you can add and remove several destinations and display them in the right order. Also you can see information about the weather in the country which you would like to visit and which time is the best to go there.
Now you can try to build your perfect route: do I start in China to visit the Great Wall or do I rather start in Hong Kong? After a look at the tool it's clear that China is not the best choice in January and after a quick research on Google you definitely know it. Way too cold! Because when I'll to be 6 months on the road I want to have summer all the time.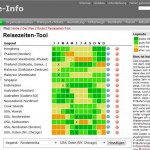 It will take hours and days until you get it all together. At the end the final route probably isn't the one you had in your mind in the first place. Something does not fit in and some other places turn out to be just perfect. So you get as many information as you need to complete the route. You see, it's nothing that can be done in a second.
In order to make sense and to finish your planning, the route will certainly have to match with your flights.
On the left side you can see the (hopefully) complete route…