Dieser Artikel ist auch verfügbar auf: Deutsch
If you are in Bangkok right now and you do not feel like going to the south for seeing beautiful beaches, then I highly recommend Koh Samet. The island is just 2-3 hours away from the Thai capital. The climate or the best time to go to Koh Samet is actually the same as for Bangkok itself. That means the best weather is usually between November and May.
Koh Samet – island vacation near Bangkok
The island is not so much frequented by Western tourists, but mainly used by locals to escape the big city. The small island is sometimes already quite full of Thai tourists and you should book a room in advance (especially on the weekend) on Booking.com – our favorite hotel search engine for Asia.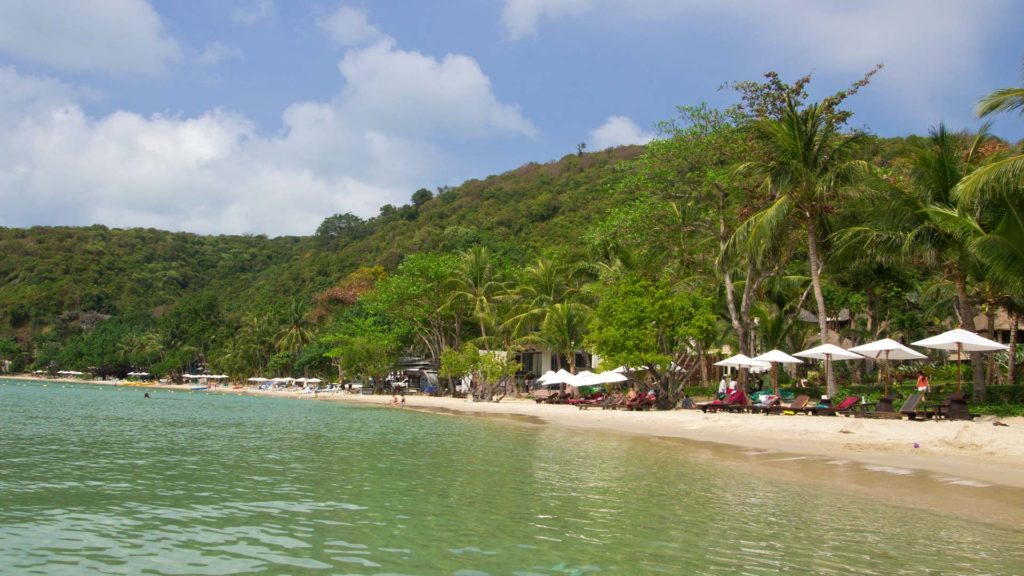 The island is really beautiful, so visit it best before the big Western tourist rush. To know what you can do on site and what's going on, just read our little Koh Samet guide here.
---
How to get to Koh Samet (prices, length of stay, tips etc.)
Basically, the journey to Koh Samet is very easy, either by bus or minivan and a ferry. You can do this from Bangkok or Koh Chang in the east.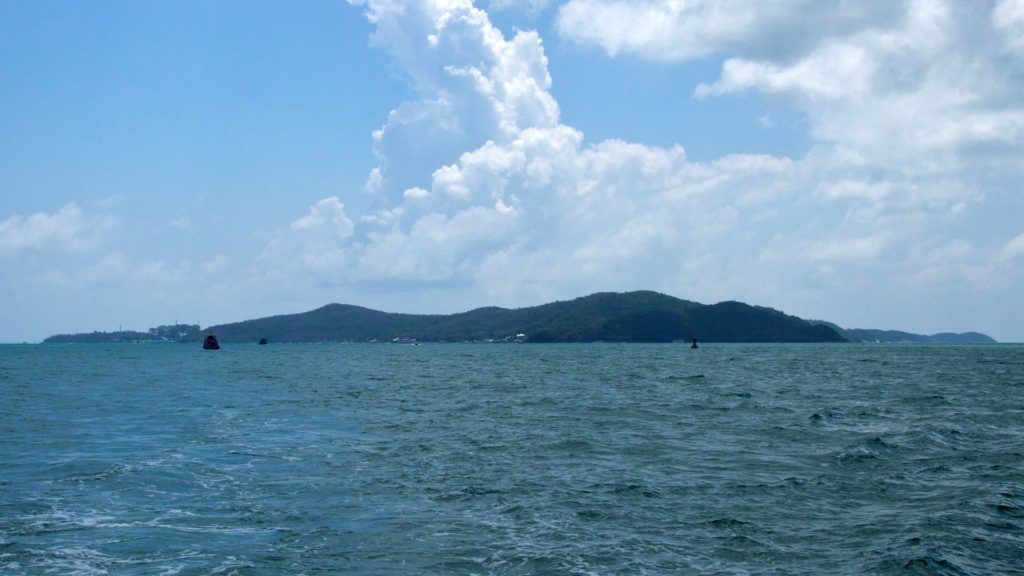 How to get to Koh Samet from Bangkok
Once you have landed in Bangkok by plane, you can start the easy journey to Koh Samet (cheap tickets can be found at Skyscanner). From the bus terminal Ekkamai there is an hourly bus service to Koh Samet or the pier on the mainland. The way of 190 kilometers takes about 3 hours. Then you have to take a ferry from Ban Phe to Koh Samet. Prices and tickets can be found at our partner 12go.asia.
How to get to Koh Samet from Koh Chang
If you travel from Koh Chang, the second largest Thai island in the east, then you only have to travel by minivan. You can book the trip on Koh Chang in any travel agency. The price ranges from 450-600 baht, takes 3-4 hours and includes the transfer from your accommodation, the ferry crossing to the mainland and the ride to Ban Phe. The ferry to Koh Samet, however, you have to pay extra – see next point.
Select the right pier
On site in Ban Phe there are several piers that take you by boat to Koh Samet. The "expensive" pier, the Municipality Pier is located at the information counter. A larger house with a blue peaked roof. There the boats and speedboats depart for about 200-300 baht to Koh Samet.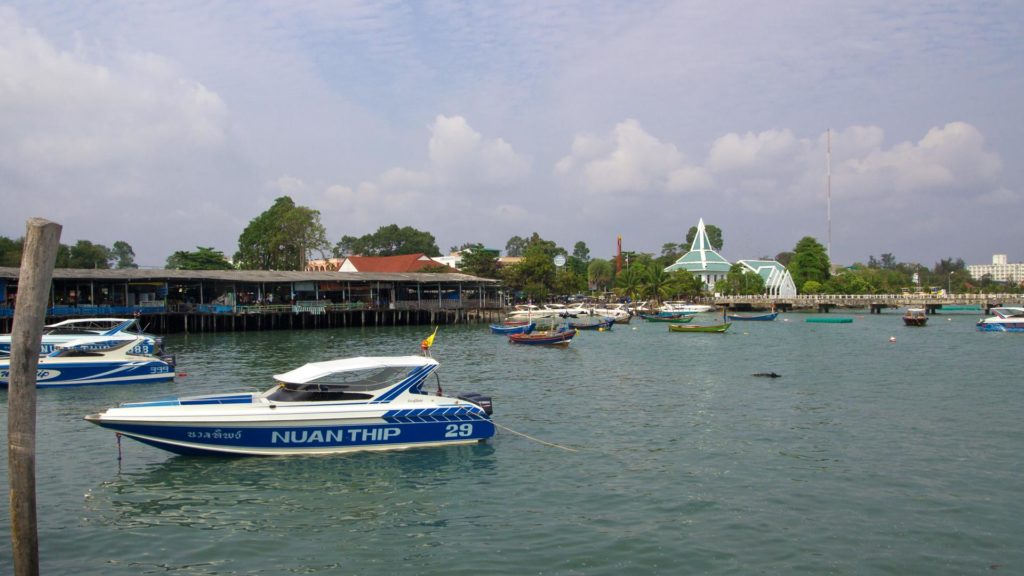 The cheap alternative is the Nuanthip Pier. This is behind the 7-Eleven supermarket, which you find right on the main street and the Ban Phe shopping center. From here you can get a one way trip for 70 baht and a round trip for 100 baht. I would also recommend the return ticket to you, because someday you want to get off the island anyway and the tickets are not tied to a date or time.
The boat is not a speedboat, but the 30-40 minutes ride is not too bad. You also get a first great view of the island when you go with this boat.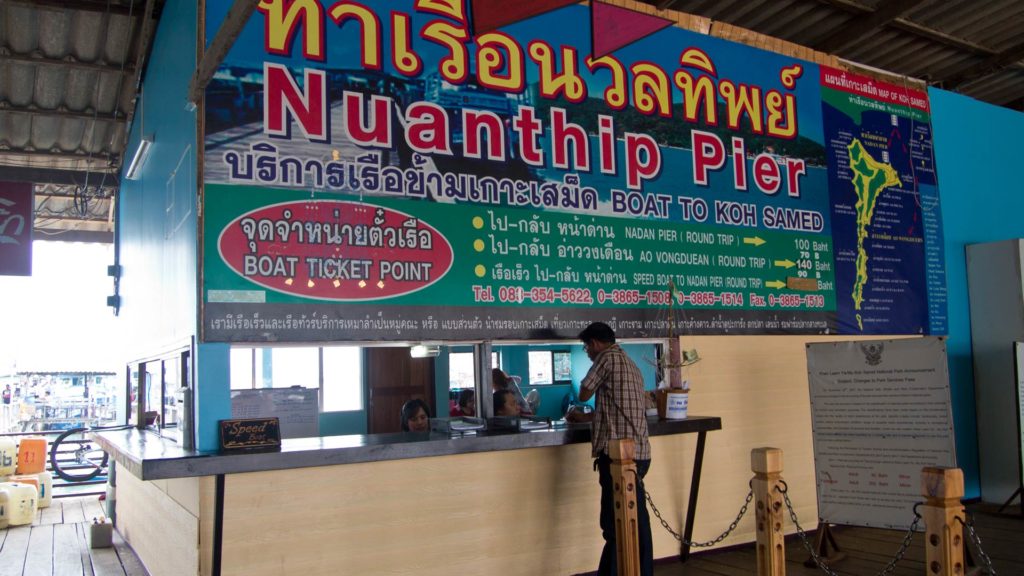 Accommodation on Koh Samet – our hotel tip
This lovingly decorated hotel is located just 1-2 minutes from Sai Keaw Beach: Ku at Sea. The rooms are stylish and modern, so that you will feel right at home. Everything is clean and also the staff makes your stay a great experience!
If you do not want to stay at Sai Keaw Beach, you can find more hotels on Koh Samet here.
---
Khao Laem Ya National Park – Mu Ko Samet
The island of Koh Samet consists almost entirely of a national park. Only a small part of the pier to Samet City, as the small village likes to be called, are outside of it. To get to the beaches there is no way past the national park and hence you will have to pay the entrance fee.
On the way to Haad Sai Kaew, you involuntarily pass a small ticket booth. There you can buy your ticket for 200 baht. According to the employees, this applies for one week. Since I was not there for more than a week, I can not confirm it.
The most beautiful beaches of the island
The majority of the beautiful beaches of Koh Samet are located on the east coast. There is one beach after the other down to the south and another pearl which you can find in the west of the island. Koh Samet has a total of 14 beaches, not all of them are perfect. In the following I will introduce you to the most beautiful ones in my opinion.
1. Haad Sai Kaew – Diamond Beach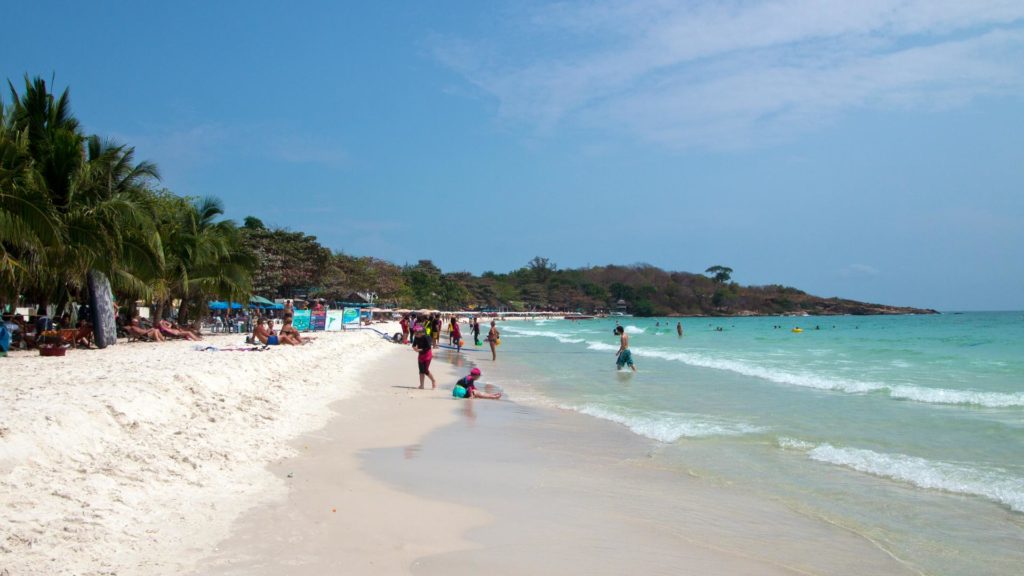 The Sai Kaew Beach is the main beach on Koh Samet and also one of the most beautiful beaches. The sand is fine and white, the water clear and turquoise. Just as I love it! The only downside to this beach is that it is also the most visited one and it can be quite crowded. Also, you have a few nice bars on site, various sports activities and you can go straight into the nightlife from here, if you want.
2. Ao Hin Khok Beach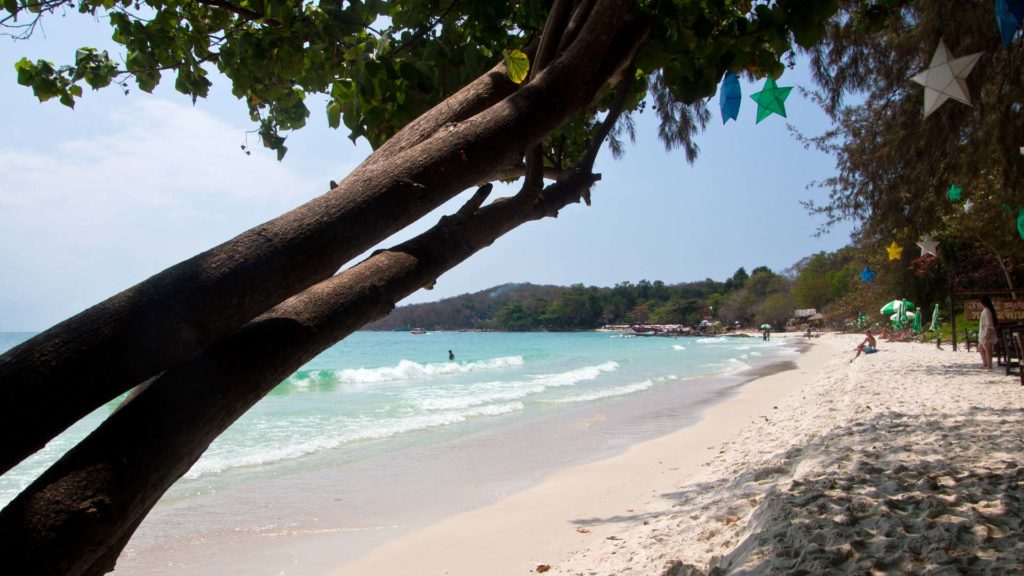 The Ao Hin Khok Beach and Sai Kaew Beach are separated only by a few stones and Koh Samet's famous statue of Aphai Mani and the Mermaid. This beach section is already much more quiet. Here you will also find a few bars on the beach or directly adjacent to the beach. The sand is also very fine, white and the water is fantastically clear and turquoise.
Since there are no big sports activities and jet skis here, I personally find that the Ao Hin Khok Beach is even better for swimming.
3. Ao Wong Duan Beach – Full Moon Beach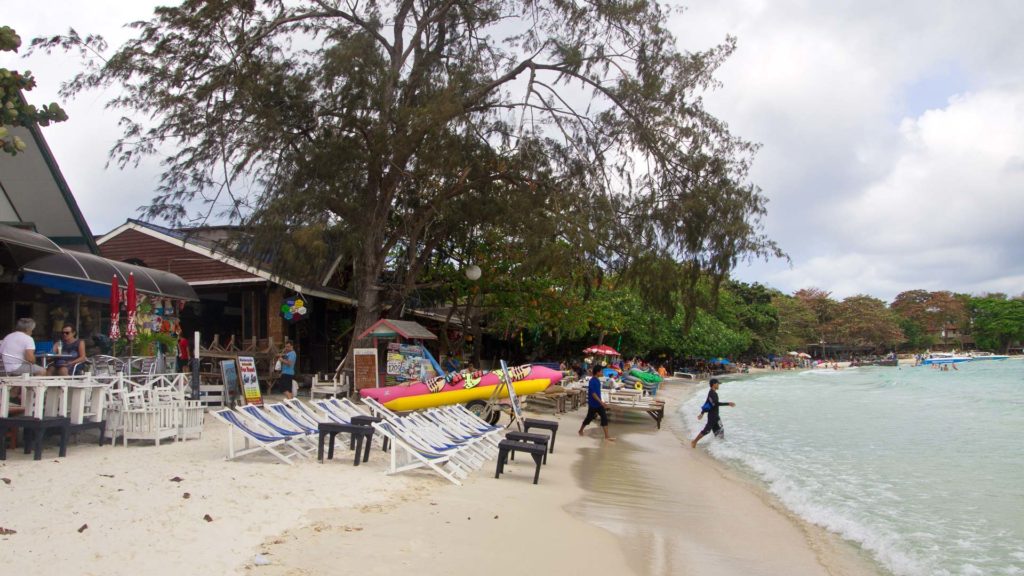 Not only on Koh Phangan, but also on Koh Samet there is a Full Moon Party. This takes place at Ao Wong Duan Beach, so of course it got its nickname from it. After the Sai Kaew Beach, it is the second largest beach on the island and here you will see fine sand and bright turquoise water.
On Ao Wong Duan beach there are many high-class hotels and especially in the Thai holiday season and on the weekends it can get very crowded.
4. Ao Pakarang Beach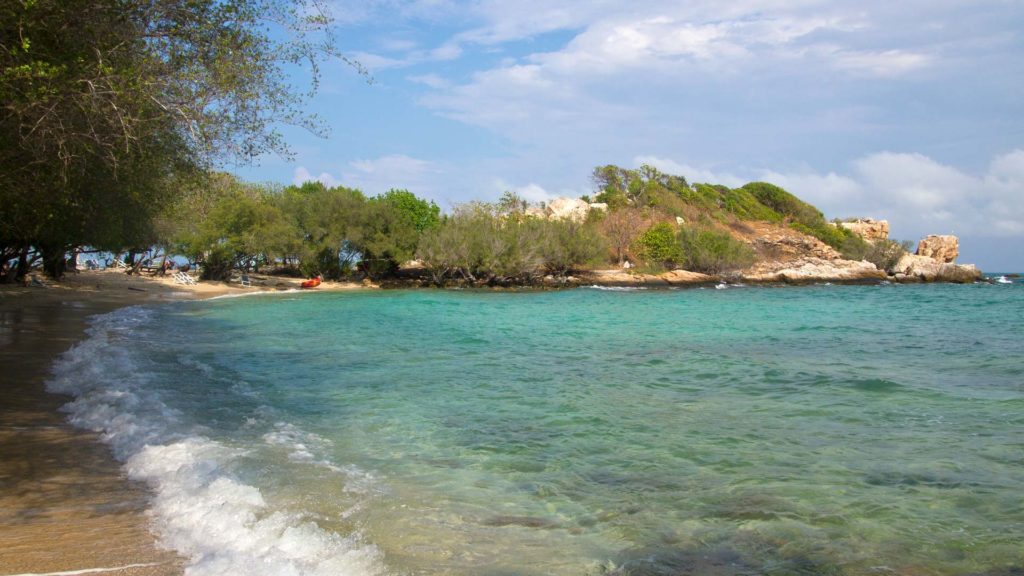 Ao Pakarang is the southernmost beach of the island. A very beautiful and quiet beach, accessible only through the Nimmanoradee Resort. To get to the beach, you don't have to be a guest of the hotel, but just walk through directly to the beach.
The beach is located in a small bay and is ideal for swimming. Here it is often empty and the many trees on the beach will provide you with shady spots, which means you do not have to lie in the blazing sun.
5. Ao Prao Beach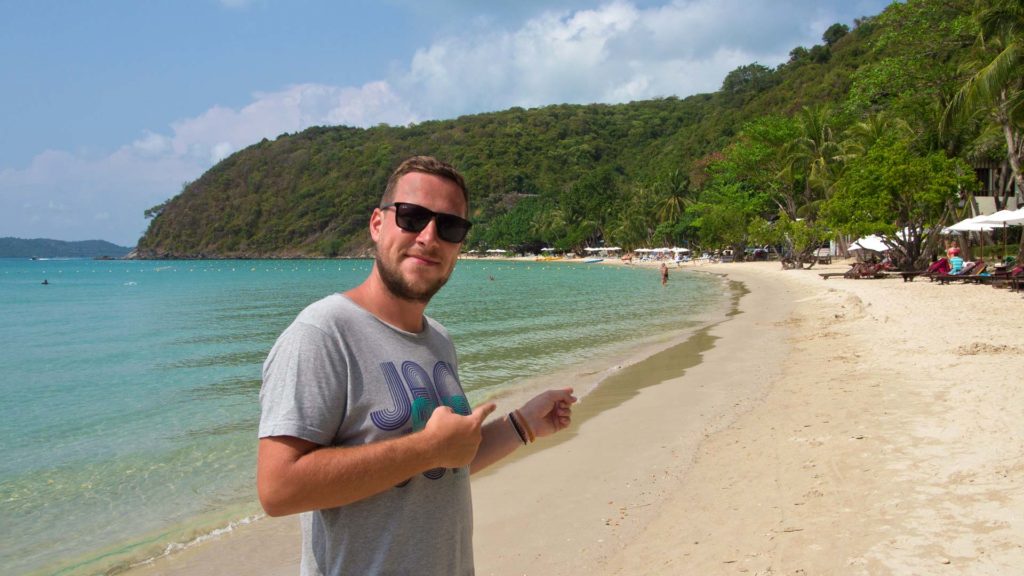 Ao Prao Beach is one of the few beaches not located on the east coast of Koh Samet. Here everything is still very quiet, as on the beach there are not many bars, but only large high-class resorts.
The beach is still worth seeing, because the water is just awesome. Clear with soft sand under your feet and enough space for swimming. There is almost nothing going on, you can get there by scooter from Sai Kaew Beach in 5 minutes to Ao Prao. A beach visit that I can only recommend – maybe even my favorite beach on Koh Samet!
Things to do on Koh Samet
Although Koh Samet is a relatively small island, here are some ways to have fun and spend a great day.
In addition to the activities such as jet skiing, parasailing, massage and scooter tours, which you find everywhere in Thailand, you can also do great tours to the surrounding islands on Koh Samet. The following tours are offered:
Adventure trip to 9 islands – 1500 baht per person. This includes snorkel mask, lunch, fruits, soft drinks and water. The tour is from 10.00 A.M. to 5.00 P.M.
Coral Island trip to 6 islands – 600 baht per person. Also here snorkel mask, lunch, fruits and water are included. The tour is from 12.00 P.M. to 5.00 P.M.
Coral Island trip to 5 islands – 500 baht per person. Snorkeling masks, fruits and drinking water are included. Departure times from 2 A.M. to 5.00 P.M
Discover Samet Island – 400 baht per person. Also here, snorkel mask, fruits and water included. The tour takes place between 12.00 P.M. to 3.00 P.M.
Sunset trip around Koh Samet – 400 baht per person. Snorkel mask, fruit and water are also included and the tour is from 4.00 P.M. to 6.30 P.M.
The islands that are visited are all to the east of Koh Samet. Since the program varies in part, the visited islands are sometimes different. Namely, the surrounding islands of Koh Samet are Koh Man Nai, Koh Man Sound, Koh Man Nok, Koh Thalu, Koh Kudee and a few more smaller snorkeling stations. The exact program you should clarify at the booth or travel agency where you book the tour.
Another great activity that I would like to try out next time is the Under Water Scooter ride. Sounds really exciting and with 1500 baht the price is also totally okay.
Where does the nightlife take place?
Even the small island of Koh Samet has a decent nightlife. At least at the Haad Sai Kaew Beach or Ao Phai you will find it. In the late afternoon the beach bars are built on the sand and there are smaller clubs and beach parties.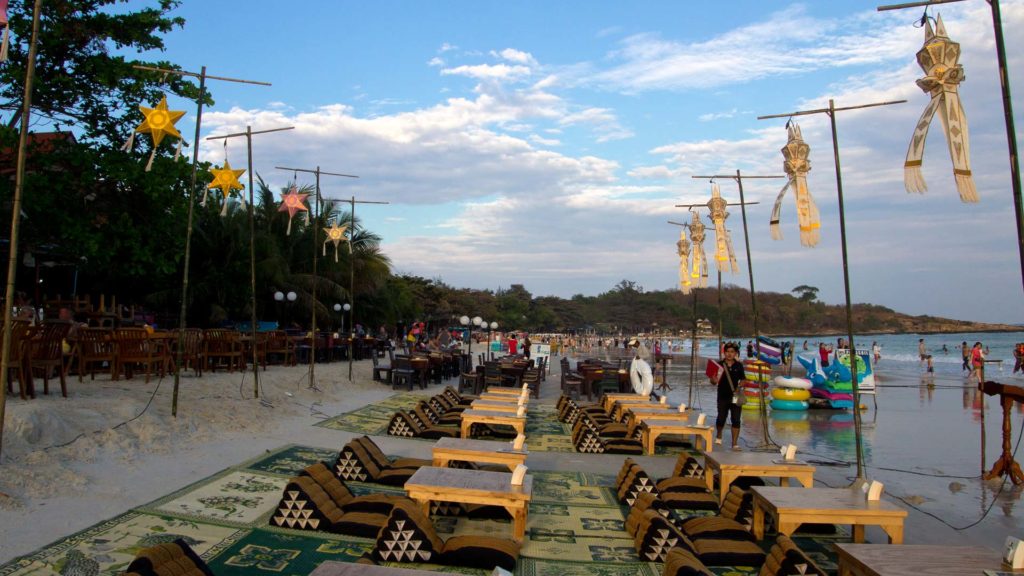 Here you can end your day perfectly with a beer, a hookah or a bucket and in the late evening even go to a party, if you feel like it. Probably the most popular bar on Haad Sai Kaew is the Ploy Bar, a Thai-style beach bar that often offers good live music in the evenings.
At the Ao Phai it's the Silver Sand Bar, which is very popular with backpackers. It has a large dance floor and an evening fire show.
There are also a few bars and restaurants on Ao Wong Duan and a party at full moon where you can turn the night into day.
Of course, you can not compare the nightlife of Koh Samet with the party hubs like Phuket. It is a bit more quiet here and of course there's not nearly as much going on. But you will not be bored either.
More sights
The island is just 7 kilometers long and 4 kilometers wide at its widest point. There is not much space for many sights, but still I found some!
1. Wat Koh Samet
Wat Koh Samet is located in Samet City, even before you reach Haad Sai Kaew. It is the only large temple of the island and therefore you can't miss it. In addition to temple buildings with beautiful murals to match the legend of Koh Samet, you will find here a large Buddha, too. Sometimes a monk is on site, who will gladly explain everything to you. Unfortunately, I did not have the luck. Since I really like temples, I was impressed anyway.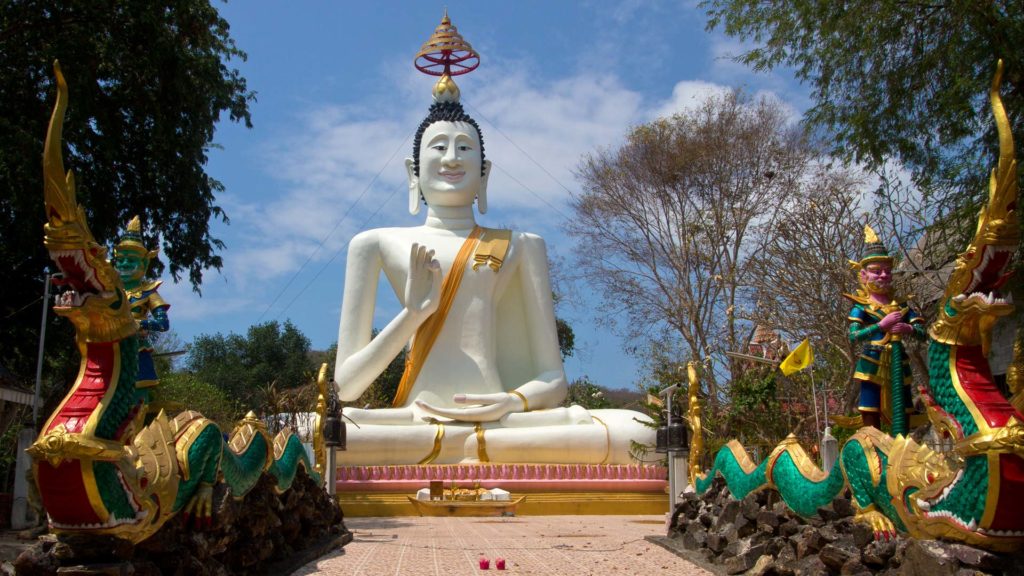 2. Koh Samet viewpoint
If you move across the island with a scooter or vehicle of your choice and drive north to south, you'll come to a really great viewpoint. Many visitors do not come here, but I think it's a really nice spot. There are benches on site as well. So sit down and enjoy the wonderful view!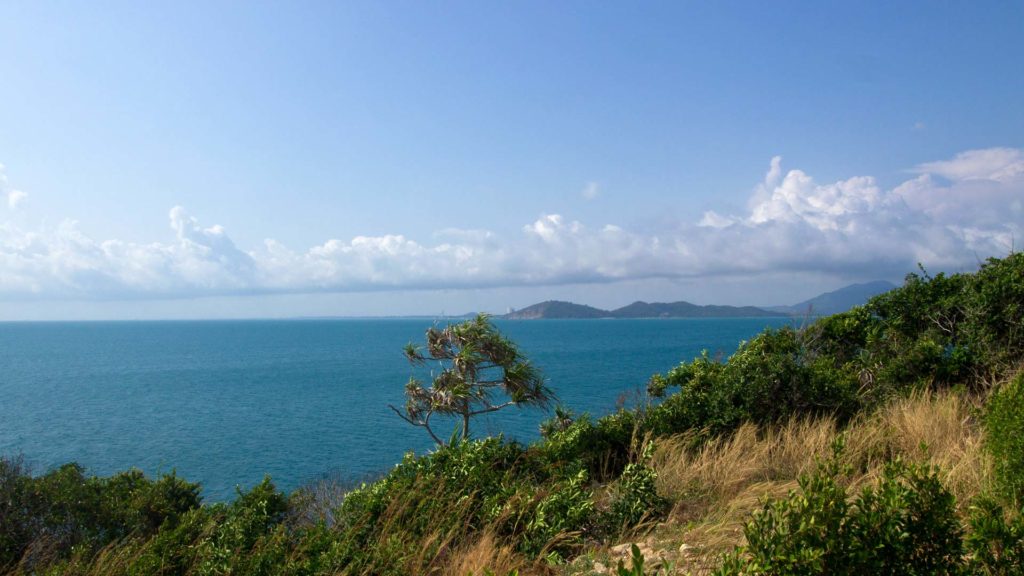 3. Statue of Aphai Mani and the Mermaid
The story of Phra Aphai Mani is a Thai folklore and is taught to children already at school. On Koh Samet and also in Cha Am there are some statues and paintings to this story or legend. The statue on Sai Kaew Beach is one of the landmarks of Koh Samet.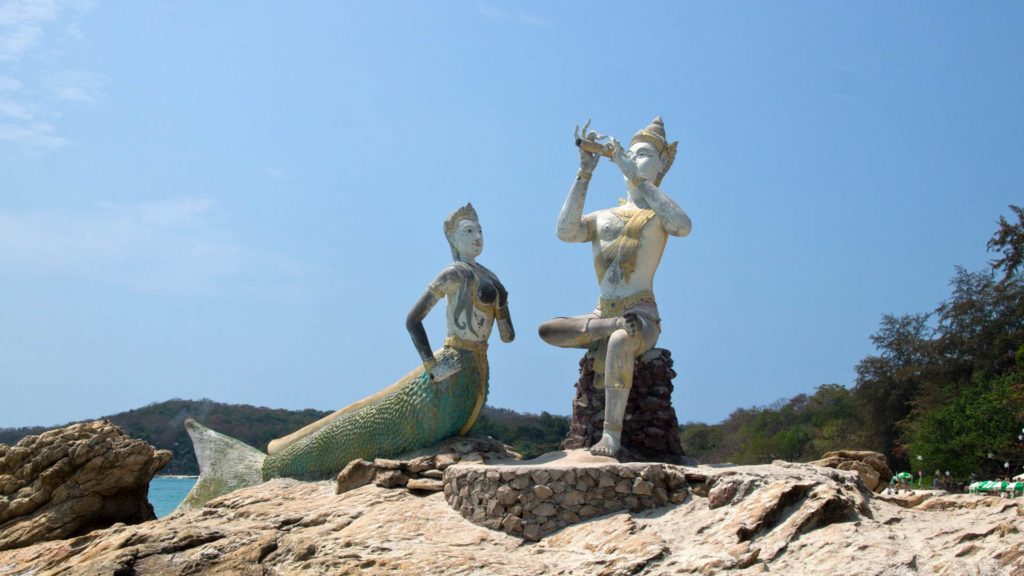 In short, Aphai Mani was a prince who could play a magic flute. After his kidnapping, he fell in love with a transformed giantess and they got a son together. When he escaped again from the giantess, a few mermaids helped him and in the end he fell in love with one of them. His flute could make people fall asleep or even kill so that in the end, he defeated the giantess with his flute.
The whole story is a little too long for this article, but if you're interested, then visit Wikipedia.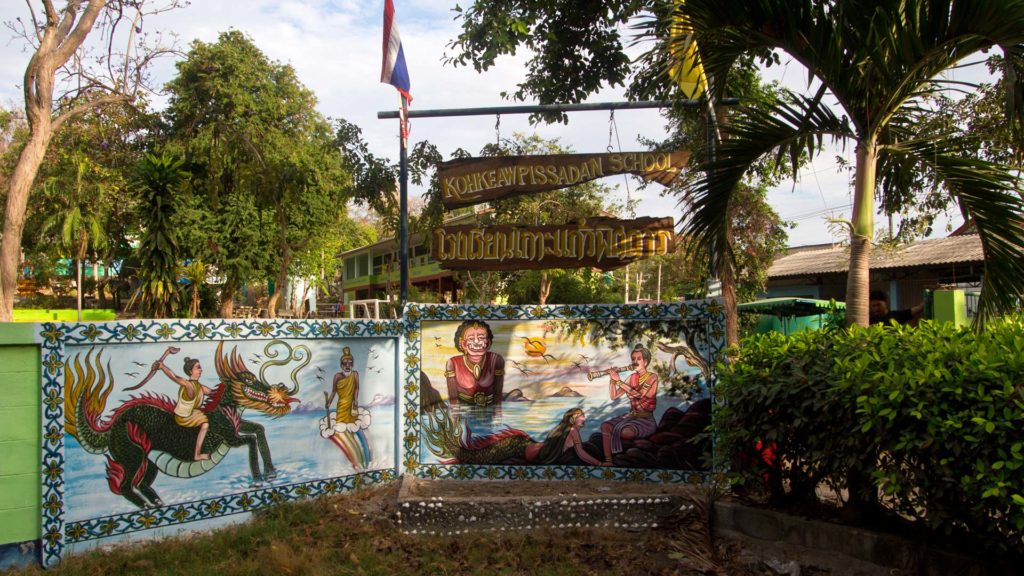 How to get around the island
Also on Koh Samet you can of course rent the usual scooters in Thailand. Unfortunately, it is a bit more expensive, that means 1 hour costs 100 baht and 1 full day even 300 baht. But in 1-2 hours you can easily get around the island. That's how I did it and it was totally enough.
In addition, there are also many great golf carts to rent, with which you can comfortably cruise the island. Although it costs 500 baht for one day, it is definitely a lot of fun!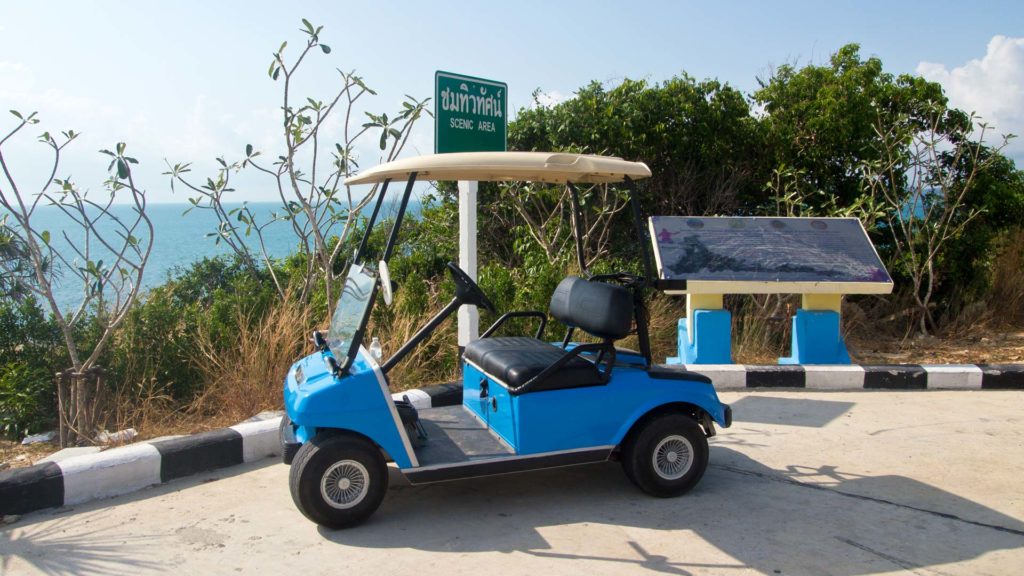 There is also the possibility to rent a bicycle for 150 baht per day or to take one of the green shared taxis. These are converted pickups where you can ride on the back. The prices start at 30 baht and can go up to 200 baht if you have to rent the entire taxi because nobody else rides it in your direction. On Koh Samet there are signs everywhere with fixed prices, so you will know how much the taxi costs to which beach.
Conclusion
The small island in the Gulf of Thailand is definitely worth a visit. Many of the visitors are Thais and the European tourists are still outnumbered. At the weekend it can be quite crowded on Koh Samet, but if you go there in the week, the island is still very quiet. With a scooter you can explore the island perfectly and for a change from the big city of Bangkok, it is just a perfect destination.
Plan your trip to Koh Samet now
More hotel recommendations for Koh Samet:
Popular routes to Koh Samet:
---
Have you ever been to Koh Samet or do you want to go there? What is your favorite beach or spot on the island? Tell us your opinion in the comments!